A couple who were guests at a Marriott in the city of York, Pennsylvania, received an invoice for their stay that allegedly included an Asian slur type-written on the statement.
It was the second harassment they endured as patrons of the major hotel chain.

The first was when Jamie Chung and his girlfriend, Tierney Oberhammer, were checking out of the Courtyard by Marriott on Concord Road on June 13.
Chung, who is of Chinese and Jewish descent, said the desk clerk addressed him in a way he felt was offensive and racist.

According to Next Shark, Chung told the media outlet:

"My girlfriend and I were checking out of the Marriott, and the front desk clerk said my last name, 'Chung,' with a strange emphasis, like she was mocking an Asian accent."
In an effort to move on from the microaggression, Chung continued:

"We clocked it, but decided not to make an issue of it."
However, when Chung and Oberhammer returned home, they made an unsettling discovery.
"We got back to New York, opened the invoice, and saw that they'd written the racial slur 'Ching and Chong' on it."
"Pretty bold and brazen."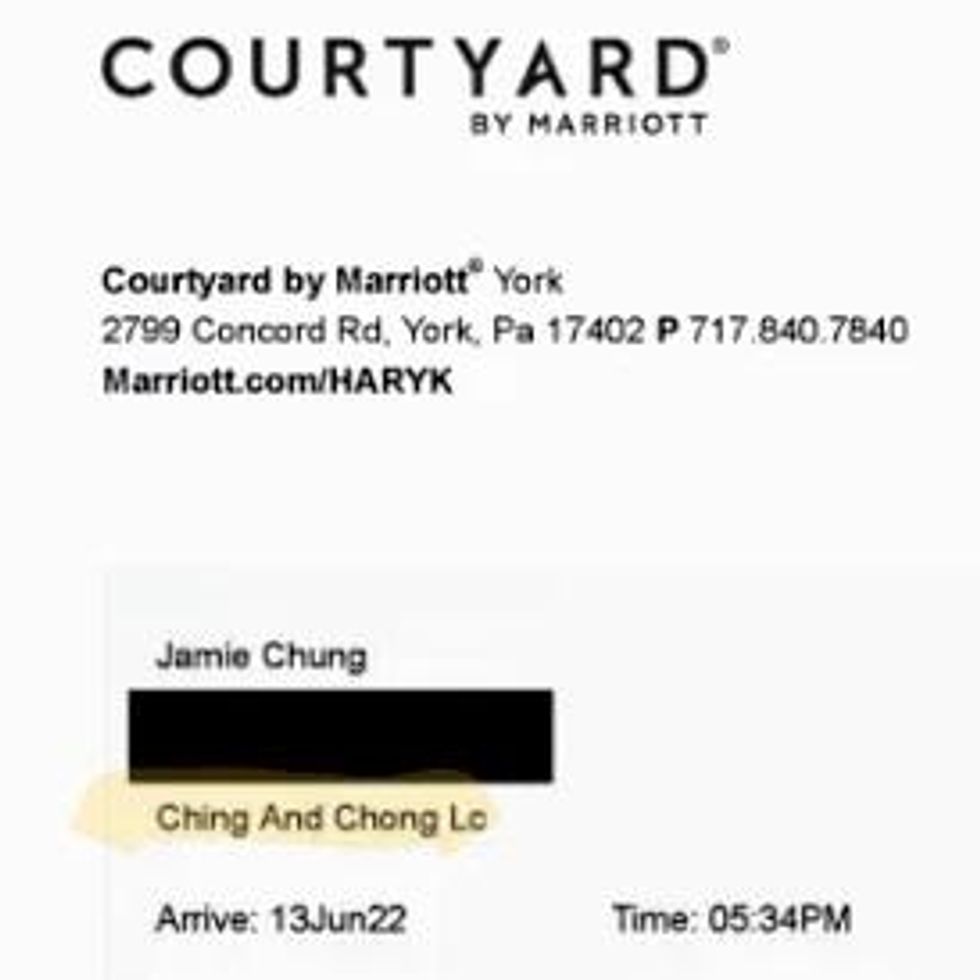 Jamie Chung
You can watch a news report on the incident here.

When the Brooklyn couple informed Marriott executives about the incident, they felt the response was insufficient.

The corporate representative with whom they spoke apologized and offered Marriott points to assuage the situation.
But when the representative also claimed the invoice was due to a "typo," Chung didn't buy it.
"The response that we received from Marriott executives was disappointing," the couple told Next Shark.
"They tried to shift blame and give excuses rather than take responsibility for what happened on their watch, under their roof."
"They have tried to distance themselves from the incident by pointing out that it occurred at a Marriott franchise."
They added:
"They suggested a clerical accident, a typo, led their front desk clerk to enter a racial slur into the invoice."
"Their response did not give us the impression that they take this incident seriously."
Speaking with ABC 7, Chung felt Marriott's "apology felt hollow."
Oberhammer agreed, saying, "Do you honestly think that this was a typo? Like an honest mistake? And he was kinda like 'who am I to say?"
Chung noted the individual with whom they were dealing was non-White, which made the interaction all the more disappointing.

He said:
"And then the person said 'I am a person of color, I am not a racist. We felt like it was gaslighting."
Oberhammer added that "anybody can be racist."
The couple said they were willing to forgive the employee, and they expressed they did not want him fired.
However, they asserted they did want Marriott to take accountability whenever a racist incident experienced by customers was brought to their attention instead of brushing it off.

"Marriott is a big, powerful company that employs and provides services to a lot of people. What they do and say matters. They need to do better," said the couple.
"This is about company culture, training, accountability, basic human decency, and the hypocrisy of Marriott's inadequate response to racism within their organization, especially given their stated company values."
"There is so much nuance and complexity to this story, including historical context, that we worry will be overlooked. It is not lost on us that this racial slur was delivered by a fellow POC," they added.
"The last thing we want is for this to exacerbate tension between minority communities, who have been pitted against one another in this country."
"Racism affects everyone, and we stand against it."
A statement back in March 2021 indicated Marriott was strongly against racism, a policy that seemed to contradict the behavior of the desk clerk who interacted with the couple.
In last year's statement addressing AAPI (Asian Americans and Pacific Islanders) hate, Marriott International Chief Executive Officer Tony Capuano wrote:
"I want to reiterate that Marriott International stands against racism."
"We believe that all people deserve to be treated with dignity and respected for their humanity and the distinct qualities that make them unique."
"We do this in a number of ways, through internal resources available to our associates that promote respect and kindness, and training designed to inspire a sense of community and combat unconscious bias."

Members of the AAPI community have continued experiencing harassment and violence targeting them for being Asian.
Cases involving AAPI victims being verbally and physically assaulted were fueled by fear due to the spreading of misinformation online by bad actors and conspiracy theorists at the start of the 2020 COVID-19 pandemic.