The pilot of an American Airlines flight laid down the law before take off. He added a small lecture to his opening captain's speech to the passengers.
He addressed the adults who misbehave on planes, calling them out specifically for not listening to flight attendants, annoying fellow passengers and being the "selfish and rude" passengers he finds on "every single flight."
The pilot said:
"Everybody paid for a space."
"Don't lean on other people."
"Don't fall asleep on other people."
"Don't drool on them, unless you've talked about it and they have a weather-resistant jacket."
Most people agreed with his message.


@mo_with_the_mostest/Instagram

@18_dibella/Instagram

@jaydoherty/Instagram

@bowingtotheancestors/Instagram
People were amused by his comment about those forced into the middle seats.


@krysita/Instagram

@thecannaguide/Instagram
Others were excited about the pure dad energy he had going on.


@kaitlyn.comfort/Instagram

carbonIs6/Instagram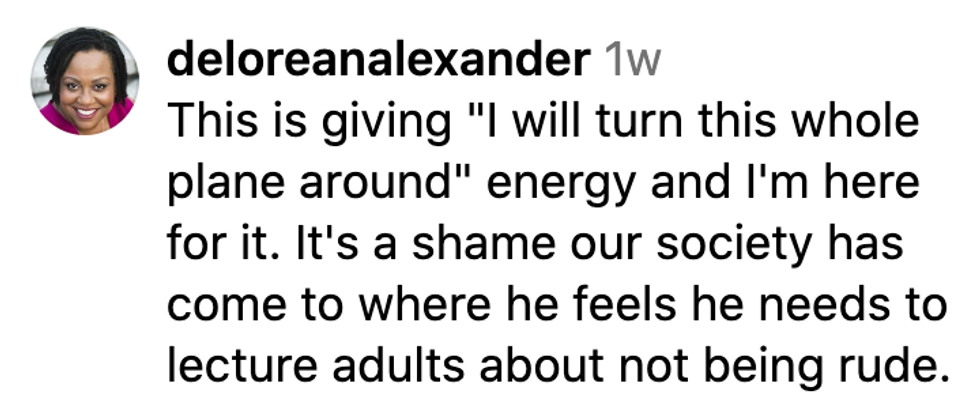 @deloreanalexander/Instagram
Some folks weren't happy with his tone, though.


@bekind999/Instagram

@cmoneymaker22/Instagram

@la_photoartista/Instagram
However others pointed out if you were offended by what he was saying, you were probably part of the problem.


@agabean23/Instagram

@jonafoto/Instagram
People generally think he should be tapped to do some announcements for wider audiences.


@iamkarlrock/Instagram

@_kelseyrn_/Instagram
American Airlines has not commented on their pilot's now viral rant.