He shoots, he scores... he gets fired?
An Amazon driver is alleging he was fired from his job after he dunked a basketball in a customer's driveway.
TikTok user @jazzaiha recently posted a video to the social media platform which shows him shooting a quick hoop in a customer's driveway after delivering a package.

You can see the clip here:
@jazzaiha

This shit is crazy man! 😂 #amazon #fired #ballislife #fuckit🤷 #ontothenextone #jarreltx
Apparently his employers at Amazon weren't all too impressed with his form because the TikToker claims this transgression was the cause of his termination from the e-commerce company.

Fellow TIkTokers brought the jokes in the comments.

@elijah_ellington/TikTok

@lunchbox9026/TikTok

@gilmontano268/TikTok

@boneyardwoodturning/TikTok
@jazzaiha seemed in good spirits despite the situation, responding to several rather comedic comments on TikTok.
The former Amazon employee even went so far as to say he would "do it again if I could" in response to someone's comment on the post.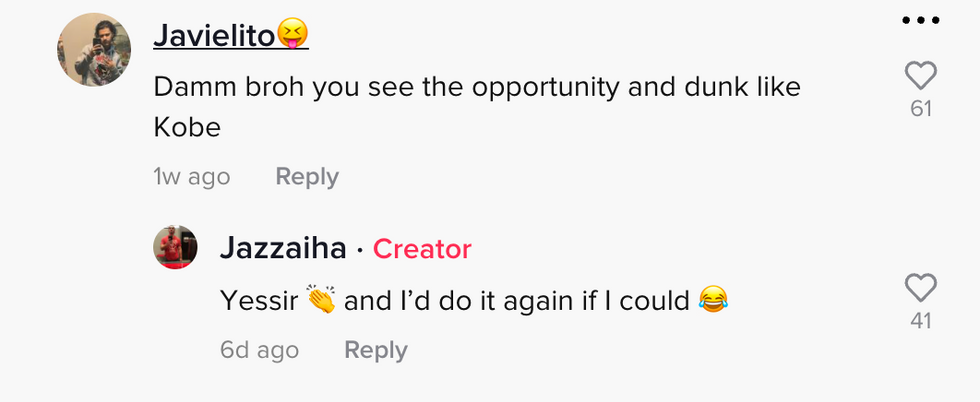 @javii0009/TikTok
Since being posted to TikTok less than a week ago, the video has been viewed nearly 2 million times, has almost 30,000 likes, and over 500 comments.
Many of those 500 comments are fellow TikTok users displaying absolute shock over the seemingly harsh consequence for an inoffensive action.
One user questioned how @jazzaiha's employers even found out he shot the hoop in the first place.
@ccc64581/TikTok
To no one's surprise, this isn't the first time an Amazon driver has been in the spotlight after reportedly being canned thanks to video footage being posted to the internet.
Earlier in 2021, an Amazon driver was allegedly fired after footage of a woman leaving his van went viral online.
@patrickhook01

Amazon be different😮‍💨😮‍💨 #fyp #viral #florida #amazon #KFCSecretMenuHacks
While a majority of the comments on @jazzaiha's post are in his favor, several TikTokers offered up their own perspective on why the termination likely occurred, citing liability issues, COVID violations and respecting personal property.

@theone23__/TikTok
@skaggsse26/TikTok
@superman20230/TikTok
It would seem this wasn't @jazzaiha's Jordan Year.
Hopefully he'll have better luck on and off the court in 2022.