It was a triumphant night at the 95th Academy Awards for the critically-acclaimed movie Everything Everywhere All At Once, which won seven Oscars–the most of any awarded Best Picture winner since 2008's Slum Dog Millionaire .
In addition to nabbing Best Picture and Best Director Oscars, the absurdist comedy-drama film written and directed by Daniel Kwan and Daniel Scheinert won Best Actress for Michelle Yeoh's performance as Evelyn Quan Wang–a Chinese laundromat owner who appears in various iterations across different multiverses.

It was a historic victory for the distinguished awards ceremony that had in previous years been lacking in representation and inclusion.
In her acceptance speech, Yeoh declared.

"For all the little boys and girls who look like me, watching tonight, this is a beacon of hope and possibilities."
"This is proof that dream big, and dreams do come true. And ladies, don't let anybody tell you you are ever past your prime."
"Never give up."
While the Dolby Theater erupted in cheers on Sunday night, there was controversy online after NPR posted a headline describing Yeoh's Best Actress win as "the first person who identifies as Asian to win."
Readers noted the tweet was factually correct but added "missing context" for wording purposes by mentioning actress Merle Oberon–a 1936 Academy Award nominee who hid her Asian heritage to avoid discrimination.
Unlike Oberon, however, Yeoh is open about her heritage.
In response to some of the knee-jerk criticisms accusing NPR of pushing their wokeness too far, Twitter user Jently PLAYS reiterated the facts and suggested triggered conservatives to:
"Google sh*t first before being outraged by some random tweet LMAO."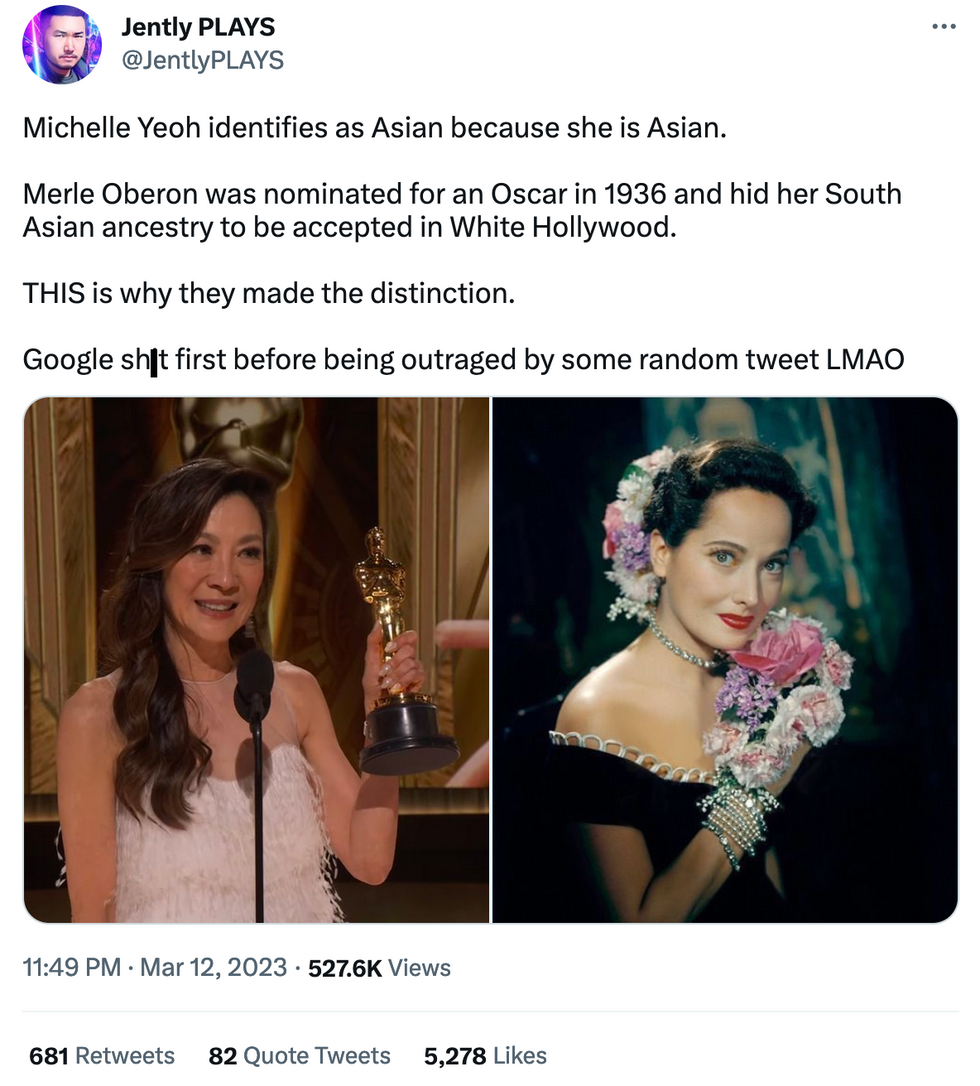 @JentlyPLAYS/Twitter
That didn't stop conservatives from creating controversy where wasn't any.
In response to the backlash, NPR adjusted its headline by dropping the "identifies as" descriptor and changing it to

"Michelle Yeoh is the first Asian woman to win Best Actress Oscar."
Everything Everywhere All at Once was nominated for 11 Academy Awards.
In addition to winning Best Picture, Director, and Leading Actress, the 2022 film took home Oscars for Best Original Screenplay, Editing, Supporting Actress for Jamie Lee Curtis, and Supporting Actor for Ke Huy Quan–who was one of two actors of Asian descent to win for the same category (the other being Haing S. Ngor in 1985).
Before sweeping at the Academy Awards, the movie won four awards at the Screen Actors Guild Awards–which broke the SAG record for most wins by a single film.