Sonia and her two children cast spells, make potions and pray to the moon – all in the buff.
A naked witch, who performs pagan rituals with her children in the altogether, claims that stripping off helps them to bond with nature.
Divorcee Sonia Rincon, 36, performs rituals in her kitchen to celebrate the new moon and the full moon, often helped by her son, Cristian, 15, and daughter, Mala, 11 – placing spells, written on scraps of paper, into a huge cauldron.
Sonia, of Valencia, Spain, who also wears a pointed witch's hat and has a broomstick, said:
"When you are practising witchcraft and Wicca – a contemporary pagan religious movement – you work naked, so you are totally natural and have nothing to hide."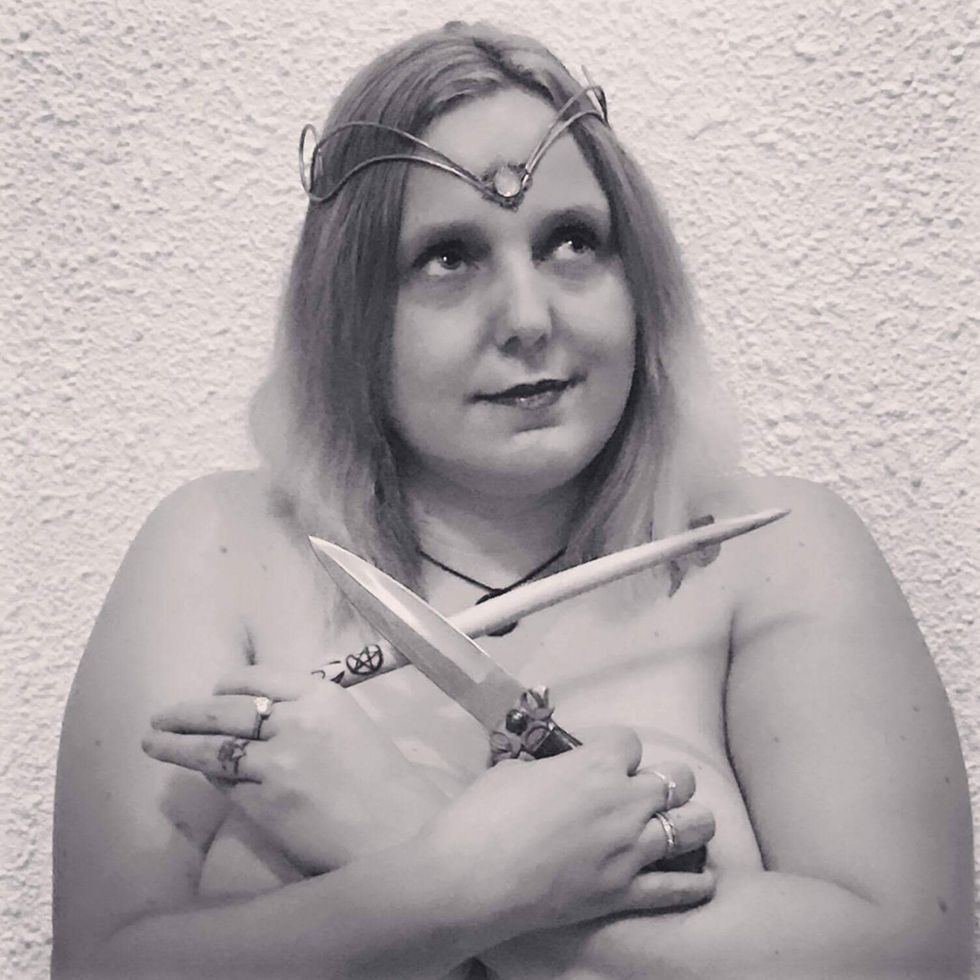 Sonia holding a wand and dagger (Collect/PA Real Life)
She continued:
"It's a tradition I really like, because sometimes people judge you by the clothes you wear. In witchcraft, you are all the same and when we're naked, we're all the same, too."
"We only conduct rituals naked when we're inside, though. We aren't exhibitionists and we don't want to get cold."
"My children were born naked, so they think nudity is perfectly normal."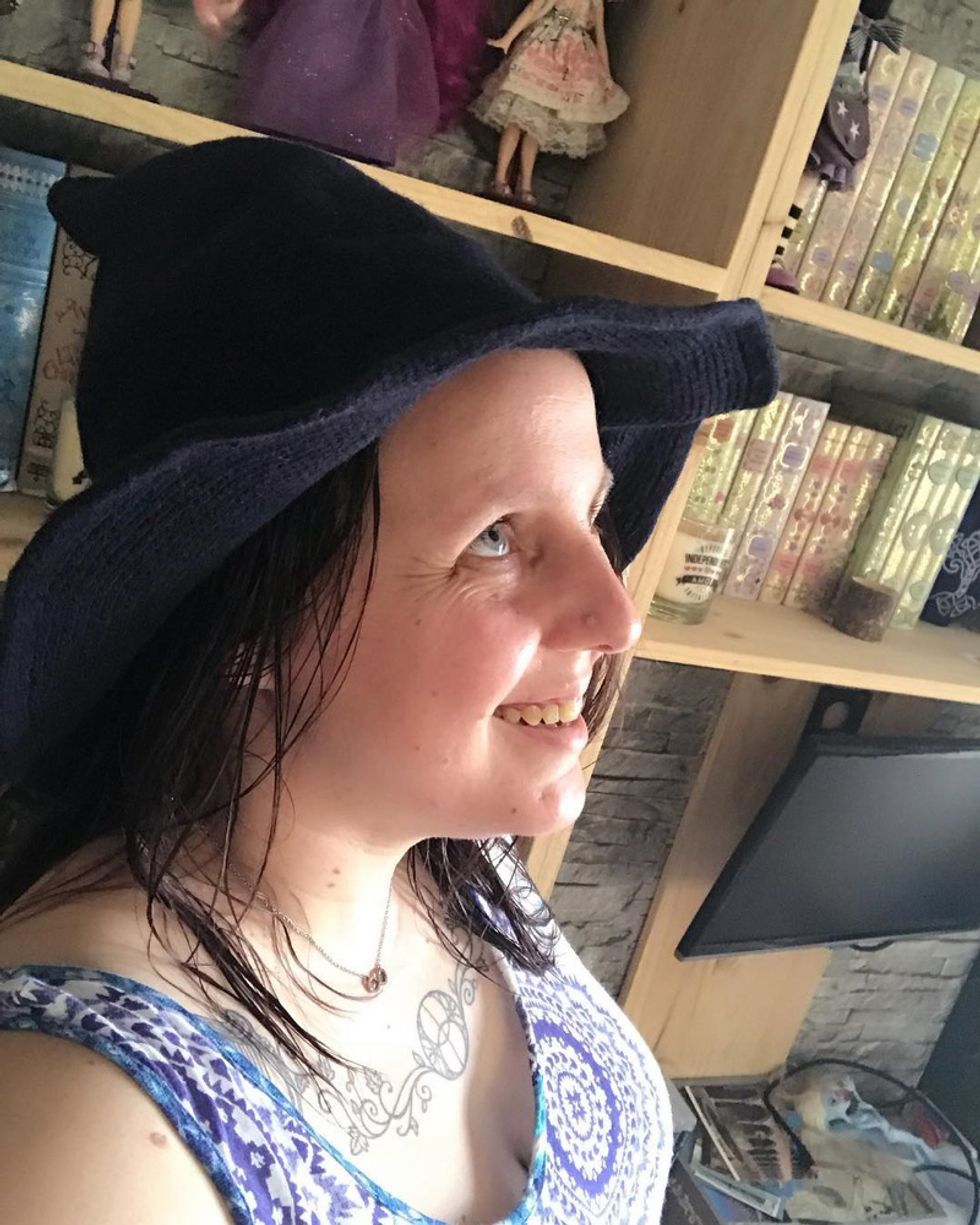 Her witch's hat helps Sonia channel her magic (Collect/PA Real Life)
Sonia's interest in witchcraft began when she was just six-years-old.
She recalled:
"It was January 6, Three Kings Day- the day when Spanish children receive Christmas presents."
"My cousin, who is now 41, told me my grandfather wasn't coming. He had passed away and was going somewhere else to be reborn."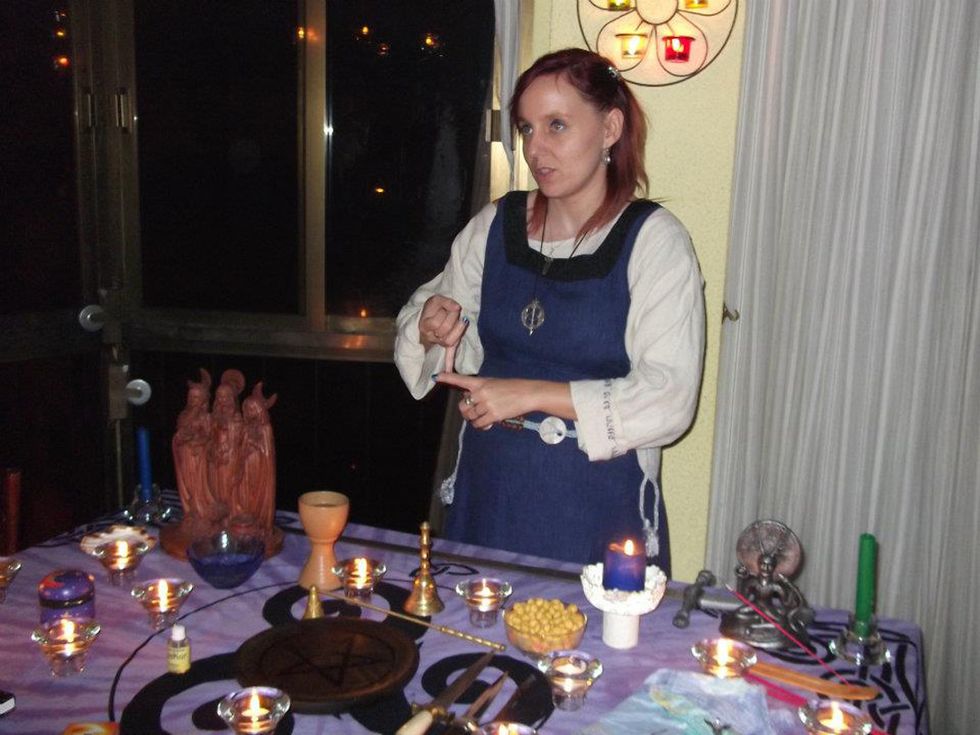 Sonia celebrates the new moon and the full moon every month
(Collect/PA Real Life)
Sonia continued:
"After that, I began to believe in rebirth and started reading children's books about mythology."
Increasingly inquisitive about alternative religions and ways of living, in her teens, Sonia took her research a step further.
She said:
"When I was a teenager, we had the internet for the first time."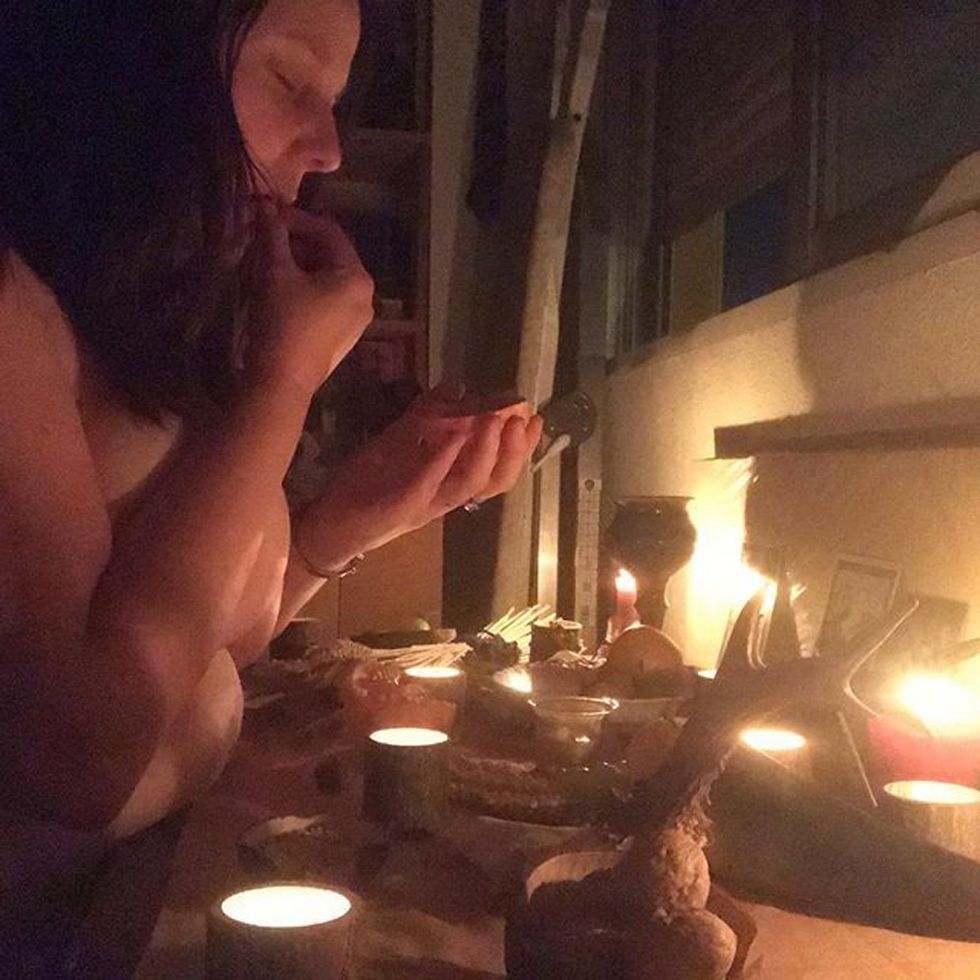 Sonia practices witchcraft naked with both of her two children
(Collect/PA Real Life)
She continued:
"I started to search for information about magic, the moon, new religions, the stars and the legacy of witchcraft and Wicca."
"It all seemed to encourage living very close to nature and, ever since, I've used witchcraft to get in touch with the natural world and respect everything in it."
Brought up as a Catholic, becoming a witch attracted both disapproval and skepticism from some members of her family.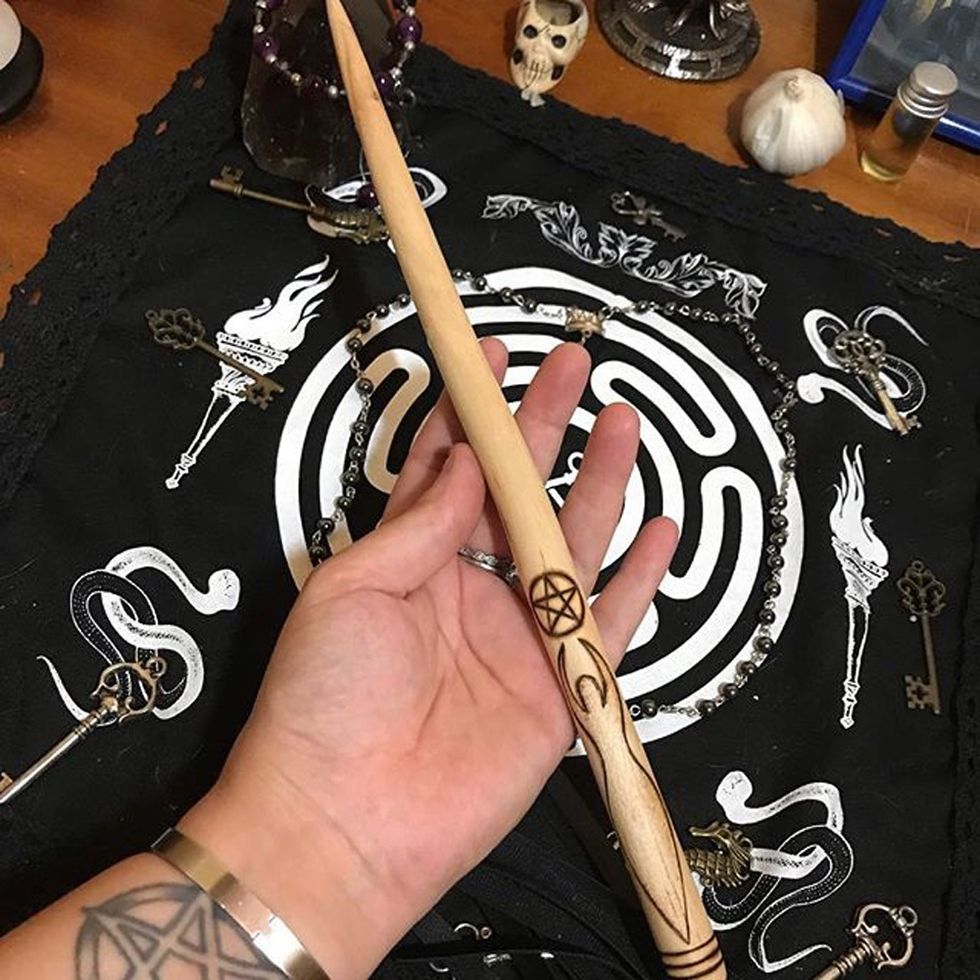 Sonia's wand which she uses to channel her energy (Collect/PA Real Life)
Sonia continued:
"Growing up in a Catholic family, if you did something wrong, you were told you would go to hell, so you needed to pray for forgiveness."
"With witchcraft, you are the owner of your own decisions and you will suffer the consequences of them. It's a freer thing to believe in.
"When, at 16, I decided I wanted to be a witch and not a Catholic, I started buying books about it and began to practice on my own at home."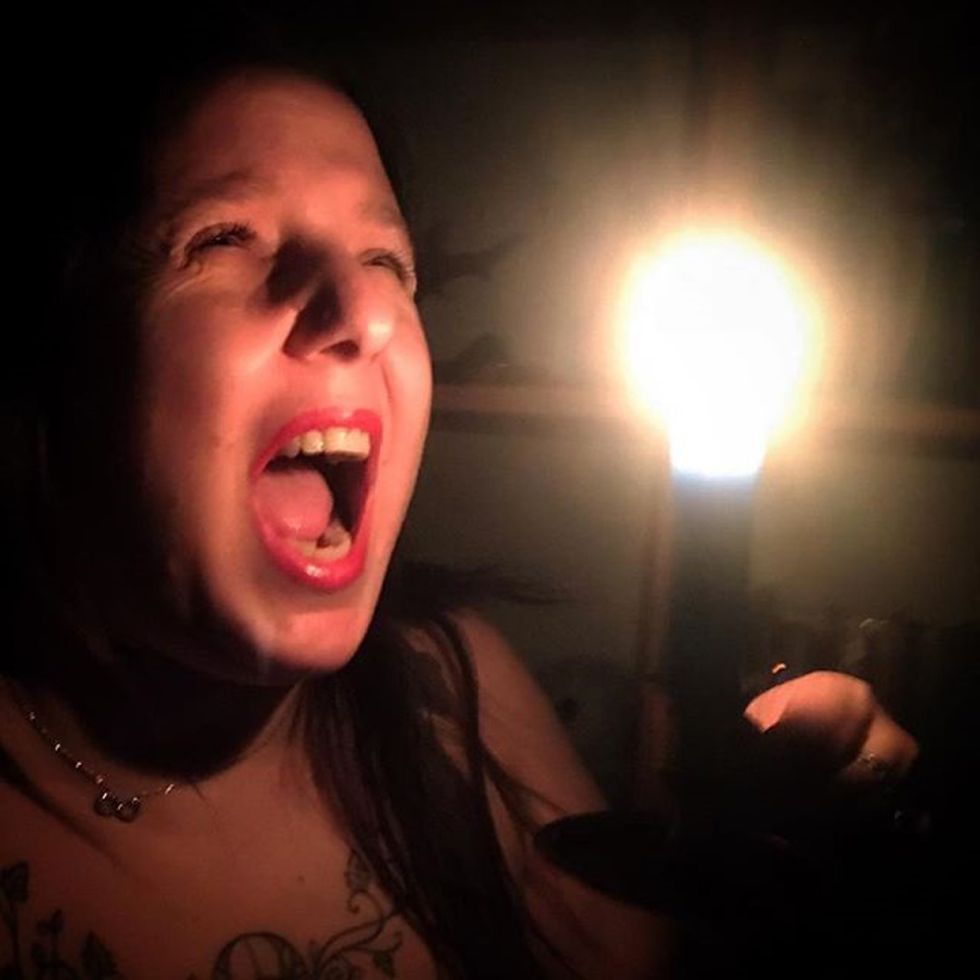 Sonia gathers with a group of other witches to celebrate the new and full moon
(Collect/PA Real Life)
She added:
"But my mother thought it was dangerous, that it was like a sect and I would be making animal sacrifices. She believed all the stories about bad witches killing children!"
Now, not only has Sonia's mother Antonia, 57, relented, she has even asked for her help.
Sonia laughed:
"She's better about it now. When she needed a driving license, she asked me if I could make something to help her pass her exam!"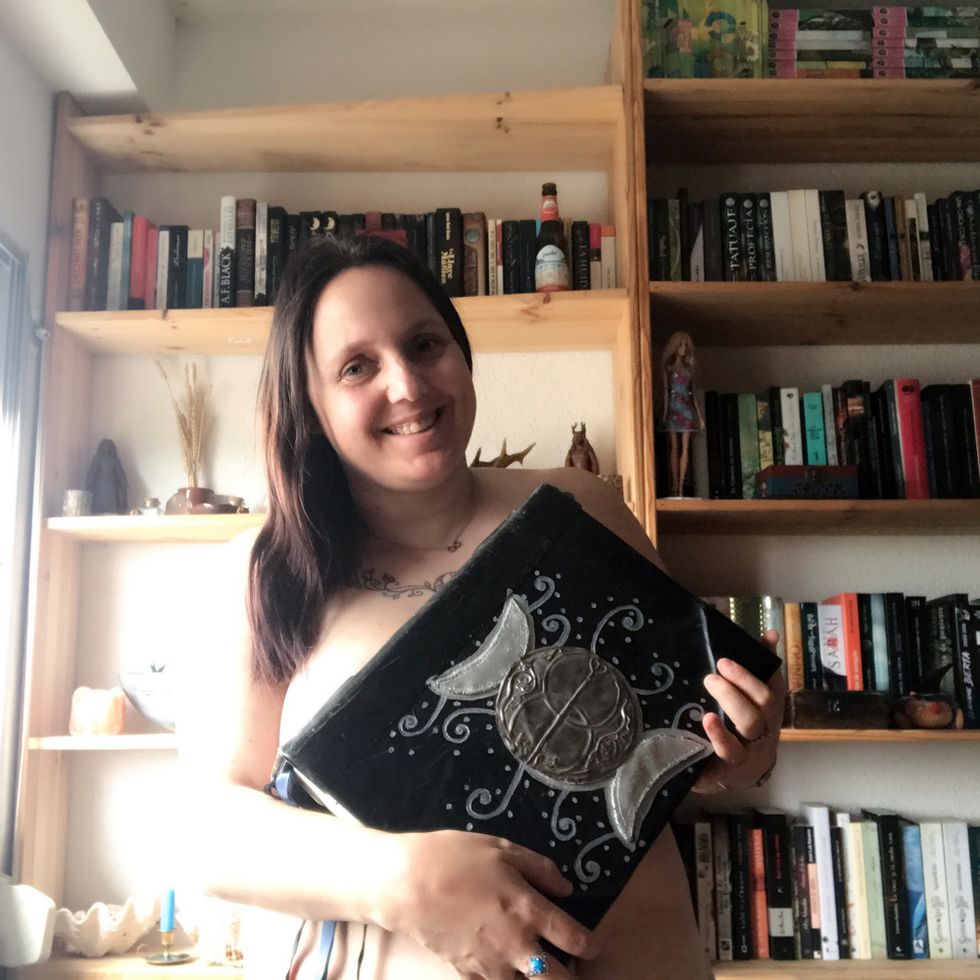 Sonia with her spell book (Collect/PA Real Life)
Sonia continued:
"But I said. 'No, sorry, that is not how it works! You are Catholic, not a witch, so you can't just pick and choose!'"
"Some members of my family just say, 'She's getting crazier every day.'"
"My cousin Silvia says, 'If it works for you, that's ok,' and some of my friends are curious."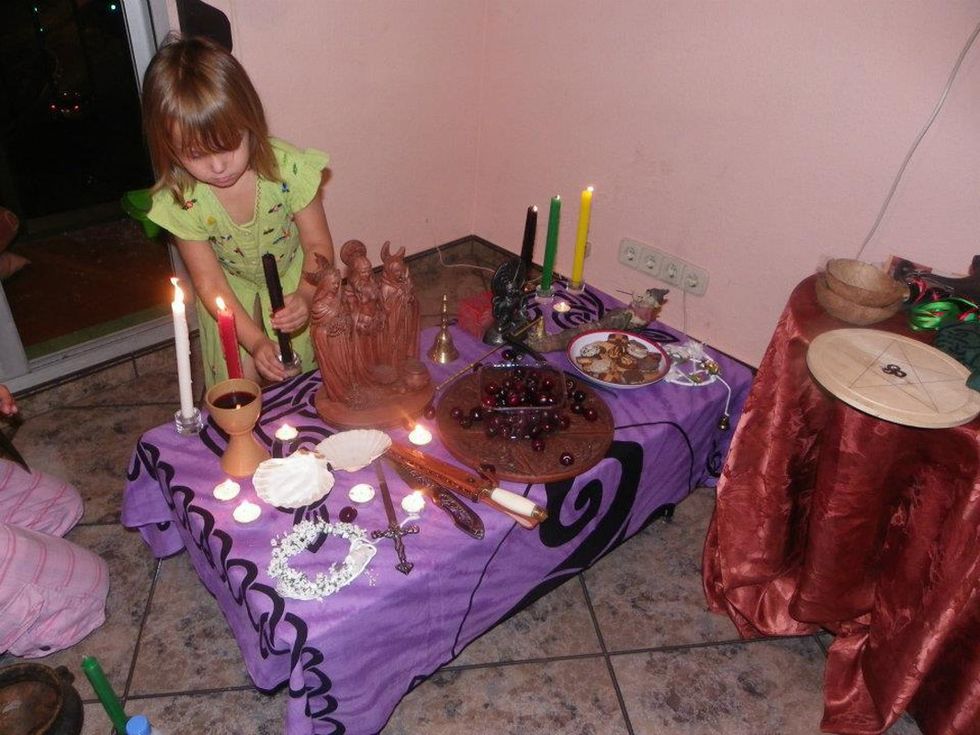 Sonia's daughter Mala has her own mini altar (Collect/PA Real Life)
As she learns more about making herbal potions, Sonia's remedies are also proving popular with some of her pals.
She said:
"I make something that's very good for a sore throat and I make a menstruation tea, using shepherd's bag leaves, flowers of yarrow, sage leaves, Melissa leaves, stevia leaves and valerian flowers."
"Friends come to me saying they have a sore stomach, they have my tea and they're cured. It's much better than taking conventional medicine."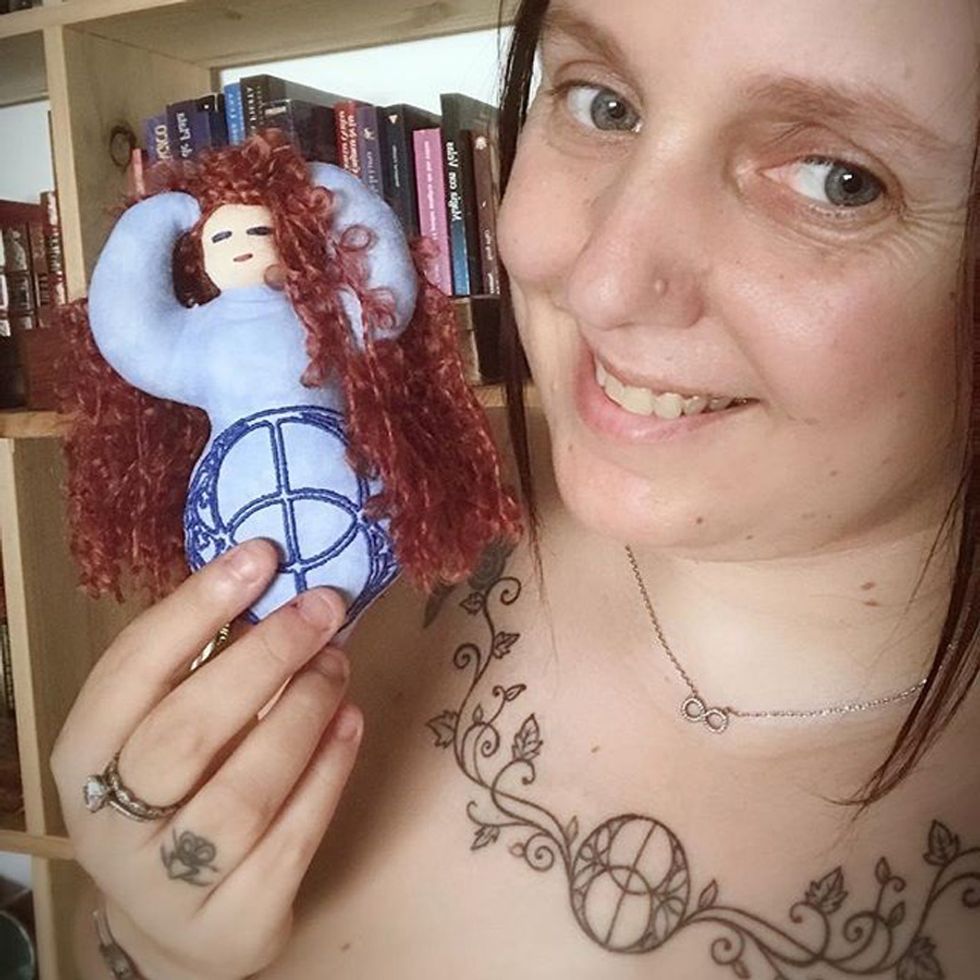 Sonia with a doll she uses for praying (Collect/PA Real Life)
While Sonia insists she has not joined a sect, she does regularly operate as part of a witches' coven.
She explained:
"I often celebrate the full moon with a group of about 16 other witches."
She continued:
"We go and pray to the moon together. We also have dinner together – sharing food and drink, like a little family. We enjoy ourselves."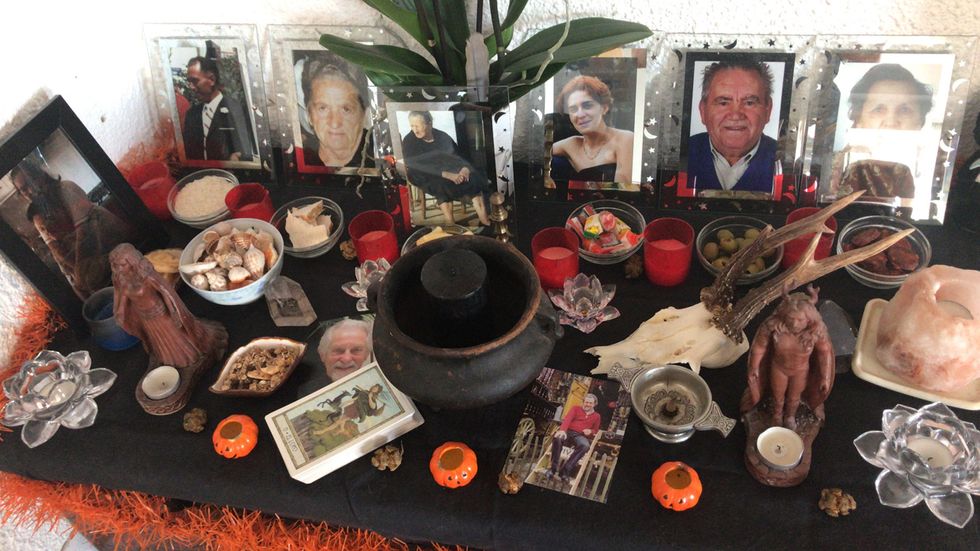 Pictures of Sonia's family members, who she protects with spells
(Collect/PA Real Life)
For Sonia, the tools of her trade, as well as her cauldron, include a wand – used to channel energy and to write the name in the air of people she wants to protect – and a pointed hat, which again, she channels energy upwards through. It also helps her to be recognised by strangers as a witch.
Her broomstick is strictly for cleaning purposes, but she is a great tarot card collector and reads them to stop her from making impulsive decisions.
"I am guilty of acting on impulse, so consulting the tarot cards helps me to think clearly and not to act in haste," she said.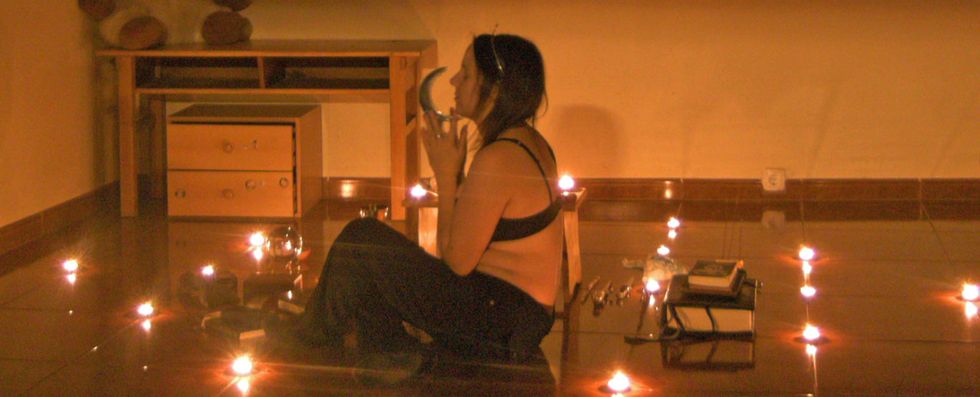 Sonia prefers to worship with as few clothes on as possible
(Collect/PA Real Life)
Despite her son telling her that one of his teachers had said he was 'getting too much fantasy at home,' Sonia is keen to include her children when she performs her twice-monthly rituals.
Describing the next big event on the witch's calendar, Samhain – a Celtic version of Halloween – on October 31 – the New Year for Wiccans, she said: "We make an altar and put a little dish of my ancestors' favorite food on it."
"Then we write them a letter and put it in the cauldron."
She continued:
"It's the last celebration of the year and it gives us the chance to thank them for everything that's gone on that year."
Keen to dispel the belief that all witches cast evil spells and do wicked things, Sonia sees her kind of sorcery as a force for good – helping those who practice it to empathize with nature.
She added:
"For me, to be a witch is to be completely chilled and never to harm anyone."
A version of this article originally appeared on Press Association.