A junior high school cheerleading squad in Utah faced a wave of online backlash after the team did not include one of its members, who has Down Syndrome, in the group yearbook photo.
According to Today, 14-year-old Morgyn Arnold was thrilled when Shoreline Junior High School's 2020-2021 yearbooks finally came out.
But that enthusiasm took a nosedive when she leafed to the cheerleading squad's team photo and immediately observed she was not included.
You can see local news coverage here:
Arnold's sister, 25-year-old Jordyn Poll spoke to Today about Arnold's shock following the discovery.

"She came home from school and was showing us her yearbook."
"She said 'There's my team and there's my friends and I'm not included.' She was devastated."

So Poll, in a now-deleted Facebook post that went viral, posted a pair of photos side by side: one of the cheer team including Arnold, the other of the image in the yearbook, seen below.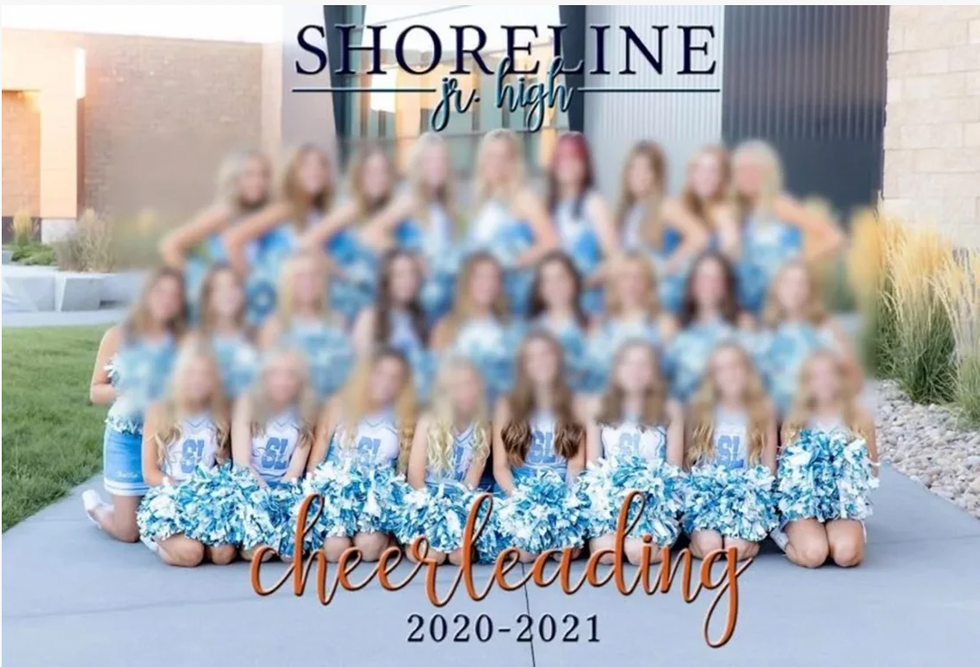 Jordyn Poll/Facebook
Poll described the post to Today.

"The first picture you see is a cute junior high cheer team. The second, although similar, includes all members of the team."
"It's the SAME cheer team–SAME girls, SAME photo shoot, SAME poses, but one included all team members and one did not."

"Unfortunately, the first one was posted on the school's social accounts and in the school yearbook."
"Additionally, Morgyn's name wasn't even mentioned as a part of the team. She wasn't included."
"She spent hours learning dances, showing up to games, and cheering on her school and friends but was left out."
When that post inevitably sparked widespread criticism of the school and the cheer team, Shoreline Junior High released a statement.
"We are deeply saddened by the mistake that was made."
"We are continuing to look at what has occurred and why it occurred. Apologies have been made to the family and we sincerely apologize to others impacted by this error."
"We will continue to address it with the parents of the student. We will continue to look at our processes to ensure this does not happen again."
Although the original Facebook post was taken down by Poll, news of the incident sparked continued outrage on social media.
Unfortunately, many of the initial crticisims on Poll's post also took aim at Arnold's teammates.
This, Poll said, was missing the point completely.

"There's been so much hate directed to these other girls and it's so unnecessary."
"They are kind and did their very best to include Morgyn and make her feel like she belongs and they continue to do so and continue to reach out and let her know that she is loved."
"If it was up to them, they would have included her in the photos."
Instead, Poll advocated viewing this as an instructive moment.
"My hope is that we can learn from this situation and learn from the mistakes that happened and we can just try a little harder to be a little better."
"Being better isn't about turning around and pointing fingers and causing blame."
"They're just as important as Morgyn. We don't need to forget that in this process."
"We should be able to raise awareness and fight for what's right without getting cruel."