The internet is trolling President Trump with various "Sharpie" memes after he presented a map during a Hurricane Dorian briefing that appeared to be altered with a marker.

---
As Hurricane Dorian continued on its path towards the U.S. over the weekend, leaving devastation and an increasing death toll in its wake, Trump decided to play his hand at being a weather forecaster.
It all started when Trump incorrectly tweeted on Sunday that Alabama would "most likely" be in the direct path of Hurricane Dorian.
But within minutes, Trump's claim was quickly shot down by the National Weather Service.
Alabama will NOT see any impacts from #Dorian. We repeat, no impacts from Hurricane #Dorian will be felt across Ala… https://t.co/tI2SqytJga

— NWS Birmingham (@NWS Birmingham) 1567350706.0
Instead of acknowledging his error and moving on, Trump instead opted to use an outdated map during a briefing in the Oval Office on Wednesday afternoon that looked altered to fit Trump's original prediction.
That moment you become the Fake News #HurricaneDorian #TrumpSharpie #Trump https://t.co/3O1qSCAQwy

— Tido (@Tido) 1567686135.0
After being called out for the edited map, Trump tried to defend it on Twitter adding:
"I accept the Fake News apologies!"
Pretty soon, #TrumpSharpie and #SharpieGate started trending as people began sharing examples of how a permanent marker could fix all of Trump's problems.
Donald Trump is thrilled to announce he's been added to Mount Rushmore. #sharpie https://t.co/fICENsMVia

— @boopumpkins (@@boopumpkins) 1567626329.0
Got Greenland! #sharpiegate https://t.co/oLSZMcdrT0

— Magnus Hammar (@Magnus Hammar) 1567667744.0
And there was no shortage of awkward moments and claims to choose from.
After today Trump FINALLY found a way to prove he had a large attendance at his inauguration. #Sharpie #sharpiegate https://t.co/cxtJJKpasu

— Hard 2 Follows (@Hard 2 Follows) 1567631117.0
Trump releases photo to show he's taller than Obama. https://t.co/U4K7C4MzQI

— Schooley (@Schooley) 1567629408.0
They took the airports #TrumpSharpie #sharpiegate https://t.co/gmD0SKlmUG

— Stephen W. Hudson (@Stephen W. Hudson) 1567686427.0
BREAKING: White House releases revised 2016 Election Results #TrumpSharpie https://t.co/0LqTiObeRY

— Craig Sherman @🏠🌊🌊🌊 (@Craig Sherman @🏠🌊🌊🌊) 1567686183.0
@Rschooley OMG! He was right about wind energy! #TrumpSharpie https://t.co/hmSkVaC2pW

— Julie Beach 🇺🇸 (@Julie Beach 🇺🇸) 1567636772.0
OMG! The White House released a new photo of President Trump golfing. #sharpiegate #sharpie https://t.co/BZz1lUUUqL

— Mark Novata (@Mark Novata) 1567629171.0
Trump is such a family man. Just look at him spending quality time with his grandkids. #sharpiegate https://t.co/K5kpkGJ07D

— Alt Fed Employee (@Alt Fed Employee) 1567648859.0
And while we're add it, maybe we can use this magic Sharpie to our advantage.
Harold and his purple crayon would certainly be proud.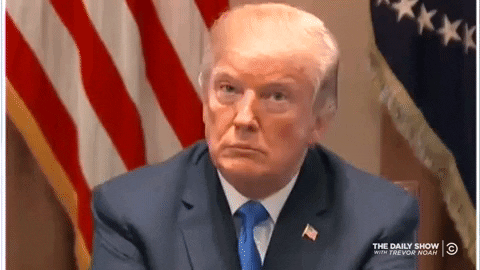 Giphy
You can get a set of 30 Sharpies in a rainbow of colors (don't tell Mike Pence) here. Or you can get a special edition set of 6 colorful metallics here.
*******
Listen to the first three episodes of George Takei's podcast, 'Oh Myyy Pod!', where we explore the racially charged videos that have taken the internet by storm.
Be sure to subscribe here and never miss an episode.