Amul Thapar, a Federal Appeals Court judge appointed by former President Donald Trump, was among a panel of judges who ruled a decision to allow a college professor to invoke their First Amendment right to intentionally insult trans students in the classroom through misgendering.
The panel of the 6th U.S. Circuit Court of Appeals in the Meriwether v. Hartop ruling included Thapar; Joan Larsen, another Trump appointee; and David McKeague, who was appointed by George W. Bush.
In 2016, Shawnee State University in Ohio implemented a policy requiring professors to address transgender students by their preferred pronouns.

Nicholas Meriwether, a philosophy professor at the university, rejected the policy and refused to "recognize transgenderism."
Two years later, Meriwether claimed he inadvertently misgendered a trans woman in class, citing that "no one would have assumed" she was "female."
According to Mark Joseph Stern's legal analysis for Slate, the misgendered student, Alena Bruening, later demanded for Meriwether to recognize her as a woman.
The professor refused and debated gender identity with her and remained obstinate about addressing her by her last name.

Bruening responded by saying:
"Then I guess this means I can call you a c*nt."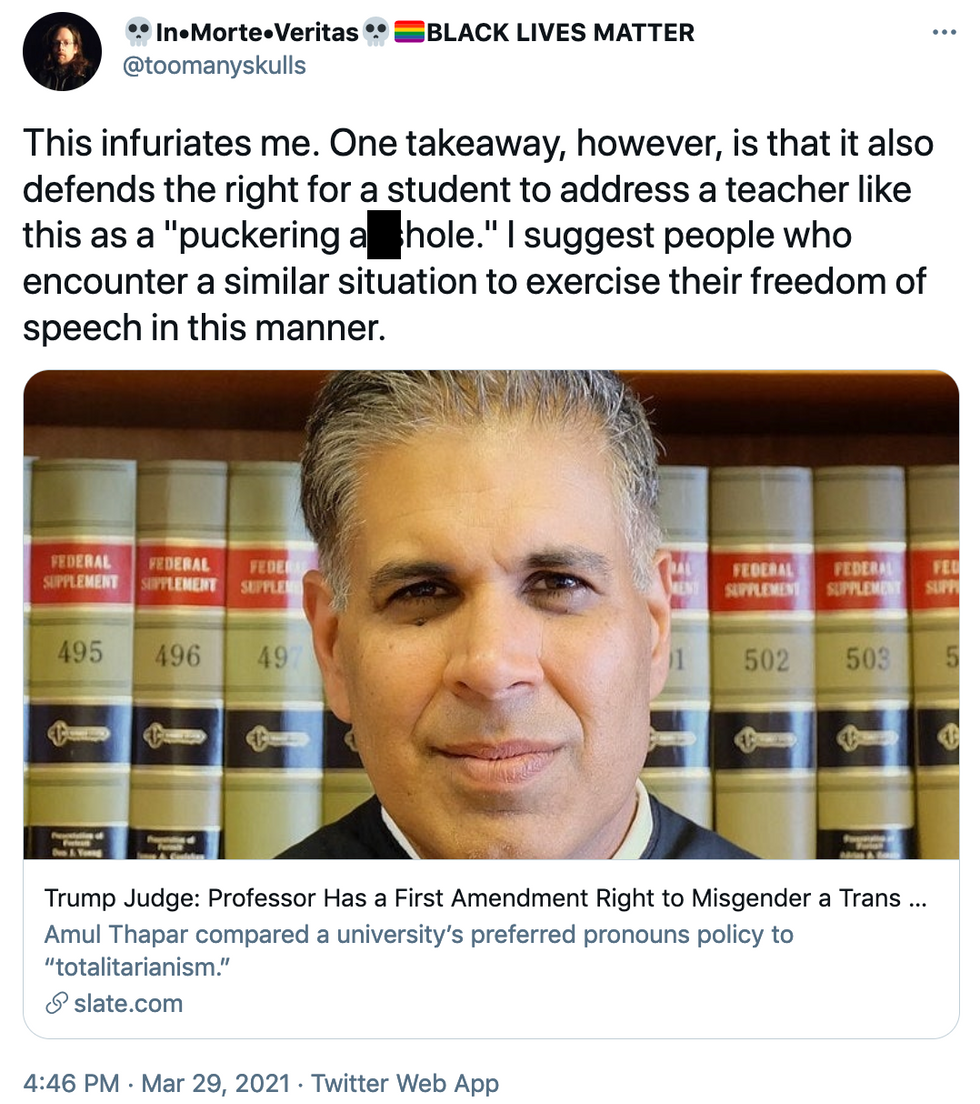 @toomanyskulls/Twitter
When Bruening reported the incident, the dean offered a compromise to eliminate all gendered language from the classroom. However, Meriwether strongly opposed and chose to address all students as "Mr." or "Ms." while referring to Bruening only by her surname.
This resulted in the university launching a Title IX investigation, in which Meriwther was given a written warning for violating the university's nondiscrimination policy.

Title IX is a federal civil rights law passed as part of the Education Amendments of 1972 that prohibits sex-based discrimination in schools.

Meriwether countered the disciplinary act with a lawsuit against the university, alleging a violation of rights to free speech and free exercise under the First Amendment, but a federal judge tossed his suit.

In a grievance process, Meriwether said:

"I am a Christian. As such, it is my sincerely held religious belief, based on the Bible's teachings, that God created human beings as either male or female, that this gender is fixed in each person from the moment of conception, and that it cannot be changed."
The school, however, is not religiously affiliated.
Meriwether was represented by Alliance Defending Freedom, a powerful anti-LGBTQ+ law firm known for attacking LGBTQ+ people in court.

Thapar revived Meriwether's previously tossed suit and argued the professor's refusal to comply with the use of preferred pronouns for transgender students qualified as a constitutional protection because it involves "a hotly contested matter of public concern."
Thapar wrote in the decision:

"If professors lacked free-speech protections when teaching, a university would wield alarming power to compel ideological conformity."
You can watch a video of Thapar in the "Notre Dame Constitutional Studies Conversations: Judges Amy Barrett and Amul Thapar" discussion that took place on March 28, 2019, at the University of Notre Dame.

In Stern's legal analysis for Slate, he wrote:
"It was inevitable that a Trump judge like Thapar would undercut transgender rights."
"But the logic of Meriwether v. Hartop does not stop with preferred pronouns. Under Thapar's reasoning, professors have a constitutional right to use racial epithets in class, to use misogynistic language in front of students, to express all manner of odious views in a maximally offensive manner."

"They would not have to worry about creating a hostile environment in violation of civil rights law."
Stern continued:
"If disciplined, they could simply assert their First Amendment rights to speak about a 'matter of public concern' however they please. (With one exception: Presumably, any speech critical of religion would remain off-limits, since such expression apparently violates others' religious liberty.)"
According to a report from LGBTQ+ civil rights group Lambda Legal, nearly 40% of former President Donald Trump's confirmed federal appellate judges have a demonstrated history of anti-LGBTQ+ bias—including opposing same-sex marriage and supporting the implementation of the transgender military ban.
Lambda Legal CEO Kevin Jennings said in a statement:
"While Donald Trump's presidency may be coming to end, his devastating impact on our federal courts will take decades to reverse."
"When the basic human rights of LGBTQ+ Americans are so often challenged in court, we cannot accept a judiciary stacked with judges who would disenfranchise these vulnerable groups."