A&W Root Beer mocked M&M's for the candy company's recent campaign to dispense with their colorful "spokescandies" mascots from their packaging with a mock campaign of their own.
M&M's was accused of being too "woke" for altering the cartoon mascots to be more inclusive.
In a formal announcement addressing how even the candy's shoes can be "polarizing," they stated their intention all along was to bring people together.
"We have decided to take an indefinite pause from the spokescandies," they said before introducing an affable celebrity to serve as a spokesperson to represent the internationally popular treats.
"In their place, we are proud to introduce a spokesperson America can agree on: the beloved Maya Rudloph."
"We are confident Ms. Rudloph will champion the power of fun to create a world where everyone feels they belong."
Coinciding with M&M's announcement, A&W trolled them hard with a familiar-sounding post.
A&W began the statement with the same intro used for M&M's breaking announcement.
"America, let's talk."
The beverage company continued:

"Since 1963, Rooty the Great Root Bear has been our beloved spokesbear."
"We knew people would notice because he's literally a 6-foot tall bear wearing an orange sweater."
They also echoed M&M's mentioning of being "polarizing" but specifically in regards to the A&W mascot's lack of pants.
A&W went on to reveal a major decision regarding the appearance of Rooty that will be more palatable for all consumers.

"We have decided that Rooty will wear jeans going forward."
"Not to worry though: he will remain our official spokesbear."
"After all, he is un-bear-ably cute and im-paw-ssible to replace."
"We are confident Rooty will continue to champion good food & good times for many years to come...now in denim."
When Fox Business reached out to them to find out the reason for modifying the bare-bottomed bear, A&W later responded by spelling it out in a tweet.
"Is now a good time to mention this is a joke?"

Even Rooty confirmed it was a parody.
Another famous bear—Smokey of the United States Forest Service—gave Rooty the thumbs up.
But Tony the Tiger was solidly team bare—bear?—bottom.
Those who admired A&W's wit responded favorably.
Others responded to the fake announcement with suggestions.
But one savvy commenter reminded Rooty of one inescapable fact.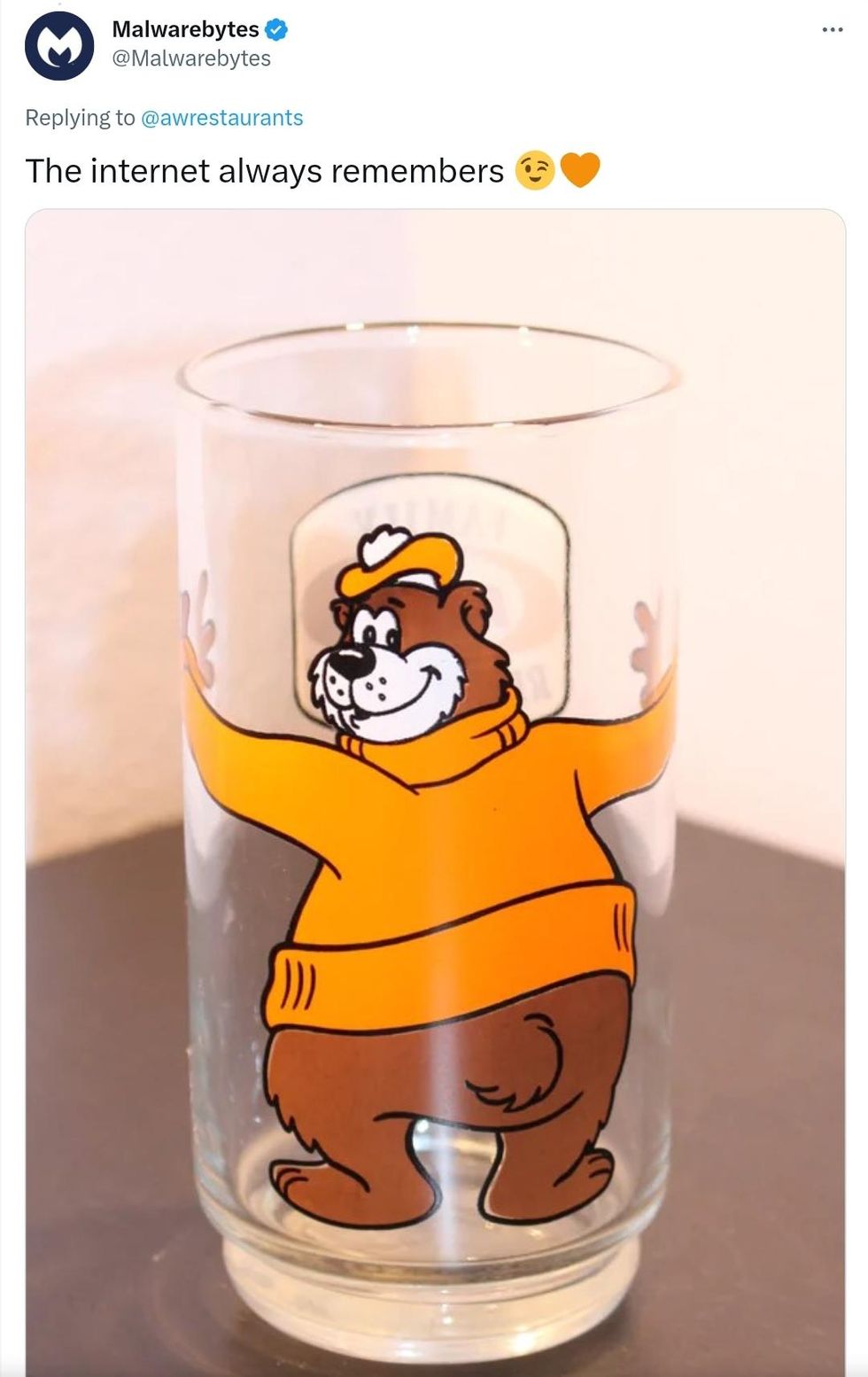 @Malwarebytes/Twitter
The internet is forever, Rooty.
Forever.