An expecting mother sparked debate over a bizarre "gender test" on TikTok, causing quite the stir.
Pregnant bartender and TikToker Michelle Charlotte (@michellebellexo) posted a video where she performed a supposed "gender test" to find out the gender of her baby.
This test involved mixing urine with baking soda. Supposedly, if the mixture begins to fizz, then the baby is a boy. If the solution does not fizz, then the baby is a girl. This test is an old wives' tale that has since been debunked, but Charlotte performed it regardless.
In her video, Charlotte mixes her urine with baking soda. When she sees the mixture does not fizz, she determines that she will be having a girl.
She said:
"We'll find out next week."
Watch the video here:
@michellebellexo

TT didn't like my 1st version of this vid. Did this work for you?#pregnant#bakingsodatest#pregnancyjourney#staytuned#oldwivestales#gendertest
While this gender reveal test is quite bizarre, the test itself wasn't the source of the backlash over Charlotte's video.
The reason her video sparked controversy was because Charlotte used what appeared to be a drinking glass to hold her urine.
Responses from dumbfounded fans swarmed Charlotte's video.
"Ok girl I normally love your videos and congrats really but NOT THE DRINKING GLASSES."
The video has gone viral, garnering more than 16 million views and thousands of comments.
Notable TikToker Jenae (@thisisjenae) even stitched Charlotte's TikTok with her own, giving her take on the situation.
Watch Jenae's reaction video here:
Originally, Jenae expressed her disgust with Charlotte using a drinking glass to hold urine, but ultimately assumed that Charlotte would throw the glass away after urinating in it.
She said:
"This is exactly why my mom told me not to eat at everybody house."
However, when Jenae looked through the video comments, she saw that Charlotte was defending her use of a drinking glass to hold urine.
Charlotte wrote:
"Haven't y'all heard of washing glasses? Nothing some hot water and dish soap can't clean."
When Jenae saw that Charlotte was planning to keep and reuse the glass, she was horrified.
Jenae then said:
"I don't care if you boil that glass in bleach and vinegar; if I came to your house, and I found out I drank out of one of the glasses you pissed in, I'm getting charged with assault and battery."
"That is vile."
TikTok users seem pretty split on the issue.
Some people, such as Jenae, are calling her out for being disgusting: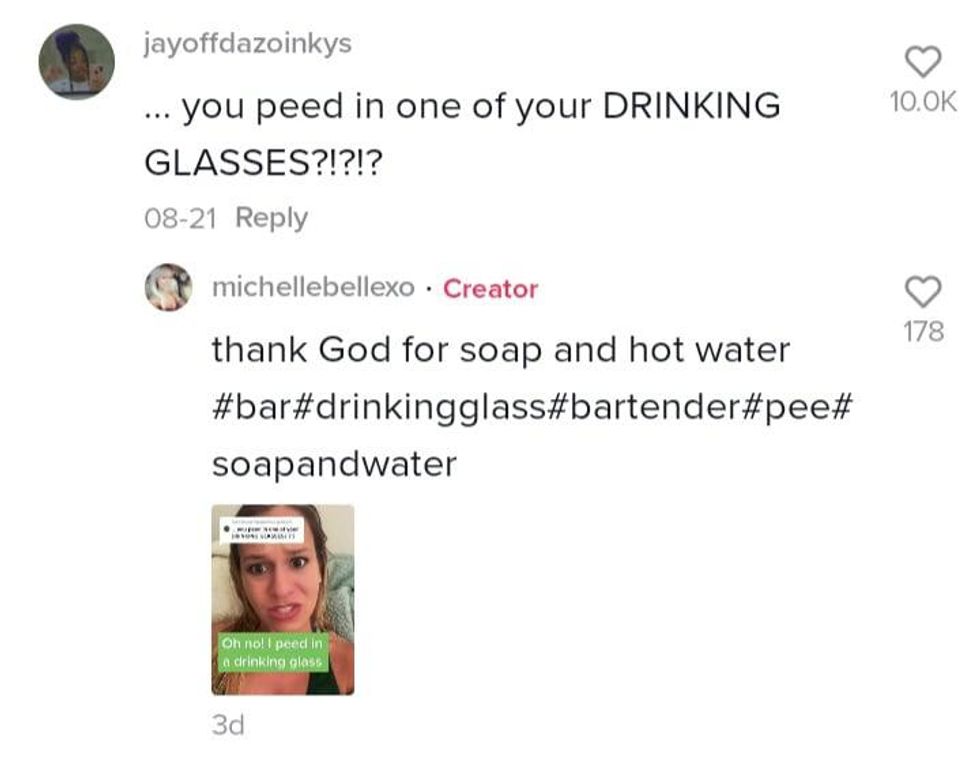 While others are defending her, saying people are overreacting:





Others still are blaming Charlotte's behavior on her whiteness:



As it turns out, Charlotte's convoluted gender test was--unsurprisingly--incorrect. Since the release of Charlotte's initial video, she has recently reported that her doctor confirmed that she will be having a boy. Who would have guessed?