The people have spoken.
---
A petition has emerged on Change.org regarding the final season of Game of Thrones.
The fans have called for a remake of the series, but with a different writing staff.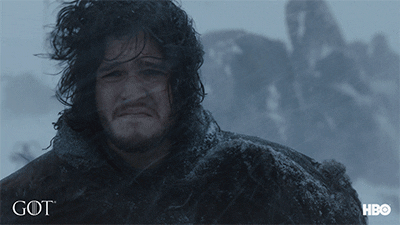 media1.giphy.com
The petition, entitled 'Remake Game of Thrones Season 8 With Competent Writers', makes a plea for the writers to be replaced, as they feel the show has been declining.
Their Change.org page, run by a person by the name of Dylan D., states the following:
"David Benioff and D.B. Weiss have proven themselves to be woefully incompetent writers when they have no source material (i.e. the books) to fall back on.

"This series deserves a final season that makes sense.

"Subvert my expectations and make it happen, HBO!"

Signing this petition so that I can get my goodbye from Jon https://t.co/B74OrI2UkC #GameofThrones #Season8

— Ghost Goodboi (@Ghost Goodboi) 1557945301.0
Spread the word, friends. https://t.co/IV7HnhBJCC

— Dany Deserved More (@Dany Deserved More) 1557945335.0
:) Let's do it just for fun if it reaches millions. Worst thing it could happen is we get more content! HBO: Remake… https://t.co/0jKdcLWzLj

— Yavor Boichev (@Yavor Boichev) 1558015981.0
There is clearly a significant emotional response to the quality of the current season of Game of Thrones.
It has proven to be a controversial series for many, claiming that the show has become "half-assed" and "abysmal", according to the petition's comment section.
Others feel that the eight years of character development has been wasted.

Wendell Edwards, one of the fans who signed the petition, had this to say in the comments:
I"t felt like watching a shallow blockbuster movie (which are fun when you go into it knowing that's what you're getting!), and felt like the showrunners took the easy way out by flattening characters and the use of spectacle. I'm shocked not at how the story progressed, but at how much discontinuity there is between this season and previous ones."
However, many have been poking fun at the 35,000 or so fans that have signed, tweeting about how they clearly feel entitled regarding certain elements of the latest season.
Look, I despise S8 of #GameofThrones as much as anyone, but this kind of stuff is so stupid. This won't do anything… https://t.co/Vjc3n4JwUf

— Chris Leeper (@Chris Leeper) 1557945068.0
This will keep happening every time creative people tell a story folks don't want to hear, this is where we're at n… https://t.co/nG6oIcBjui

— Kitchenwitch Hazel 🌑 (@Kitchenwitch Hazel 🌑) 1557939559.0
Even if a show I loved and was emotionally invested in ended in a way I thought was terrible, I can't imagine being… https://t.co/QTTCjL7e2o

— Snider D. Eric (@Snider D. Eric) 1557948836.0
i cannot stress enough how badly i want you losers signing that petition to re-write game of thrones to go and write some damn fan fiction.

— julie ``chubby but effective`` (@julie ``chubby but effective``) 1558015845.0
Lol people signing a god damn petition bc a TV show that has millions and millions of fan theories isn't meeting al… https://t.co/n2xsnFerAS

— Conor Hollingsworth (@Conor Hollingsworth) 1558015726.0
This isn't the first time fans have called for a piece of pop culture to be remade. Many Star Wars fans signed a petition to remake The Last Jedi, after being disappointed by the film's release.
What fans see as unpopular decisions within a film or TV show or video game, is simply how the writers' felt they should tie up all of the loose ends of a story.
No matter what a writer puts out into the world, there will always be people who criticize it. It's just a part of the creative industry, and there is no pleasing everyone.
Let's hope this inspires George R. R. Martin to finish his last two books.
media2.giphy.com