thanksgiving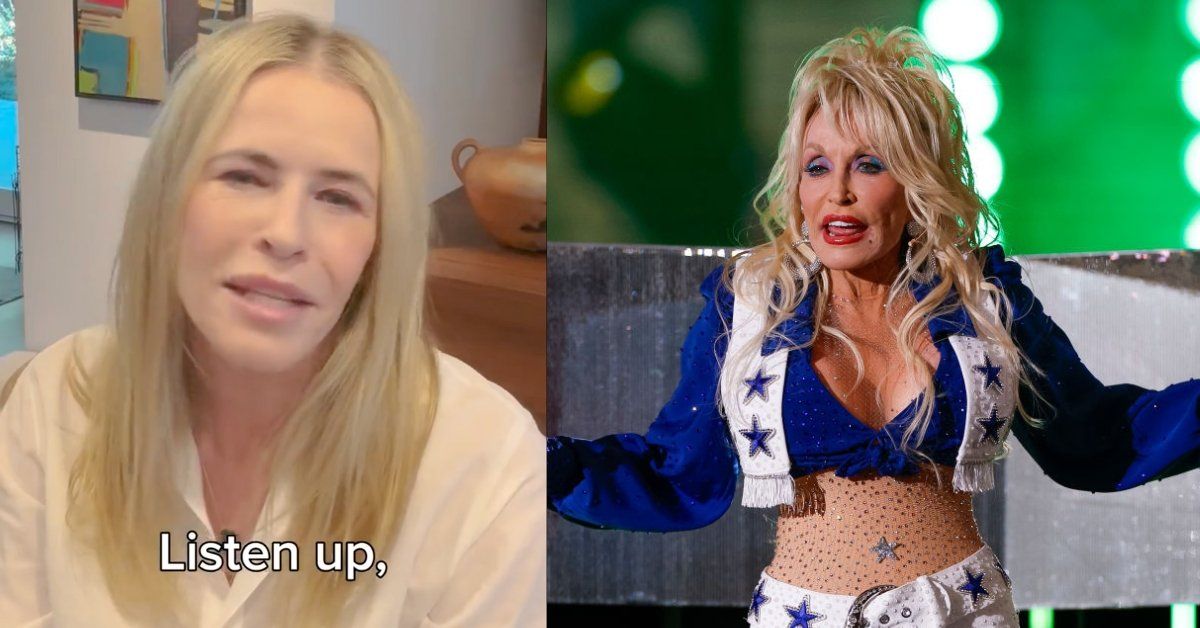 @chelseahandler/X; Brandon Sloter/Image Of Sport/Getty Images
Comedian Chelsea Handler took a firm stand against critics who lambasted Dolly Parton's NFL halftime show during the Thanksgiving game between the Dallas Cowboys and Washington Commanders.
Parton—who has always celebrated and even poked fun at her own body—dressed as a Dallas Cowboys cheerleader for her Thanksgiving game halftime performance. Images of the skin-colored bodysuit—which made it look like Parton was showing off her stomach—quickly went viral.
Handler passionately defended the legendary singer against negative tweets targeting her performance and attire. She also praised Parton, labeling her as an "American treasure" and emphasizing that her presence on stage was a gift to all who witnessed her performance.

You can hear what Handler said in the video below.

Handler said:

"Oh hi, I was just dreaming about one day, being half the woman Dolly Parton is and kicking ass on stage in front of millions of viewers at age 77 when I came across this bulls**t on the internet saying 77 year old women shouldn't be on stage pretending they're 20 and they should be at home spending time with loved ones and family."
"Listen up you f**king wingnuts. Dolly Parton is an American treasure and the fact that she is on that stage at all is a gift to everyone who sees her."
"In fact, saying anything negative about Dolly Parton is anti-American. Quite frankly, there are two people in this country that no one is allowed to talk s**t about and their names are Willie Nelson and Dolly Parton."
The comedian elaborated on Parton's numerous achievements and philanthropic endeavors, emphasizing her significant impact on the world.
Handler highlighted Parton's investments in communities, contributions to COVID research, massive donations of books to children across the country, and her personal financial support for education, even covering her family's educational expenses. Notably, Handler pointed out Parton's commitment to a bald eagle sanctuary.
She concluded:

"To quote a reply to the initial post, 'Dolly has done more for humanity in any single day of her life than you will do over the entirety of yours'. And as a woman that plans on being proudly tits out well into my 90s, I have one message: 'We are only getting older and hotter so f**king deal with it."
Many concurred with Handler's assessment.
Amid the conservative hand-wringing over Parton's performance, Stella Parton, Parton's younger sibling, said that she thought her big sister "was cute as hell in her Dallas Cowboys cheerleading costume at the halftime show on Thanksgiving."

While the country legend's performance was a success, with one news outlet saying it "proved she is capable of rocking football's biggest stage: The Super Bowl halftime show"—Parton herself has previously turned down offers to perform during the Super Bowl.
She toldThe Hollywood Reporter that she "couldn't do it because of other things, or I just didn't think I was big enough to do it—to do that big of a production," suggesting she felt she was too inexperienced to tackle such a major show.
Keep reading...Show less