Tag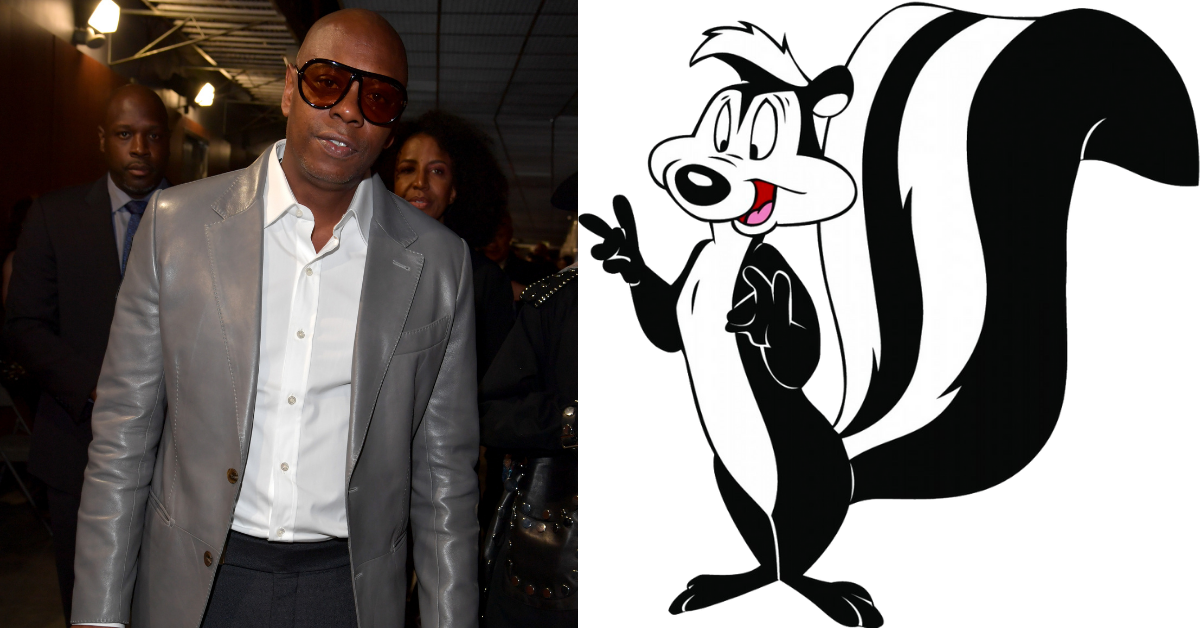 Lester Cohen/Getty Images for The Recording Academy; Warner Bros.
Pepé Le Pew was recently banned from reappearing in any of Warner Bros. cartoons and in the second Space Jam film because of his relentless, creepy pursuit of Penelope the cat. The skunk would not take no for an answer and has been tagged as emblematic of rape culture.
But this is no secret. Just ask Dave Chappelle, who was onto Pepé Le Pew more than 20 years before this conversation even started.
Chappelle was watching the cartoons with his nephew and was immediately taken aback by the skunk's behavior.
WARNING: profanity, sexual situations and reference to rape
Chappelle said after asking the audience if they ever rewatched childhood cartoons as an adult:
"...I was with my nephew, sitting there watching Pepe Le Pew, and I said, 'Now, pay attention to this guy because he's funny. I used to watch him when I was little'."
"And we're watching Pepe Le Pew, and… 'Good god, what kind of f*cking rapist is this guy? Take it easy, Pepe!'"
Oddly, Space Jam 2 has now become an extremely volatile center for what TheWashington Post labeled a "culture war."
"Such controversies over characters, comic book creator Gene Luen Yang says, speak to how powerful cartoons are. 'Cartoons are simplifications—but they simplify in order to amplify,' says Yang, the former national ambassador for youth literature."
Space Jam 2 also recently redesigned Lola Bunny to be less sexualized, which has caused conservatives to melt down over the loss of their "furry goddess."

"Lola Bunny's skill on the basketball court has always been a big aspect of her character," writes Carly Lane of Collider.
"So, it's fitting that she's getting a makeover to her uniform that visibly mimics her teammate LeBron James."
Chappelle may have been ahead of his time on criticizing Pepé's behavior, but we are behind the times in addressing these problems across mainstream media.
Will society ever keep up with comedy?