Tag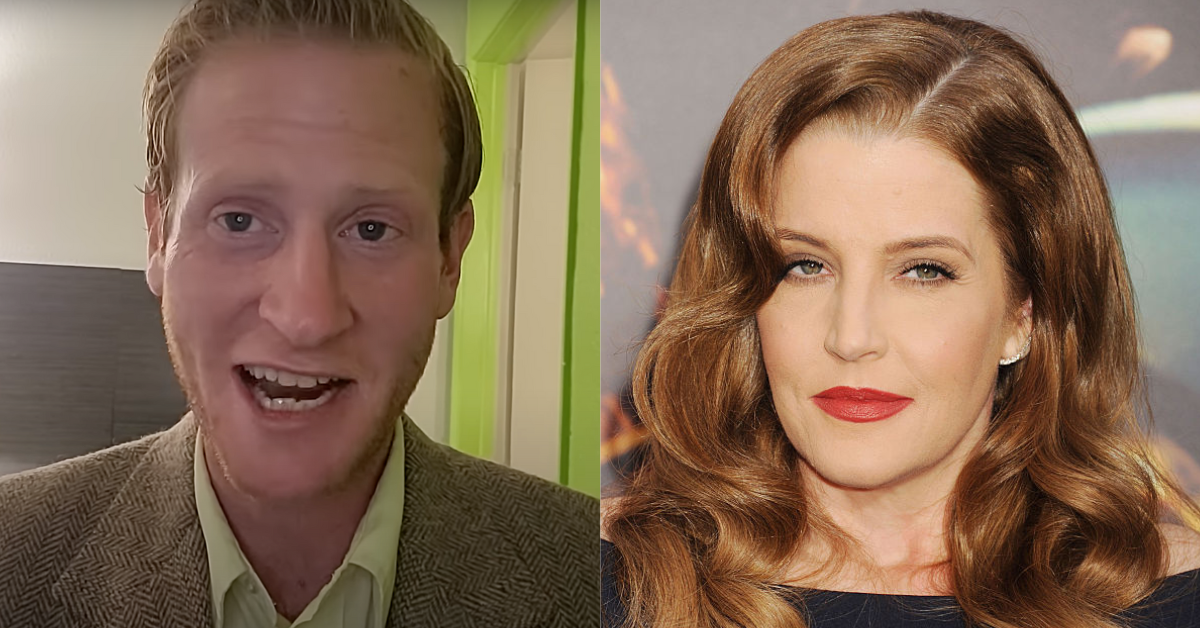 Dodge Landessman/YouTube; Jeffrey Mayer/WireImage/Getty Images
Arizona news anchor Dodge Landesman claimed he was fired after the Church of Scientology complained about a story he wrote about the late Lisa Marie Presley, who died last month after suffering cardiac arrest at her home.
Landesman told the New York Post he was fired from his $30,000-a-year job as a morning anchor at KYMA in Yuma, Arizona after a spokeswoman for the Church of Scientology complained about a story he produced about the singer's death. The segment was titled "Lisa Marie Presley was planning Scientology takedown before her death."
The story was not vetted by Landesman's bosses although he said they rarely checked what he said on the air.
Presley left Scientology in the early 2010s but expressed reservations about her membership for some years before her official departure.
The story in question concerned Presley's alleged preparation to testify for the prosecution in the original rape case against actor Danny Masterson, allegedly to say the Church had pressured her to convince one of Masterson's accusers not to report him to the police.
Prosecutors ultimately decided not to call Presley to the stand after the judge limited the scope of the case, which ended with a hung jury in November 2022. Presley died January 12, two days after the Los Angeles District Attorney's Office announced plans to try Masterson for the crime again.
Landesman's story noted it's "important to dig a little deeper into the death of Lisa Marie Presley" before mentioning Presley and Masterson—who was charged with three counts of forcible rape for incidents between 2001 to 2003—had once been friends but they lost touch after she left the Church in 2014 and decided to support one of his accusers.
Landesman recalled receiving a phone call the afternoon after the piece aired from Church spokeswoman Karin Pouw, who asked him to retract it. He said he told her he would look into it but did not take it down and Pouw left another message two hours later.
Shortly afterward, Landesman was called in to speak to his KYMA bosses who told him the story was "really bad and sloppy and they asked [him] for [his] source."
"I told them I got the information from Variety and other reliable sources. They said they were going to fight for me to keep my job with corporate and I thanked them."
However, Landesman's bosses fired him a few days later, telling him corporate "was afraid of a lawsuit."
"It was because they got scared of Scientology. They decided to cower to a paper tiger worth billions of dollars."
The Church could not be reached for comment.
When asked to address Landesman's claims, news director Ernesto Romero told the Post that he would not speak on personnel matters and directed the newsspaper to the editor's note that replaced Landesman's story online.
"In an exercise of editorial discretion, NPG of Yuma-El Centro Broadcasting, LLC has elected to unpublish this piece."
"After careful review, and given information that came to light after the piece was published, NPG of Yuma-El Centro Broadcasting, LLC has determined that it can no longer stand behind the piece because, among other things, it contained aspects of opinion by the author."
Landesman bemoaned the state of television broadcasting.
He said he's done working for "mainstream media," telling the Post he hopes to create a following on YouTube or TikTok as an independent journalist.
"TV news is falling apart. Nobody under 65 watches it and you can see why. Everything we did had to be cut and pasted from the networks and they didn't want anything original."
"It's a sad state of affairs. I want to go out there and tell the truth."
Many defended Landesman and ccondemned the actions of both the Church and his former employer.
\u201c@kyma11 y\u2019all really fired an anchor for doing his job and speaking on the parts of Lisa Marie Presleys story that needed to be spoken about, fired someone because a cult was unhappy with him reporting on them? what a JOKE of a news station. Cowards\ud83d\ude02 #scientology #DodgeLandesman\u201d

— Tyler (@Tyler) 1675331226
\u201cHope #DodgeLandesman sues the brakes off @KYMA11 for wrongful dismissal #scientology\u201d

— Tyler (@Tyler) 1675331866
\u201c#Scientology is NOT your friend and neither are fellow Scientologists!\u201d

— Lisa Barry (@Lisa Barry) 1675350080
I hope Dodge does well in his future career.
— Hollee Brutton (@BruttonH) February 2, 2023
Can we get someone from A&E to talk to their TV station owners and let them know that Scientology is "all bark and no bite"? We all know they wouldn't go through with a lawsuit
— Matthew Hynes (@mahynes72) February 2, 2023
\u201cNews anchor claims he was fired after Scientology complaints\n\n[PSA: Scientology is a destructive cult: https://t.co/JhgcdkKPGN]\n\nhttps://t.co/23PxEPSYeK\u201d

— Religion News (@Religion News) 1675414948
\u201cScientology often retaliates against the media and targets reporters individually for a negative story about the \u201ccult.\u201d https://t.co/rEJzC2gVFf\u201d

— Rick Alan Ross (@Rick Alan Ross) 1675356053
Presley's death marks the second time in as many months that the death of a prominent member—former or otherwise—exposed the Church of Scientology's practices to further scrutiny.

The death of actress Kirstie Alley in December 2022—best known for her role in the hit sitcom Cheers and for her work in films like Village of the Damned and Drop Dead Gorgeous—sparked renewed criticism of the Church's alleged promise of cancer immunity.
Alley, who had reportedly been undergoing colon cancer treatment in Florida, apparently largely adhered to Church teachings on the matter of medical treatment.
In her 2012 book The Art of Men (I Prefer Mine al Dente), Alley wrote while there are "real things that attack the body, including cancer, diabetes, polio, viruses, infections, encephalitis, and the bubonic plague," Scientology "deals with the spirit and its effect on the mind and the body."