Tag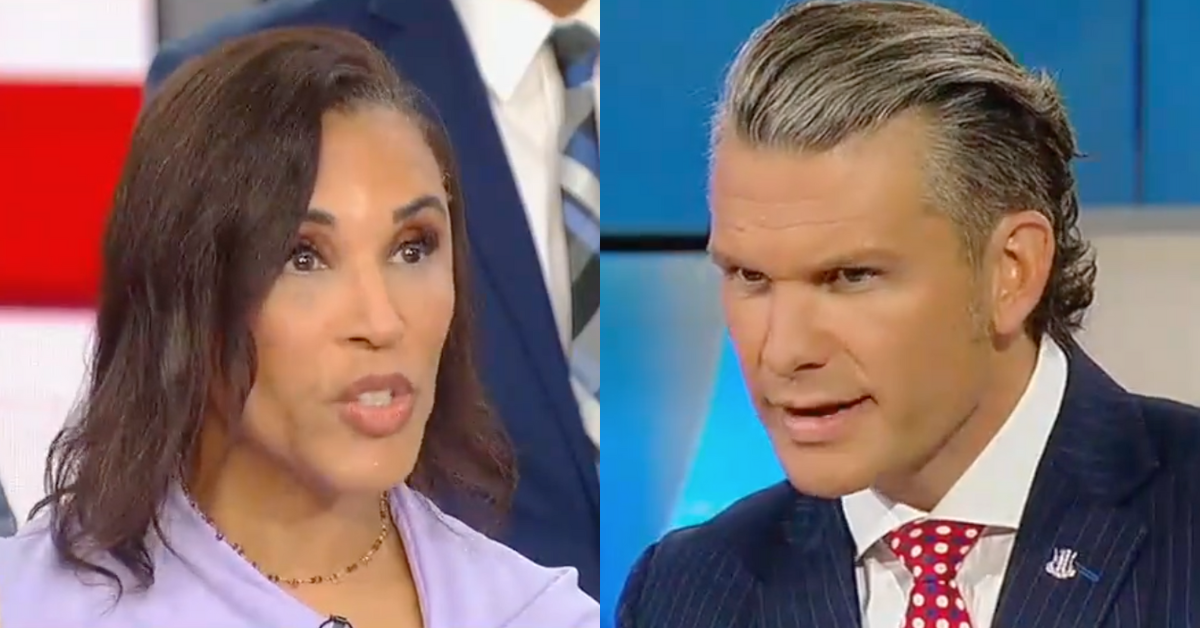 Fox News
Occasional Fox News guest Dr. Jeanine Downie—a Black Democratic voter—was part of a panel of Black voters during a recent segment featuring a bipartisan panel of voters who spoke about the key issues that are motivating them to vote in 2024.
What Fox News likely didn't expect was for Dr. Downie to go head to head with network host Pete Hegseth over the Republican Party's proposed book bans, efforts that have polarized school boards around the country.
When asked what issues she cares about the most, Dr. Downie homed in on education and her belief that there should be "no books banned"—and she didn't back down after Hegseth grilled her about her beliefs.
You can watch what happened in the video below.

Asked what she would like to see from President Joe Biden as a supporter of the Democratic Party, Dr. Downie gave the following response:
"i'm going to pick education and I'm going to say that education is a key issue in our society. I want no books banned. I'm very anti-anything being banned."

"You don't want your kid to read it? That's fine. I want my kid to read it. [There have been] 2,500 books banned so far.
When Hegseth interjected with a question about whether she'd opposed the Bible being taught in schools, Dr. Downie said she is Catholic and has "already taught" her daughter about the Bible and affirmed her commitment to separation of church and state.
She added that she wants children to receive comprehensive history lessons:
"All history should be taught. That is African American history, Native American history, Latino history, Asian history, Caucasian history... All history should be taught in public schools so I'm going to say I'm very pro-education."
After Hegseth said Dr. Downie has views on education that other panelists might "see differently," Dr. Downie criticized Florida Republican Governor Ron DeSantis' efforts to restrict what schools can teach under the guise of "wokeness":
"This means that DeSantis is a thumbs-down because he doesn't want to educate people on Black history so I take that as a personal affront."
Dr. Downie's statement raised the ire of a Black conservative panelist who extolled the virtues of "school choice" and suggested it is "the Underground Railroad to help Black and brown children succeed" only to be rebuffed by Dr. Downie, who said his own words earlier during the segment belied the fact he is "anti-Black history."
Hegseth went on to accuse Dr. Downieof engaging in "hyperbole" while defending conservatives who have falsely suggested "radical Marxist theory, critical race theory" is being taught to children in schools.
The segment quickly went viral and exposed Hegseth and the other panelists to criticism.

Dr. Downie also held her own during other parts of the panel, particularly when the subject turned to abortion.
After panelist Madeline Brame called abortion a "complete genocide" targeting unborn Black children, Dr. Downie countered Black Americans are "just 13 percent of the population" and there "are more White women than Black women that have abortions in this country."
Dr. Downie also disagreed with Brame's claims conservatives resonate more with the Black community, noting she has not been "bamboozled" or "hoodwinked" into voting for Democrats against her best interests.