Tag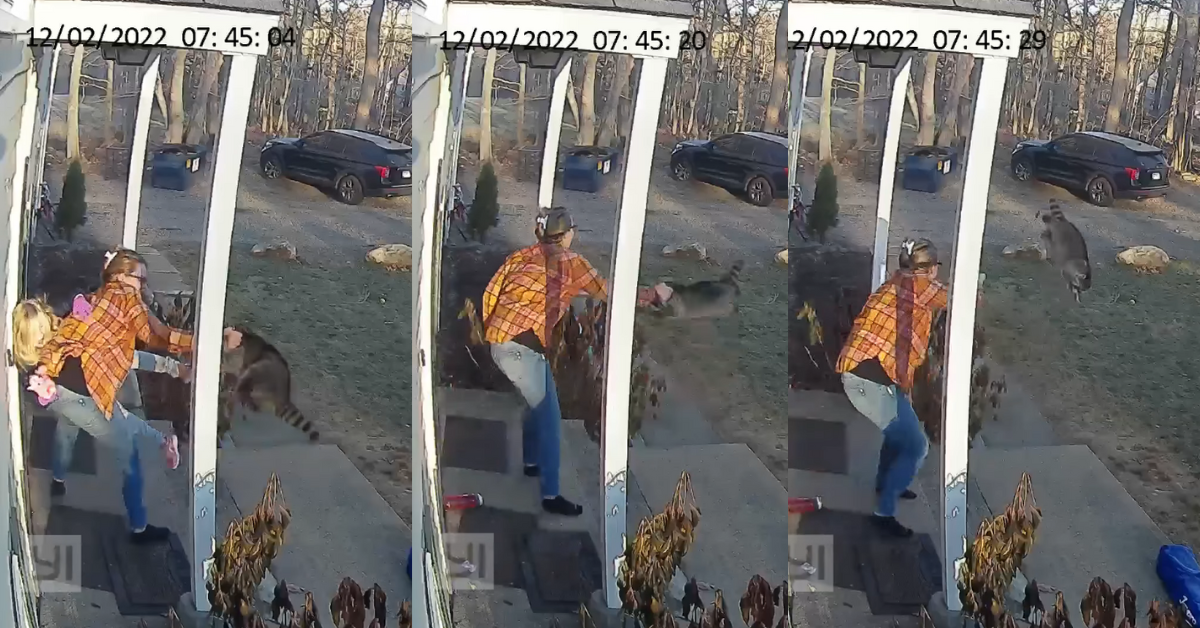 Logan Kelsey MacNamara/Facebook
It's unreal what a person is capable of when they have to act under extreme pressure and this couldn't have been more true for a Connecticut mom who recently saved her daughter from an animal attack.
Their Ring camera picked up on the motion and began recording as Logan Kelsey MacNamara's five-year-old daughter, Rylee, exited their home at 7:45 in the morning.
Immediately, the girl started shrilly screaming as a raccoon had approached her from the side of the porch, unprovoked, and began to attack her leg.
Just as quickly, MacNamara appeared and picked up her daughter while attempting to break the raccoon's grip on her leg. Once her daughter was safely back inside the house, MacNamara tossed the raccoon onto the front lawn and rushed back inside herself.
Later that morning, MacNamara shared the Ring footage on her Facebook page at her daughter's request.
She wrote in the caption:
"Per Rylee's request [to] 'show everyone what the raccoon did'."
"We are headed to get checked out for rabies following this unprovoked raccoon attack."
"I can't tell you how proud I am of this brave girl!"
You can watch the original footage here:
The video quickly gained attention with over 800 reactions on Facebook as well as 87-thousand views.

The story also made its way to Twitter, where people celebrated the mom's quick reaction.
The video also drew the attention of Geoff Krukar, a wildlife biologist for the State Department of Energy and Environmental Protection, who affirmed MacNamara had done the right thing.
Krukar stated:
"I think she did everything correctly by avoiding getting bit and warning the neighbor to stay back and getting the child to safety."
Since the incident, MacNamera has shared on Facebook she and Rylee have both visited the emergency room to be checked out after the attack, and they've both received their rabies shots.
It's hard to say how any of us will react in a suddenly dangerous situation like this, but it's wonderful to see this mother was able to think quickly enough to protect her daughter.