Tag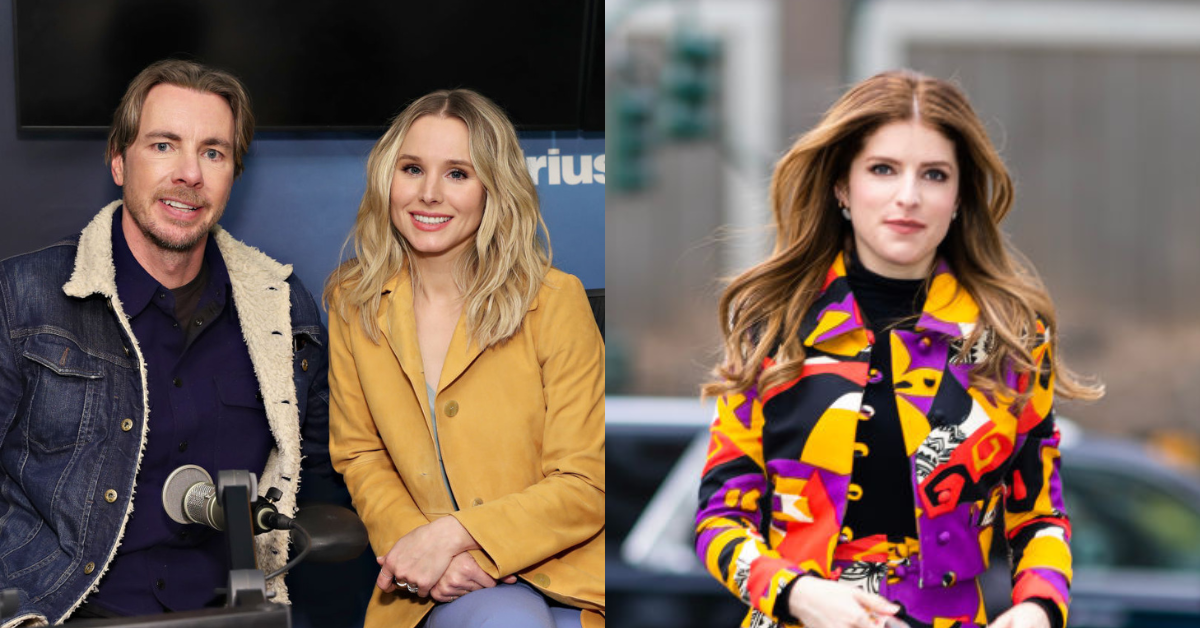 Cindy Ord/Getty Images; Gotham/GC Images/Getty Images
The Ranch star Dax Shepard revealed to fellow actor Anna Kendrick his wife of nearly ten years, Kristen Bell, was once very envious of her.
The startling revelation came up during an episode on his Armchair Expert podcast with Kendrick as a guest.
Speaking to the Pitch Perfect star, Shepard said of Bell:
"I've known Kristen for 15 years, she has only had jealousy over a single human, and it's been you."
He continued:
"I never saw it. It blew my mind."
Shepard went on to explain the reason behind his wife's jealousy of Kendrick.
"Kristen was like, 'Who is this other short person? Oh, so she can sing like that too? I'm already here. We got another one'."
You can listen to the segment here.
Shepard assured he got permission from his wife to share the story.

Kendrick responded by alluding to the fact she picked up on the vibe.
She said of Bell:

"I never felt like she liked me."
"But I do think a massive percentage of that is just genuinely when it comes to really sweet angelic blonde girls."
She continued, self-deprecatingly:
"I just assumed they think I am weird, they think I'm this weird little troll. And I don't think of Kristen as short, I think of her as just an angel, and she's so sweet."
Kendrick said her feelings were her own "projections" likely stemming from being intimidated by "women who look a certain way."
She added:

"Maybe there was just some energetic thing there."
"In all likelihood there wasn't and it was just my typical thing of certain women who look a certain way scare me and I just assume that they won't like me."
Shepard assured Kendrick that Bell:
"In the whole 15 years [of being together], she's had nothing but benevolence for everyone."
He added:
"She monitored you, recognized how brilliant you were, lost some roles to you, and slowly processed the whole thing, and has nothing but wonderful feelings for you."
"But you're the only person who ever made her jealous that I witnessed."
While the conversation assured there was no ill will between the actors, some social media users felt Shepard was oversharing.
\u201c@PopCrave bro what is going on why is her husband snitching like that\u201d

— Pop Crave (@Pop Crave) 1673715886
\u201cThis conversation is so weird, I've never liked the way Dax talks about Kristen but this is definitely the worst, why would he tell this story, even with her consent to.\u201d

— nasiphi \ud83d\udc9a (@nasiphi \ud83d\udc9a) 1673723289
\u201cwhy not use the word \u201cadmire\u201d or something he\u2019s so odd for that\u201d

— deonde \ud83e\uddd8\ud83c\udffe\u200d\u2640\ufe0f (@deonde \ud83e\uddd8\ud83c\udffe\u200d\u2640\ufe0f) 1673802636
\u201c@PopCrave why is he embarrassing my good sis like this omg???\u201d

— Pop Crave (@Pop Crave) 1673715886
However, others called out those who took issue with Shepard sharing the story.

\u201c@PopCrave I wish people would listen to the entire episode rather than judge from headlines... He was permitted by his wife to say it...\u201d

— Pop Crave (@Pop Crave) 1673715886
\u201c@PopCrave Those asking why he said that. Kirsten had human feelings. It was real. She gave permission for him to say it. He also said that while she had the real human feelings of jealousy she never once had a bad thing to say about Anna. That's awesome. So many people/women get catty.\u201d

— Pop Crave (@Pop Crave) 1673715886
\u201cdid everyone skip over the part where he clearly stated that bringing this up in conversation with anna was ran by kristen and she gave him consent to do so?? like- these replies and qrts are so annoying.\u201d

— \u064b (@\u064b) 1673731974
Kendrick emerged onto the New York theater scene as a child actress and made her film debut in the 2003 musical film Camp.
She rose to prominence in 2008 playing Jessica Stanley in the Twilight films based on Stephenie Meyers' fantasy romance novels.
Among her notable film credits featuring her voice are the animated films Trolls (2016) and Trolls World Tour (2020) and movie adaptations of the musicals The Last Five Years and Into the Woods.
Bell also got her start at an early age.
At 13, her mother got her an agent, and Bell began appearing in newspaper ads after she nailed her first-ever audition in 1992 and landed the role of a banana and a tree in a suburban Detroit theater's production of Raggedy Ann and Andy.
She also started taking acting lessons around that time.
In 2001, Bell left New York University to play Becky Thatcher in the Broadway musical The Adventures of Tom Sawyer. That same year, she earned her first film credit in the Louis C.K. comedy, Pootie Tang.

Her breakthrough in TV after guest-starring in a handful of shows like HBO's Deadwood was in 2004 when she won the titular role in the popular UPN series Veronica Mars.

She later lent her voice to the character of Anna in Disney's Frozen and Frozen II.