impeachment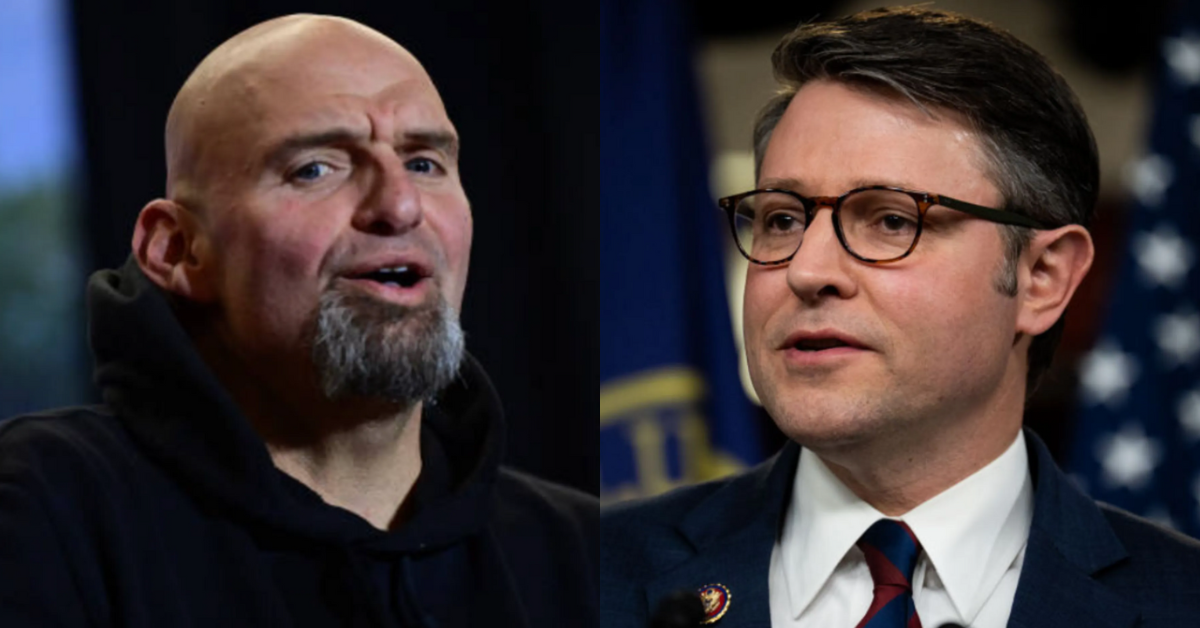 Mark Makela/Getty Images; Bill Clark/CQ-Roll Call, Inc via Getty Images
Pennsylvania Democratic U.S. Senator John Fetterman couldn't help but mock House Speaker Mike Johnson's assertion that he has a "duty" to bring an impeachment vote against President Joe Biden.
The inquiry, which accuses Biden of influence peddling, has been praised by members of the ultra-conservative House Freedom Caucus, who have repeatedly attempted to link the President to his son Hunter's business deals. The younger Biden has been the subject of GOP-led investigations into his business interests and in September was indicted on federal gun charges.

Republicans have been searching for evidence of financial misconduct or corruption by the president but have not yet produced any proof to support these claims.
Fetterman was asked during an interview with CNN's Abby Phillip for his thoughts on Johnson's remark that "Republicans have a 'duty' to bring an impeachment vote to the floor."
To that, Fetterman feigned tears and fear and responded:

"Oh no! Please, please don't impeach him. Oh my God, that bad, bad man. It's so scary, oh no."
"But whatever a weirdo says about that, it's like, go ahead."
You can hear what Fetterman said in the video below.

Many concurred with Fetterman's assessment and ridiculed Johnson's inquiry themselves.

In remarks to Fox News, Johnson said he suspects Democrats will not "assist" the GOP's impeachment effort, though he said they "should."

Appearing alongside New York Republican Representative Elise Stefanik, the House GOP Conference Chair, Johnson insisted that the impeachment inquiry is not a partisan exercise:
"Elise and I both served on the impeachment defense team of Donald Trump twice, when the Democrats used it for brazen partisan political purposes. We decried that use of it. This is very different."
"Now we're being stalled by the White House because they're preventing at least two to three DOJ witnesses from coming forward" and withholding evidence from the National Archives."
"A formal impeachment inquiry vote on the floor will allow us to take it to the next necessary step, and I think it's something we have to do at this juncture."
However, this claim does not stand up under scrutiny.
Texas Republican Representative Troy Nehls was criticized after he came right out and admitted that the real reason House Republicans want to impeach Biden has everything to do with giving former President Donald Trump's campaign an edge in 2024.
A USA Today report notes that Nehls "has not shied away from pushing for Biden's impeachment in part to play politics. In the event that Trump—who was impeached twice—becomes the 2024 GOP nominee, Nehls said he wants to give Trump "a little bit of ammo to fire back" by noting that Biden has also been impeached.
Keep reading...Show less