Tag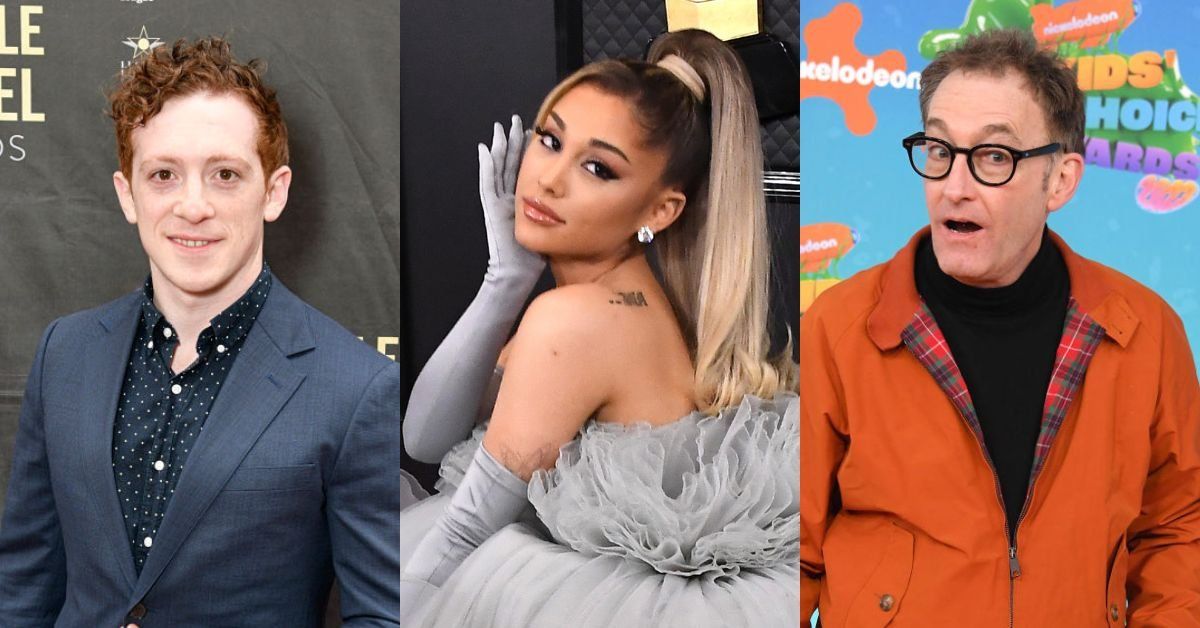 Eugene Gologursky/Getty Images for Lucille Lortel Theatre, Steve Granitz/WireImage, Steve Granitz/FilmMagic
The wife of Tom Kenny, the actor known for voicing the titular character of the SpongeBob SquarePants animated TV series, clarified that her husband was not dating pop artist Ariana Grande.
The gossip ran last week that Grande was dating Ethan Slater–who co-stars with the "Thank U, Next" singer in the upcoming movie adaptation of a wickedly popular Broadway musical.
This followed reports of Grande splitting from her former husband, real estate agent Dalton Gomez.
Slater is a Tony nominee who was recognized for his performance as SpongeBob in the eponymous stage musical that opened on Broadway in December 2017.
On Friday, The Cut ran with this headline.
"Is Ariana Grande dating SpongeBob now?"
Social media users were confused after reading the headline.

It left them wondering which SpongeBob Grande was allegedly hooking up with.

@thecut/Instagram
@thecut/Instagram

@thecut/Instagram

@thecut/Instagram
To quash the rumor once and for all, Jill Tally–wife of the actor who voices the SpongeBob animated character–responded on Instagram with:
"Hi everyone, I'm married to Tom Kenny."
"He is not dating Ariana Grande."

She continued sharing her two cents on the confusing rumor.

"I don't know if Ethan Slater is or isn't dating Ariana Grande."
"However, they're both adorable and I totally ship it."
"Just wanted to set the record straight."
Tally concluded with:
"P.S. as for me and Tom Kenny—we are celebrating our 27th wedding anniversary today ❤️."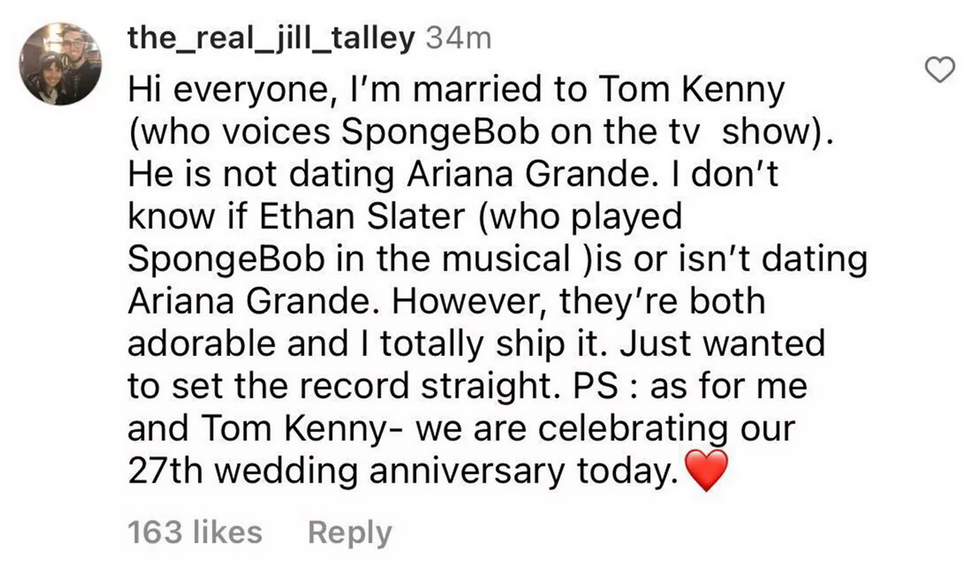 @the_real_jill_talley/Instagram
With the mystery solved, people can now get a good night's sleep.

Kenny, who is 61, has a lot of pride in having voiced the character of SpongeBob for over 20 years and does not shy away from requests to voice the character when approached by fans.
He once said:
"I love the character, and after two decades of frying impressionable young minds, SpongeBob has been very impactful in folks' lives."
"It's always fun for the cast to watch people's reactions when we do the voices 'live', or when we insert a fan's name into a famous line from the show.
Others thought the answer was always clear.
Not to be judgy buuuut...

Sources confirmed to People magazine Grande started dating the stage performer for SpongeBob—Ethan Slater—following Grande's split from Dalton Gomez.

One source said:

"Ariana and Dalton separated in January."
"She and Ethan recently began dating."
The insider also noted Slater was separated from his high school sweetheart Lilly Jay.
Slater and Jay began dating in 2012 and tied the knot in 2018.
They share a son born in 2022.