Marla Aufmuth/Getty Images for Watermark Conference for Women
Famous lingerie, clothing and beauty retailer Victoria's Secret is going through one of the largest, if not the largest, rebrandings the company has seen in recent history.
As The New York Times reported:
"They will be spearheading what may be the most extreme and unabashed attempt at a brand turnaround in recent memory: an effort to redefine the version of "sexy" that Victoria's Secret represents (and sells) to the masses."
As apart of the campaign, Victoria's Secret has hired seven new women who are not as known for their looks as they are for their achievements.
Activist and Soccer Professional Megan Rapinoe is one of the talented women who's been brought on to spearhead the new campaign.
Victoria's Secret is getting rid of its Angels and wings. The company has hired new representatives — including soc… https://t.co/4SUUrUyIH4

— The New York Times (@The New York Times) 1623877768.0
For decades, Victoria's Secret's scantily-clad supermodels epitomized the height of femininity for millions. Now, t… https://t.co/rxlxyHH7Fu

— The New York Times (@The New York Times) 1623879143.0
Unsurprisingly, straight men felt the need to chime in on the change in marketing for clothing and accessories they generally don't wear or even buy.
Some of the dumbest people run the most powerful companies on earth and it's hilarious watching them destroy themse… https://t.co/oANjLopMsl

— Jesse Kelly (@Jesse Kelly) 1623879251.0
Looking forward to the 2021 Victoria's Secret Fall catalog. https://t.co/YmhnfmjEeP

— Jesse Kelly (@Jesse Kelly) 1623879607.0
Twitter had plenty of comebacks for the straight men who are getting their tighty-whities in a knot over lingerie.
@JesseKellyDC Somehow I don't think you're their target audience, chief.

— Shawn Farrell (@Shawn Farrell) 1623885763.0
@JesseKellyDC Sales have been down for years. Only makes sense for better marketing. Sorry it doesn't fit your narrative though

— Kathy (@Kathy) 1623885486.0
@JesseKellyDC I see nothing wrong with a brand who is overhauling to represent strong, intelligent women of ALL bod… https://t.co/5Yclr5tfrk

— Hope4Rcountry (@Hope4Rcountry) 1623884108.0
@JesseKellyDC So, this whole screed is a dude whinging that a women's underwear company is no longer using a market… https://t.co/pTPDURPrJa

— Tony C 🇺🇸 (@Tony C 🇺🇸) 1623886178.0
@TonyTeacher88 @JesseKellyDC But but but FrEe MaRkEt CaPiTaLiSM!

— TN Bull Gator (@TN Bull Gator) 1623930438.0

@melizzle71/Twitter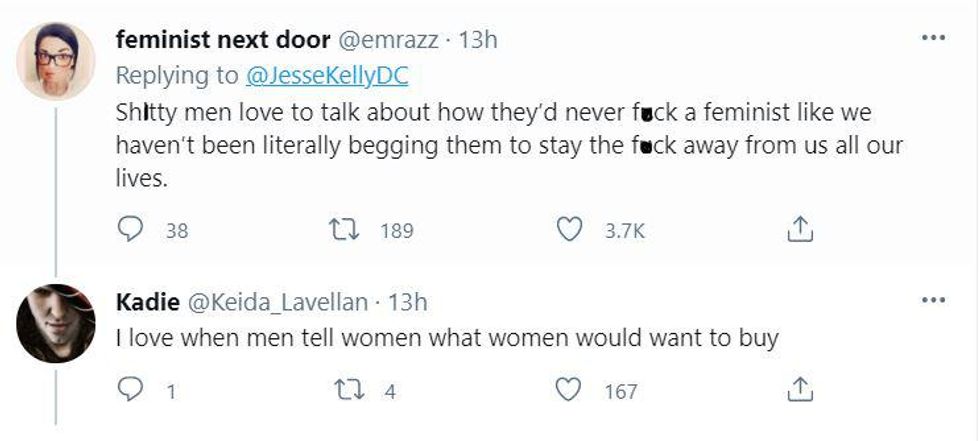 @emrazz/Twitter; @Keida_Lavellan/Twitter
@JesseKellyDC You should smile more, Jesse. Be more pleasing and agreeable.

— Marquise de Merteuil 🐝 🌺 (@Marquise de Merteuil 🐝 🌺) 1623889579.0
@JesseKellyDC Yes, how dare they market their underwear to woman, and not your masterbatory preferences... https://t.co/pqWGMJXFka

— Roxie, Adult Human Female 🤘🏳️‍⚧️ (@Roxie, Adult Human Female 🤘🏳️‍⚧️) 1623899069.0
Megan Rapinoe addressed her new role with Victoria's Secret.

"As a gay woman, I think a lot about what we think is sexy, and we are afforded the ability to do that, because I don't have to wear the traditional sexy thing to be sexy and I don't think the traditional thing is sexy when it comes to my partner or people I've dated."
"I think functionality is probably the sexiest thing we could possibly achieve in life. Sometimes just cool is sexy, too."
Rapinoe also said she was shocked and questioned why the company wanted her in particular.
She hopes the Victoria's Secret executives acknowledge their past mistakes and their history. Rapinoe's role as an ambassador won't end with photoshoots.
She's also been asked to consult on language, products and their brand narrative.