eminem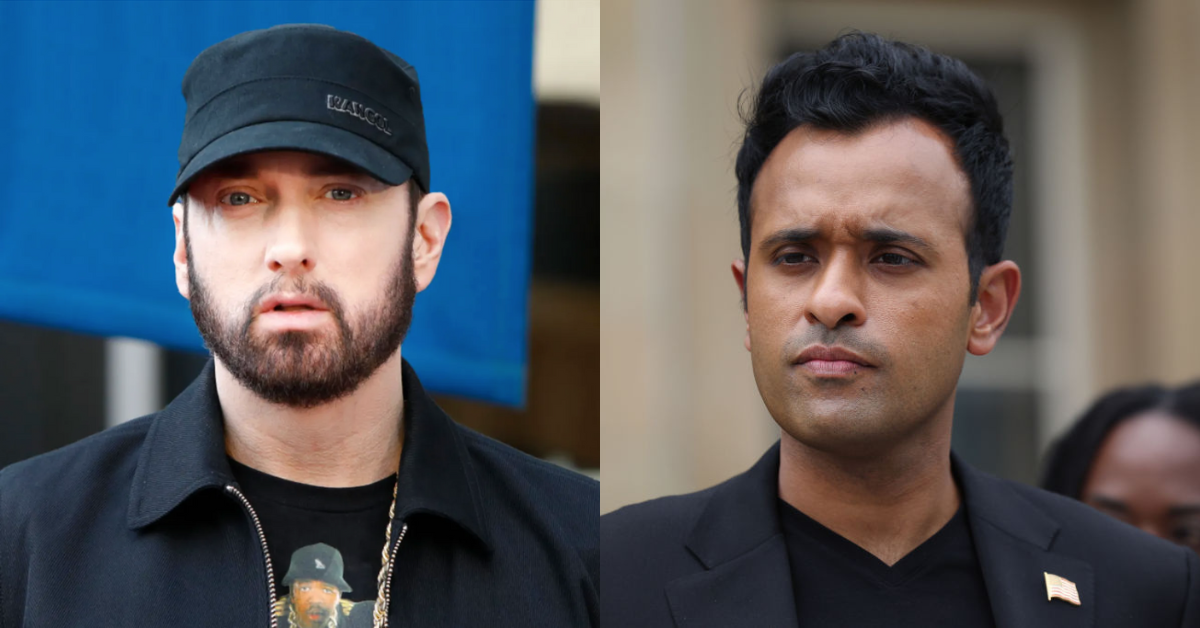 Kurt Krieger/Corbis via Getty Images; Scott Olson/Getty Images
The campaign trail has taken an unexpected musical turn as GOP presidential candidate Vivek Ramaswamy finds himself in a lyrical showdown with none other than Grammy Award-winning rapper Eminem.
Ramaswamy, who has embraced rapping as part of his campaign strategy, is now heeding Eminem's call to stop performing his songs at campaign events after rapping "Lose Yourself" during an appearance at the Iowa State Fair.
The legal tussle arose from a cease-and-desist letter issued by the performing rights organization BMI. The letter conveyed Eminem's objection to the use of his musical compositions by the Ramaswamy campaign.
It explicitly warned that any further performances of Eminem's works by the campaign would be considered a "material breach" of the agreement:
"BMI will consider any performance of the Eminem Works by the Vivek 2024 campaign from this date forward to be a material breach of the Agreement for which BMI reserves all rights and remedies with respect thereto."
You can see the moment Ramaswamy rapped Eminem's music in the video below.

Ramaswamy later responded by invoking one of Eminem's iconic lines in a post on X, formerly Twitter:

"Will The REAL Slim Shady Please Stand Up? He didn't just say what I think he did, did he?"
The reference harkens back to Eminem's 2000 hit song "The Real Slim Shady," which became an anthem of the early 2000s.
You can see Ramaswamy's post below.

People were not impressed with Ramaswamy's actions.
Eminem isn't the only musician to speak out over the use of their music during GOP events.

Singer Rihanna won a legal victory over Donald Trump in 2018 after she, through BMI—her performing rights company—informed the then-President he could no longer use her music at his rallies.
The singer took action after a Washington Post reporter shared that her music was "blaring" at a rally in Tallahassee, Florida. Rihanna responded, "Not for much longer" before adding neither she "nor [her] people would ever be at or around one of those tragic rallies."
Keep reading...Show less