Joe Raedle/Getty Images; Smith Collection/Gado/Getty Images
Former President Donald Trump called for his supporters to boycott Atlanta-based Coca-Cola along with other "woke companies" in Georgia like Major League Baseball (MLB) and Delta Airlines—whose executives spoke out against the state's new voting act.
Although it already looks like Trump isn't following his own boycott demands.
Trump's boycott of the Coca-Cola company was particularly surprising given his past criticisms of "cancel culture."

Meanwhile, jokes and memes mocking Trump's obsession with Diet Coke began proliferating on social media.

@thehill Like he would ever give up his diet coke

— Simply Beebe (@Simply Beebe)1617636138.0
@thehill He doesn't realize that Diet Coke is also made my Coca-Cola. https://t.co/WSeGgboOlU

— Cover to Cover (@Cover to Cover)1617555655.0
@patriottakes Lol the dude addicted to Diet Coke so much that he had a Diet Coke button on the Resolute Desk, is ca… https://t.co/7UgW6jYvR4

— Stop Calling Your Racism Patriotic (@Stop Calling Your Racism Patriotic)1617422251.0
@patriottakes Trump lives on Diet Coke. He wouldn't boycott it if it was getting in his way of him holding his wife… https://t.co/jy9ov6cIGe

— JFidLer (@JFidLer)1617419728.0
Trying to picture Donald Trump boycotting Coca-Cola after the many, many stories about his deep, deep Diet Coke fan… https://t.co/7NCWFV6xN2

— Dan Lamothe (@Dan Lamothe)1617507112.0
@thehill This coming from a guy who drinks Diet Coke like it's water.

— mark nixon (@mark nixon)1617554444.0
@nypost 😂😂😂😂 https://t.co/Wq6G3hQ9sS

— 𝒰𝓃𝒶 𝒞𝒽𝒾𝒸𝒶 & 𝒯𝒽𝑒 𝒞𝒾𝓉𝓎 (@𝒰𝓃𝒶 𝒞𝒽𝒾𝒸𝒶 & 𝒯𝒽𝑒 𝒞𝒾𝓉𝓎)1617511042.0
On March 25, Georgia Governor Brian Kemp signed SB 202, titled "The Election Integrity Act of 2021" – which includes new rules of voter identification in the state and a controversial provision banning volunteers from providing food and drink to voters standing in long lines.
Coca-Cola Chairman and CEO, James Quincy, publicly slammed the bill as "wrong" and told CNBC's Sara Eisen:
"We always opposed this legislation."
Ed Bastian, the CEO of Delta Airlines – which is also headquartered in Atlanta – strongly opposed the new law, calling it "unacceptable" and "based on a lie."
And MLB Commissioner Rob Manfred confirmed the relocation of the 2021 All-Star Game from Georgia's capital in response to the passing of SB 202.
Said Manfred:
"I have decided that the best way to demonstrate our values as a sport is by relocating this year's All-Star Game and MLB draft."
"Major League Baseball fundamentally supports voting rights for all Americans and opposes restrictions to the ballot box."
In response to the companies denouncing Georgia's new voter law, Trump claimed baseball was "already losing tremendous numbers of fans."

"Now they leave Atlanta with their All-Star Game because they are afraid of the Radical Left Democrats who do not want voter ID, which is desperately needed, to have anything to do with our elections."
Trump added:

"Boycott baseball and all of the woke companies that are interfering with Free and Fair Elections. Are you listening Coke, Delta and all!"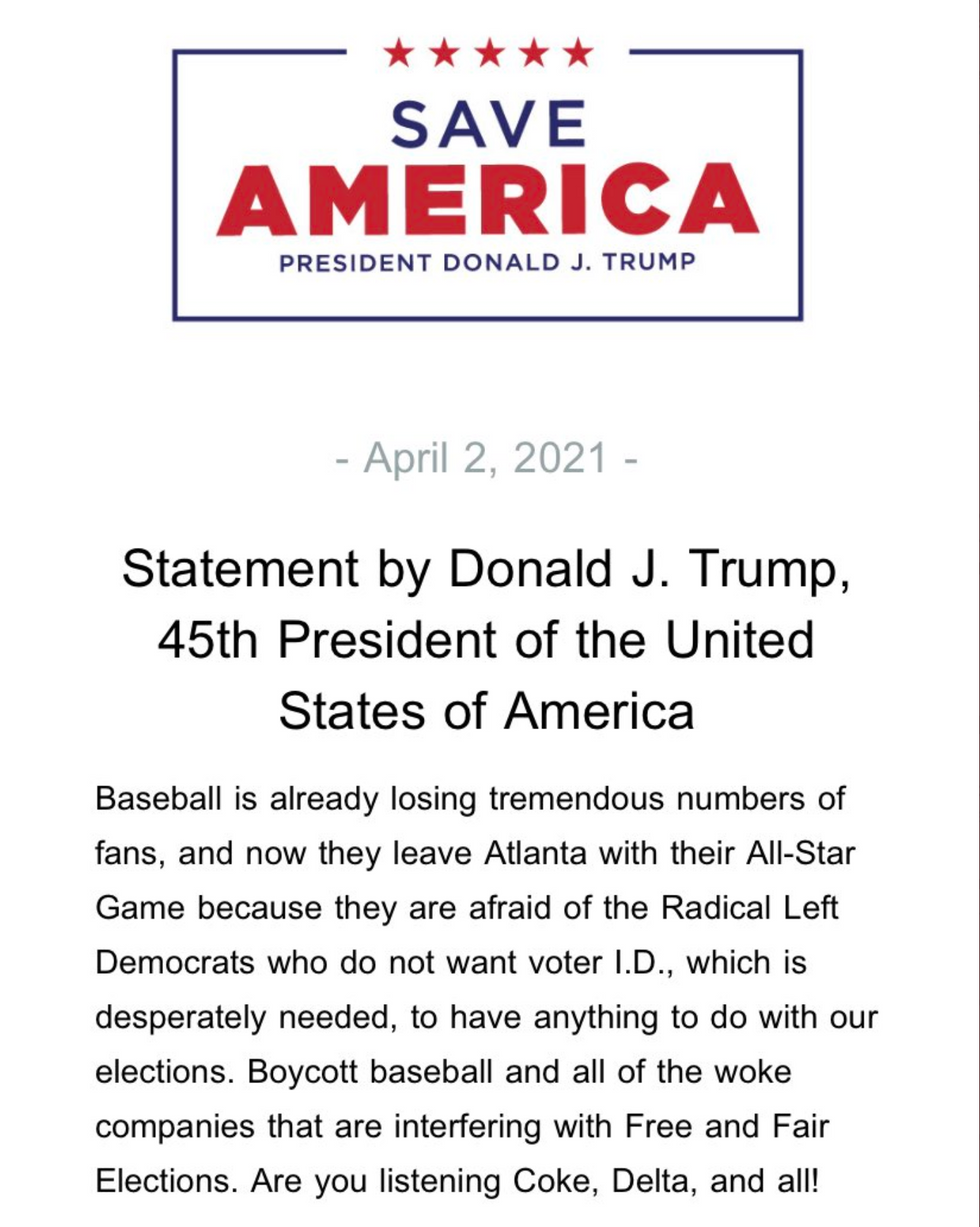 @RSBNetwork/Twitter
Delta and Coke seen that homegrown boycott coming... https://t.co/vQAc7cJBBx

— Mr. Lamont King (formerly Lazee Lamont) (@Mr. Lamont King (formerly Lazee Lamont))1617283403.0
Trump wants to boycott Coke LOL good luck with that tubby https://t.co/zxPf1kvM4H

— THATS NOKAY (@THATS NOKAY)1617418973.0
Hey MAGA ppl, have fun finding products the Coca-cola co. doesn't make, good luck flying out of some places NOT on… https://t.co/DGpJoSzQYf

— KJ #FindUrPassion🇺🇲🇺🇲🇺🇲🇺🇲🌊☮️♥️💑 (@KJ #FindUrPassion🇺🇲🇺🇲🇺🇲🇺🇲🌊☮️♥️💑)1617552782.0
All I'll drink now is Coca Cola, bank with Citi & Chase again, fly with Delta, watch MLB games, and support UPS, et… https://t.co/rXiH6djVKM

— Wanderlust (@Wanderlust)1617561368.0
But what about cancel culture? https://t.co/iQHCLGLHaa

— PatriotTakes 🇺🇸 (@PatriotTakes 🇺🇸)1617418588.0
A variant of the term, call-out culture, cancel culture is a withdrawal of support from companies that have said or done something considered offensive.
Trump criticized cancel culture at the Republican National Convention back in August, saying:
"The goal of cancel culture is to make decent Americans live in fear of being fired, expelled, shamed, humiliated and driven from society as we know it."
"The far left wants to co-erce you into saying what you know to be false, and scare you out of saying what you know to be true."
He also claimed during a speech in South Dakota that "cancel culture' was "driving people from their jobs," adding it was "shaming dissenters, and demanding total submission from anyone who disagrees."
"This is the very definition of totalitarianism, and it is completely alien to our culture and our values, and it has absolutely no place in the United States of America."'
"This attack on our liberty, our magnificent liberty, must be stopped, and it will be stopped very quickly."