Tag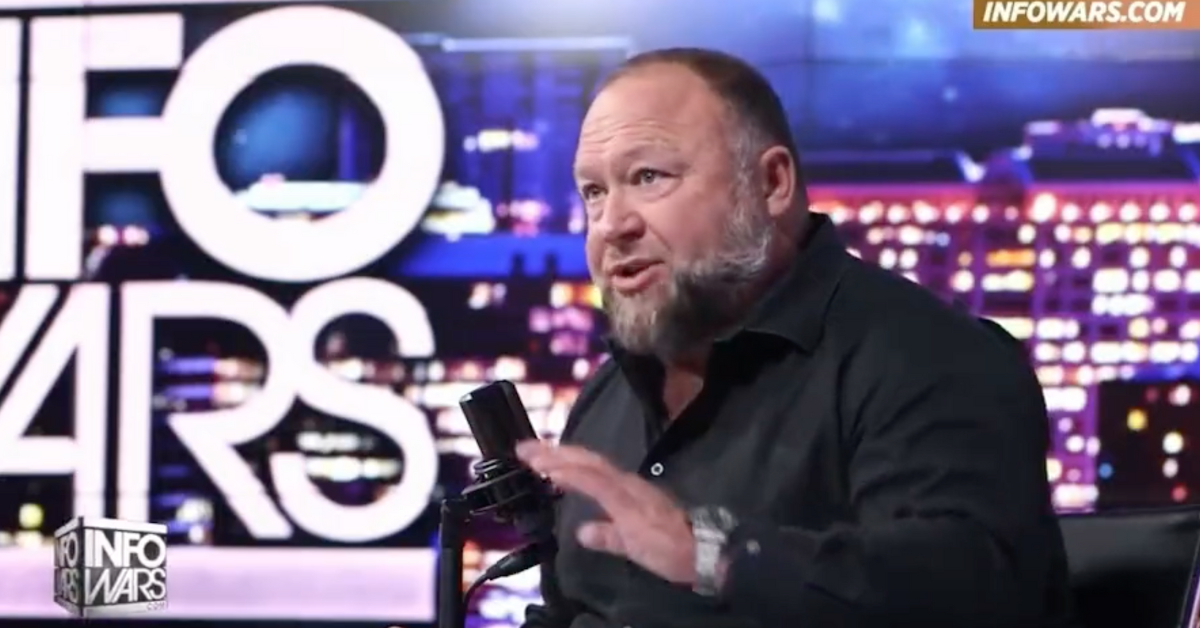 InfoWars
InfoWars host and noted conspiracy theorist Alex Jones is well known for making questionable claims and his latest claim—this one about his own attractiveness—had the internet giving him some major side-eye.

Jones claimed women are "throwing themselves" at him in the parking lots of restaurants where he can't help but be recognized, though he insisted he's "not bragging about it."
You can hear what Jones said in the video below.
Jones said:

"Now I go to a restaurant and I say, 'Can I be put in a private room?' Not because I don't care about the public but it's going to make a major scene."
"If they don't have a private room, you know what happens?"
"My food gets bought almost every time and I get mobbed all around the table and I'm signing autographs for the waiters and the owner comes out and I get followed in the parking lot and women are throwing themselves at me."
In addition to taking the opportunity to gloat over his own alleged appeal to women, Jones whined about "the establishment" for having "demonized" and "lied" about him.

Jones refused to take responsibility for his role in spreading conspiracy theories about the 2012 Sandy Hook Elementary School shooting, which claimed the lives of 20 students between the ages of six and seven as well as six staff members.
However the courts found ample evidence of Jones' targeting of Sandy Hook victims and their families. Jones was ordered to pay almost $1 billion in damages for the harassment caused by his baseless lies about the mass shooting.
"And I'm not bragging about it, I'm just telling you when the establishment that's so hated came out and demonized me and lied about me and attacked me, all this crap we've been put through, it's been hard for my family, it's been hard for me, we do get haters, we do get stalkers, that one percent that attacks us is terrible, it's not all been roses."
"But they have made us way bigger and iconic out there and it's blown up in their face!"
While Jones tried to play the victim, it was very clear social media users were not falling for it or his attempt to paint himself as some sort of conservative Don Juan with all the women of the world at his disposal.

The mockery was swift.

Jones' oddball claim and attacks at his "establishment" critics came just a few short weeks after he filed for Chapter 11 bankruptcy in the Southern District of Texas, claiming his assets were between $1 million and $10 million, while his debts were between $1 billion and $10 billion.
Jones, who claimed he has between 50 and 99 different creditors, made numerous attempts to protect and hide his assets since being held liable for defaming the families of children killed at Sandy Hook Elementary.