Pro tennis player and successful business entrepreneur, Serena Williams, raised $111 million for her new venture fund "Serena Ventures."
But what should have been a celebratory headline for an impressive accomplishment was overshadowed when TheNew York Times reported on the story but featured a photo of her older sister, Venus Williams–a tennis legend in her own right.

The news outlet didn't even mention Serena by name in their headline.
The headline read:
"Tennis Star's Venture Firm Has Raised $111 Million."
On Tuesday, Serena–once ranked No. 1 by the Women's Tennis Association (WTA) for 319 weeks and known as one of the greatest athletes of all time–tweeted her disappointment over the lack of progress against racial bias after becoming a casualty of a news outlet mixing up Black people.
She wrote:
"No matter how far we come, we get reminded that it's not enough."
"This is why I raised $111M for @serenaventures."
"To support the founders who are overlooked by engrained systems woefully unaware of their biases."
"Because even I am overlooked. You can do better, @nytimes."
Her tweet included a photo of the NYT article with the photo of Venus labeled "Serena Williams."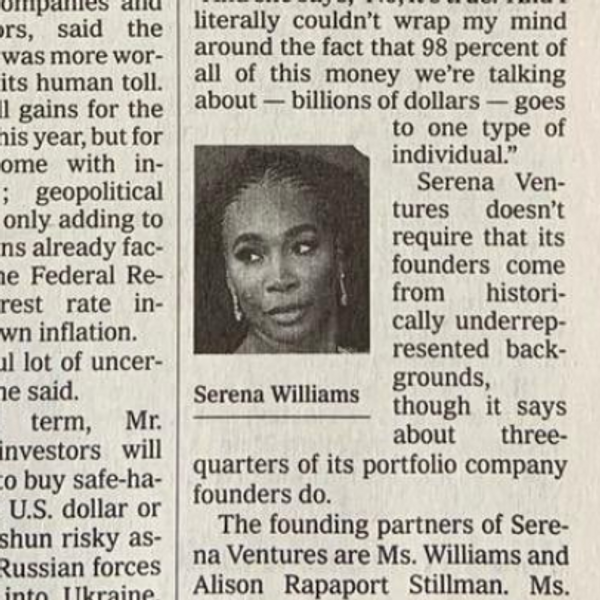 @serenawilliams/Twitter
People on social media understood her frustration.
In response to the backlash, TheNew York Times tweeted, "This was our mistake" and they faulted the gaffe "to an error when selecting photos for the print edition."
The newspaper confirmed the incorrect photo did not appear in their article online and ensured the error would be rectified the next day.
People noted the lack of an apology.
Despite the newspaper's response, many people still found the error inexcusable.

They also questioned if proper vetting was involved before the paper went to print.
A review of the photo on image source Getty Images however may shed more light on the issue.
Two photos of Venus Williams' February 27, 2022 arrival at the SAG Awards were misidentified as Serena Williams.
When the error was discovered or corrected—before or after the NYT gaffe—and by which entity—the photographer, AFP or Getty Images—is unclear.
But the photo used by The New York Times is one of these two previously mislabeled photos.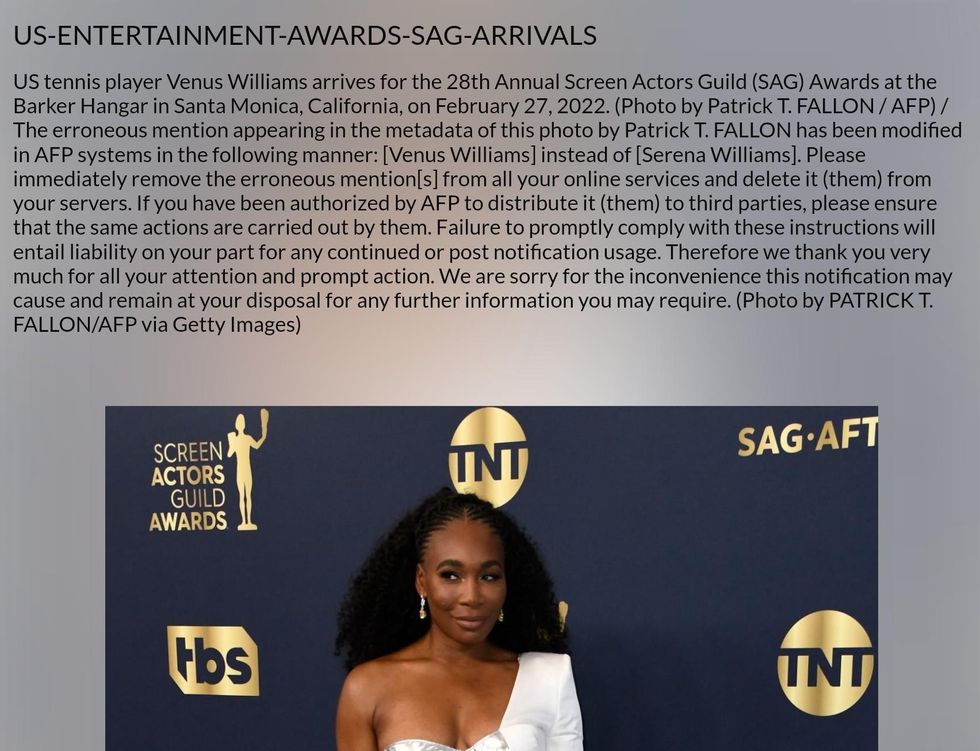 Getty Images.com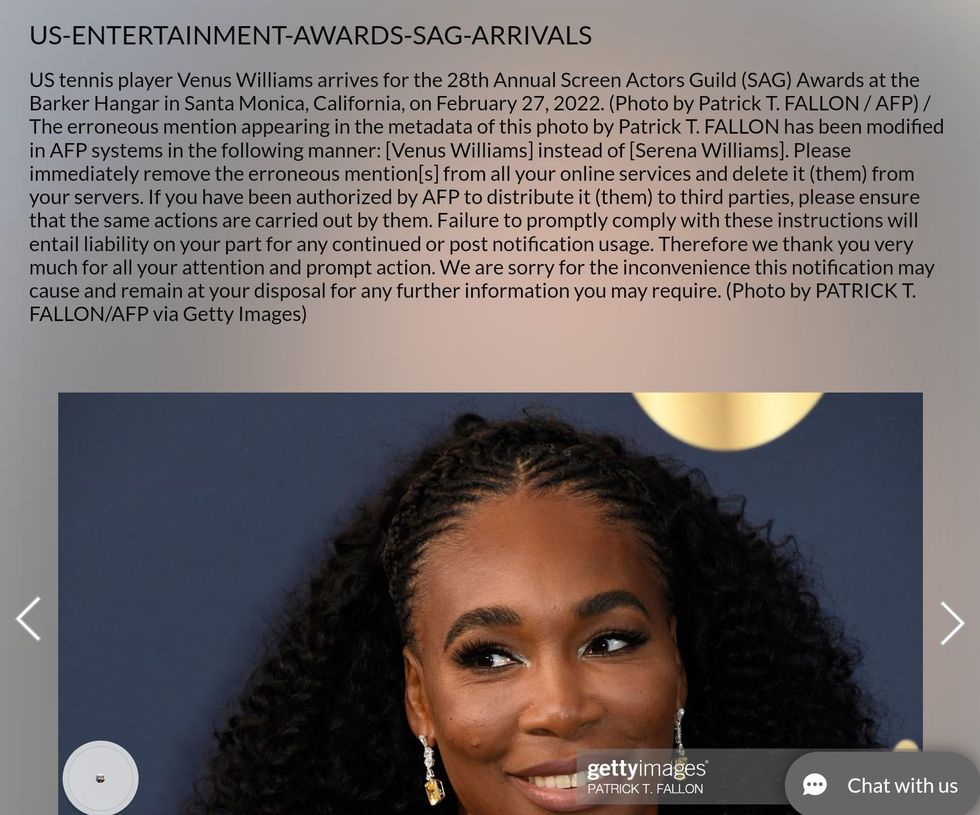 Getty Images.com
Serena Ventures is an early-stage venture capital firm that has invested in founders with "diverse points of view," including fintechs Propel, Cointracker, and edtech Masterclass, among many others, according to Reuters.

Alison Rapaport, who has previously worked at J.P. Morgan, Wasserman, and Melo7Tech Ventures, leads the company along with Williams.
According to their blog, Serena Ventures has raised an inaugural fund of $111M to continue "pursuing their mission," which is to "unlock value for investors, doors for founders, and opportunities for everyone to live better."
CNN listed examples of news outlets often miscrediting African Americans, including a KTLA journalist who apologized after mistaking actor Samuel L. Jackson for fellow actor, Laurence Fishburne, in a 2014 interview.
The media outlet also noted that in 2018, Fox News apologized after erroneously using a photo of singer Patti LaBelle in a tribute to the late Aretha Franklin.