Royal Albatross Superyacht cancelled their LGBTQ-friendly event that turned out not to be so friendly after all.
One of its employees was caught in a chat expressing they wanted to exclude "trashy" trans from attending.
LGBTQ meetup app Prout exposed the transphobic conversation on social media, initially without naming the yacht company.
In the chat, the unnamed employee said they wanted to "remove" the trans community from the cruise's Loveislove sail event, saying "transexuals" were "very intense" and that the company did not "need the drama."

The conversation continued:

"And they cannot afford. They only want to create trouble. Maybe we are more to the gay and lesbians group? What do u think? R u getting alot of negative from trans?"
"I just don't want to damage my ___ brand, only want like-minded people. Because we [are] not targeting the trashy transexual kind who only want to create trouble."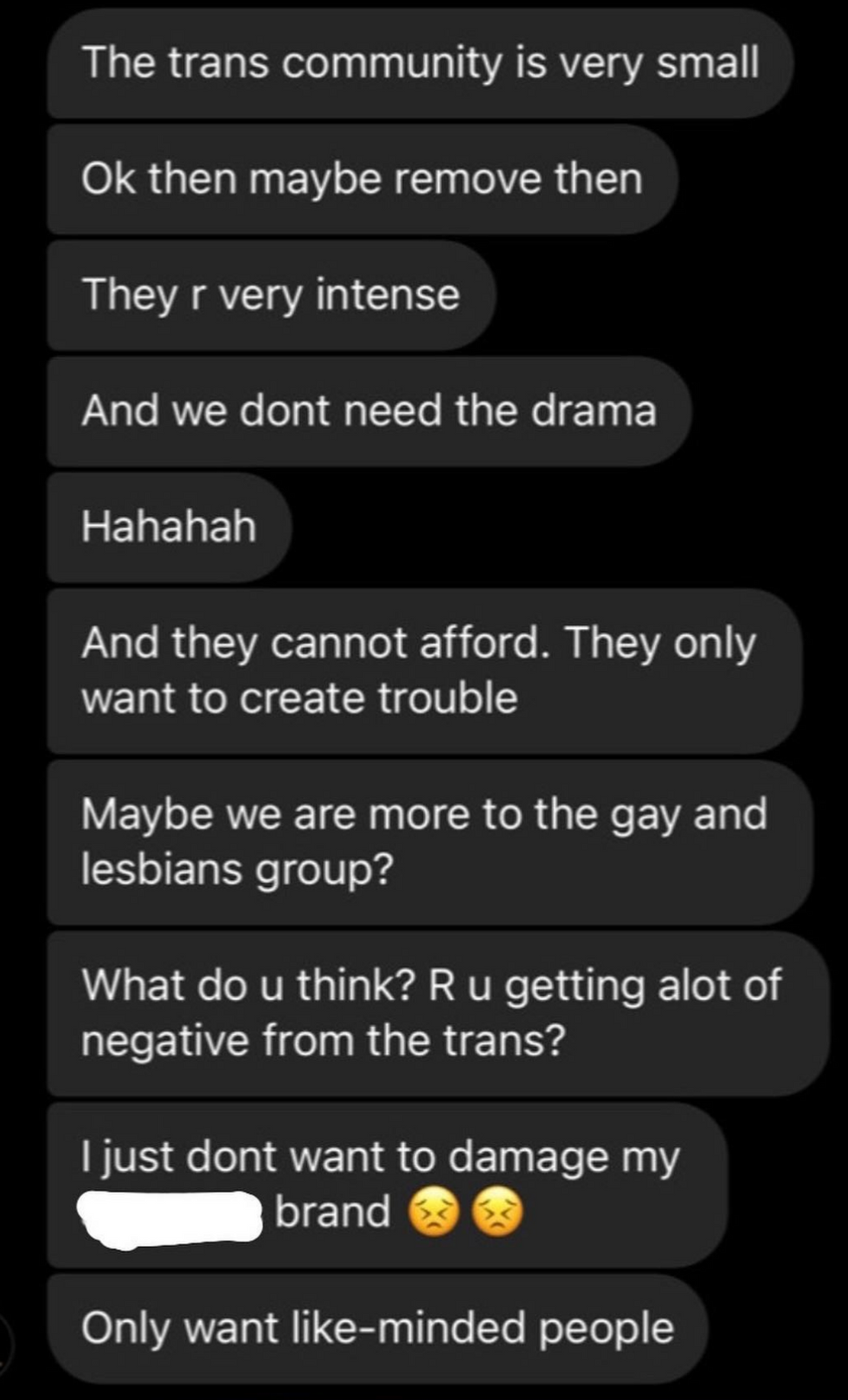 Prout/Facebook
Internet sleuths managed to identify the company holding the event as Sentosa island's Royal Albatross—a Singapore-based charter and dinner cruise company.

The controversy prompted an apology that was posted on the yacht company's Facebook page.

The CEO of Royal Albatross also personally emailed Prout co-founder Cally Cheung an apology, but Cheung later discovered they blocked her company on Instagram.
Cheung told Coconuts:
"I have just communicated with the CEO as he emailed me personally to apologize and also share with me his public apology as our social media account remains blocked by them."
Prout had initially agreed to collaborate with Royal Albatross on a series of private dinners catering towards the LGBTQ community and even promoted the events on Instagram.
However, an employee later reached out saying they specifically wanted to invite lesbians and gays, not "transexuals."
Prout admonished Royal Albatross by emphasizing that:

"marginalised communities are not here to be exploited by brands and companies to tap on the pink dollar for. If a company is not truly inclusive and does not contribute to uplifting the community, we have no wish to collaborate with them."
"Secondly, to call the trans community 'trashy' is offensive and degrading. Transgender persons have historically been discriminated, and it is utterly dehumanizing to use the word 'trashy' as it reinforces stigma against them."
"Prout DOES NOT stand for transphobia."
"Thirdly, the term 'transsexual' is dated, and can be offensive to those within the trans community. It is more appropriate to address the community as the transgender community. When in doubt, always ask the preferred term."
"As a LGBTQ community group, we are committed to standing with our transgender friends. We have conveyed our disapproval to the company, and reiterated that it is unacceptable to chase the pink dollar without any real consideration for the community."
"We hope that companies that wish to market to the LGBTQ community will do their homework, understand the struggles our community face, and be true allies."
Followers of Prout's IG page slammed Royal Albatross for their transphobia and thanked Prout for standing up to them.


@proutapp/Instagram

@proutapp/Instagram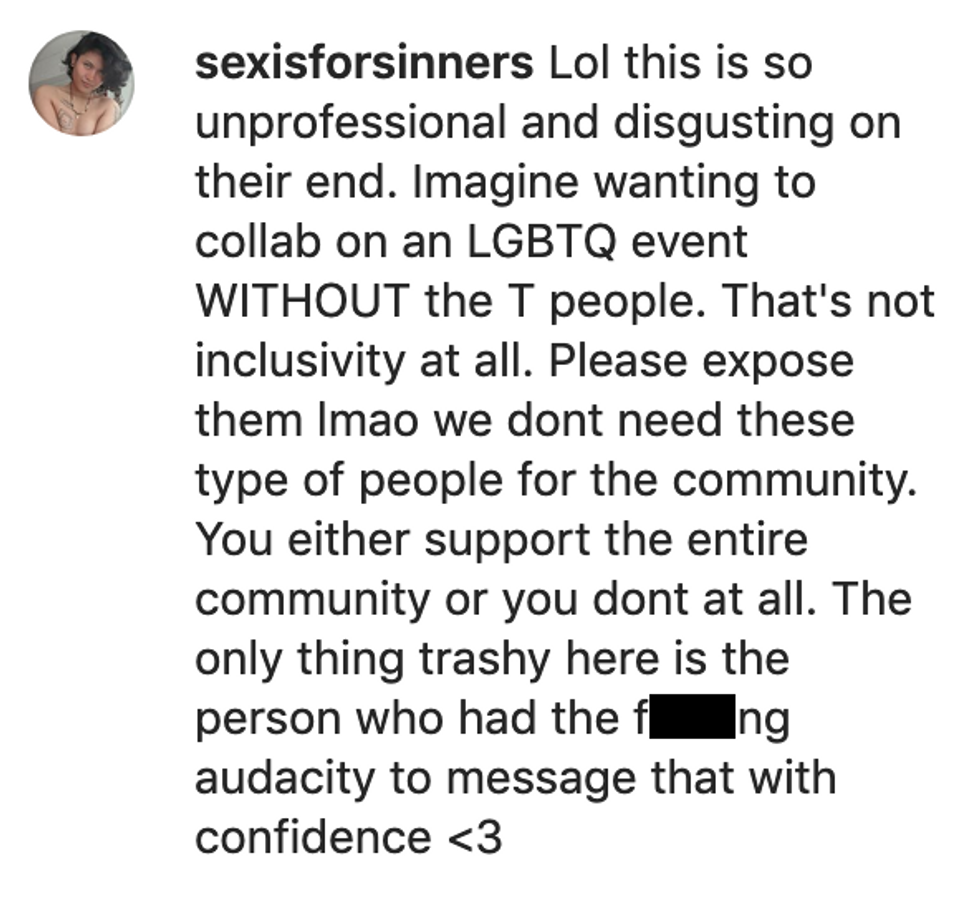 @proutapp/Instagram

@proutapp/Instagram

@proutapp/Instagram

@proutapp/Instagram

@proutapp/Instagram
Once they were exposed, Royal Albatross went into damage control by issuing the following statement:

"Sincere apologies from the Management. We would like to thank all those that supported our #LoveIsLove sail—a private event targeted at the gay and lesbian community."
"Special thanks to those in that community to whom we reached out to; that validated the concept and also offered to sell tickets via their own personal platforms. Our objective was to provide a private romantic dinner cruise experience without judgement."
"Yesterday, a staff member communicated privately with someone and used a bad choice of words to address our target audience. The comments do not represent the position of this company, we retract them entirely and we apologise."
"We have since corrected the staff member and we will ensure we are more sensitive when it comes to our future communications."
The company expressed their regrets for excluding marginalized groups.

"In hindsight, we were naïve not to take into consideration the diversity of the entire LGBTQ+ community. We are sincerely sorry to have offended by what was said, it was not our intent to exclude any particular group. We welcome everyone."
Royal Albatross suspended their #LoveIsLove events in order to educate themselves on diverse communities and added they were implementing "diversity training" to all employees.

The statement continued:

"We invite any group organizers who would be interested in helping us and or holding events like these to contact us privately. Again, we apologize to anyone that was offended."
The ship's founder and CEO Peter L Pela told the media outlet he is planning to hold an event in the future that will be more inclusive for all.