A photo of Tom Hanks and Rita Wilson in Cannes spread rapidly after several media outlets reported the married couple of 35 years were yelling at a staffer on the red carpet.
The photo in question shows the actors having a conversation with the staffer, Hanks pointing at him and both furrowing their brows.
But Wilson took to social media to set the record straight.
The couple, who was on the red carpet for their new movie Asteroid City, were - according to Wilson - having a hard time hearing the staffer over all the noise.
In an Instagram story, Wilson shared a photo of a tabloid story claiming the duo were "remonstrating" with the staffer, complete with a "Raving Private Ryan" headline intro to boot.
Wilson overlayed the photo with text that read:
"This is called I can't hear you. People are screaming, What did you say? Where are we supposed to go?"
"But that doesn't sell stories! Nice try."
"We had a great time! Go see Asteroid City!"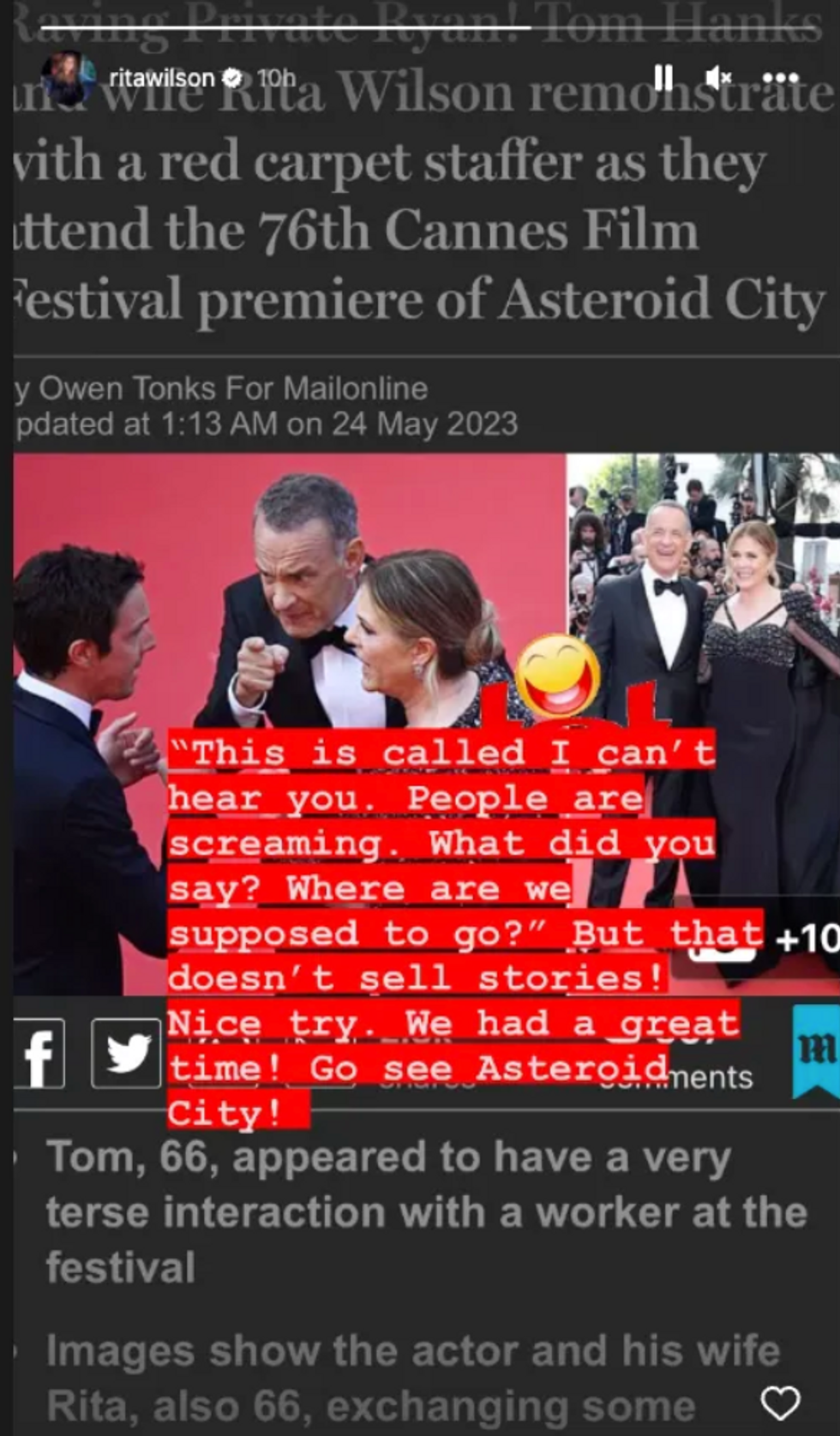 @ritawilson/Instagram
Some on social media appreciated Wilson's explanation and agreed photos can easily be misinterpreted.
Others, however, weren't buying it.

Whatever the real story, though, the moment didn't put a damper on the cast's celebratory night.
Asteroid City - directed by Wes Anderson and starring Hanks, Maya Hawke, Sophia Lillis, Scarlett Johannson, Margot Robbie, Jason Schwartzman... the list goes on - reportedly received a six-minute standing ovation after its showing in Cannes.

The film is set to release next month.