It's well known celebrities can be somewhat particular when it comes to interactions with fans.
Some really love to sign autographs and get pictures taken, while others prefer to not interact with the public on such a personal level.
Puerto Rican rapper Bad Bunny has taken it one step further.
After feeling disrespected because a fan shoved her phone in his face, Bad Bunny threw her phone into a nearby body of water.
The incident was caught on video by another person in the area and posted on Twitter for all to see. After the video went viral, Bad Bunny took to Twitter to explain the reasoning behind his actions.
You can see the video here:
The incident occurred in the Dominican Republic when a fan approached Bad Bunny and put her phone in his face to record the interaction. Bad Bunny can be seen in the video casually tossing her phone into the water and then walking away, leaving the fan in a state of shock.
When asked to explain himself Bad Bunny said it was about respect.
His words—translated from Spanish into English—were:
"The person who comes up to me to say hello, to tell me something, or just to meet me, will always receive my attention and respect."
"Those who come and put a f---ing phone in my face, I will consider it for what it is, a lack of respect, and I will treat it likewise."
As expected, the internet found the humor in both Spanish and English.
Bad Bunny has since deleted the tweet with his explanation.
However, once something is on the internet it is nearly impossible to completely remove it.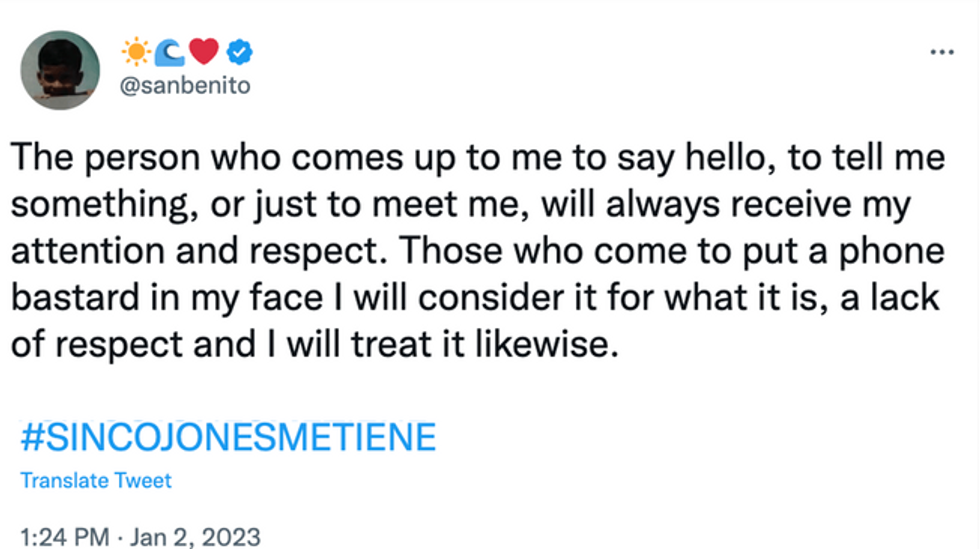 TMZ
His hashtag, #SinCojonesMeTiene, is a colloquial phrase that means something like "it doesn't scare me" or "I don't care" based on the context.
Safe to say, Bad Bunny appears unbothered by his viral video moment.