On Friday, Prince Harry and his fiancee Meghan Markle embarked on a surprise visit to Northern Ireland.
The pre-wedding tour started off on the right foot in Belfast, but it quickly went out of step after a visit to the Titanic Belfast visitor attraction in Catalyst Inc. science park when the engaged couple encountered a display of a hideous-looking severed foot.
---
Rest assured, the object that repulsed the prince was fake. The royal couple met with Nuala Campbell, founder of Titanic FX, which makes prosthetic limbs used in movies and TV shows such as Game of Thrones, which is filmed in Northern Ireland in addition to other locations.
Still, the severed foot looked bloody convincing. And it was gross, as indicated on Harry's face in a photo that has gone viral.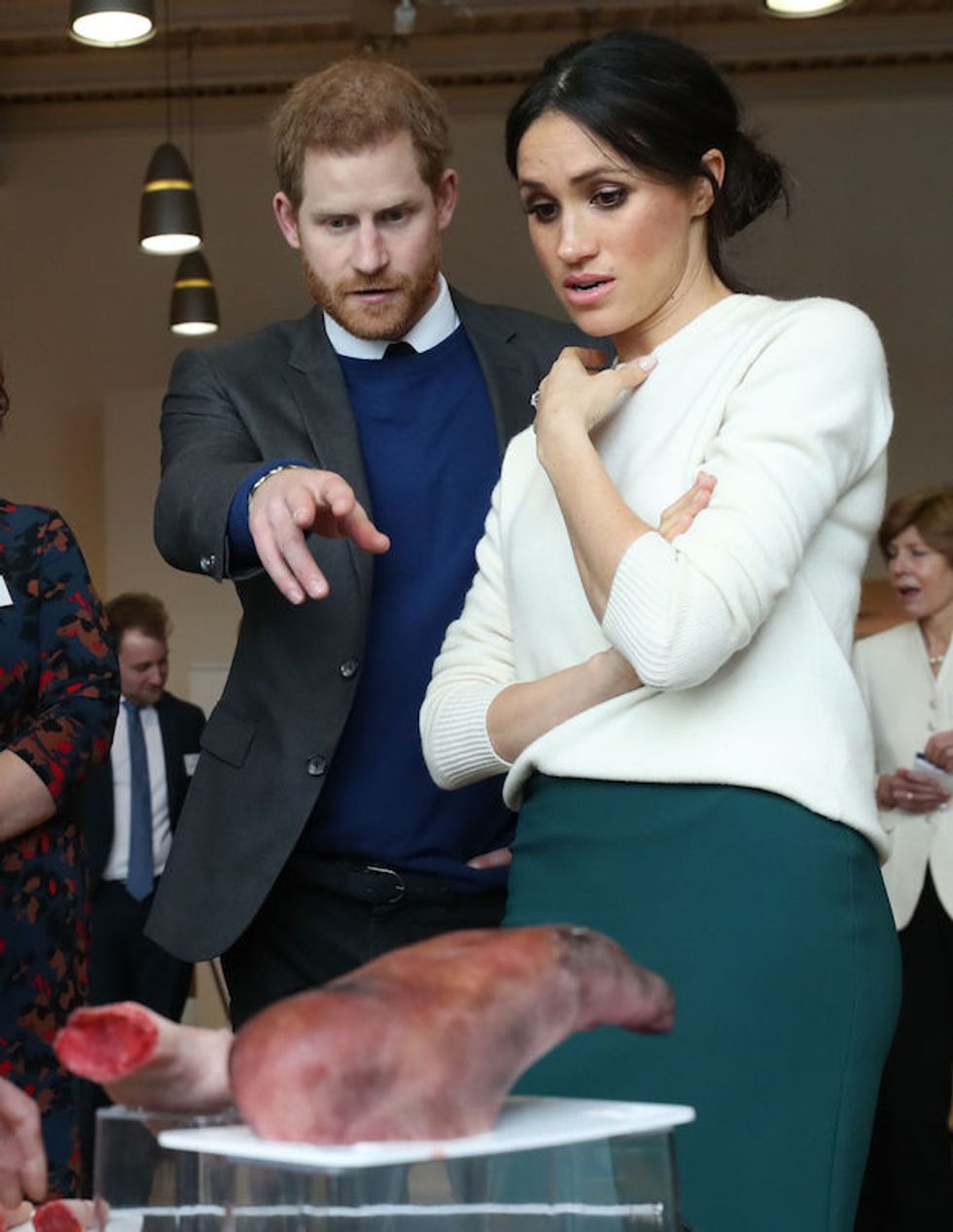 Step right up.(Niall Carson - Pool/Getty Images)
The foot was modeled after Campbell's own.

"That's your foot?" Harry asked their guide and foot model. "You might want to get that looked at."
He refused to lay a finger on the object, but he did actually touch a prosthetic finger he described as being "horrible," according to the Daily Mail.
Twitter had lots to say about Harry's expression in the photo.
Some were okay with the severed limb. But there was another offensive looking object that was unsettling.
The trip to Belfast and the itinerary of the tour remained a secret prior to their arrival in accordance with security procedures for royal travel.
For lunch the couple stopped at the famous Crown Liquor Saloon, a famous Victorian gin bar in the city.

According to ITV News, Andrew Dickinson, the pub manager of the Crown, confirmed Markle had the Crown Bar Irish, which consists of lamb shoulder, carrots, and potatoes.

Harry delighted in the "sausage and champ, three Gloucester old spot sausages with champ, an Irish dish of mashed potatoes, chopped spring onions, butter, milk and cheese."

Dickinson told ITV that the couple's lunch included "two of our most popular dishes and on a hectic day it would have kept them going."

Harry and Meghan also made an appearance at the youth-led peace building initiative and were greeted warmly at the former Maze prison at Lisburn. They attended the Amazing Space celebration, where they sat in the front row to witness children delivering "peace pledges."
Commemorative china honoring the May 19 wedding date went on sale during their visit. According to the AP, the collection's design elements include the wedding location.
The collection uses cornflower blue with white detailing and a gold monogram of the bride and groom's initials. The design also references the couple's wedding venue at St. George's Chapel at Windsor Castle. The decorative border is based on the ironwork of the 13th century chapel door.
The china is finished in 22 carat gold. It was made by hand in Stoke-on-Trent, 160 miles (260 kilometers) northwest of London, using traditional methods.
H/T - Twitter, AP, Independent, ITV