Oprah Winfrey, the inspirational philanthropist and media executive guru, tripped and stumbled to the floor in front of hundreds of viewers at the Los Angeles Forum on Saturday.

---
Ironically, Winfrey was talking about living a balanced life during this stop on her sold-out 2020 Vision: Your Life in Focus tour.

Rest assured, Winfrey is fine and did not sustain any serious injuries.

"Balance doesn't mean all things are equal or at peace at all times," she said before losing her literal balance.

The audience gasped as she hit the floor with both hands, but Winfrey quickly recovered, sat upright from the stage floor and declared without missing a beat:
"Wrong shoes."
She resumed with her speech like a champ – sans shoes – and quipped:

"It's nice to be talking about balance and fall."
The relieved audience broke out into laughter.
People on social media left some encouraging words.

@latimesespanol/Instagram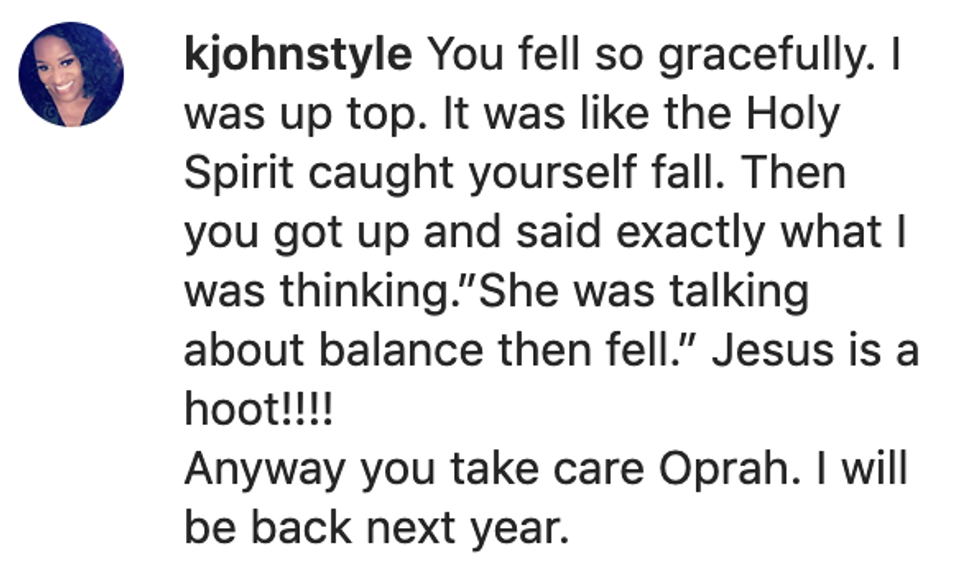 @oprah/Instagram

@latimesespanol/Instagram
According to PEOPLE, a stagehand and Winfrey's longtime partner Stedman Graham rushed to her aid to make sure the 66-year-old television producer was okay.

After the video of her mishap went viral, Winfrey showed no signs of embarrassment and had some fun over the incident.
In a series of Instagram Stories following the stumble, Winfrey told her friend Gayle King she would have "preferred not to fall."

While backstage, Winfrey added:

"I just thought, okay I fell, everybody knows what falling is."
"I thought this was a great day in spite of the fall. But I picked myself up."
"I don't know if it was something on the floor, or my foot twisted, or what. I had the indication I was going to fall before. And then, it just is what it is. It was a great, great day."

@oprah/Instagram

@oprah/Instagram
Later, she praised Jennifer Lopez – who joined her on stage for the event – for lifting her spirits and captioned an Instagram video with:

"Thank you to the astoundingly age-defiant Jennifer Lopez who came to the show in this yellow stunner and gave new meaning to the word 50."

"L.A. – In spite of my fall (which now becomes a meme), you brought me UP with your energy. "Now I'm headed home to ice my knee and ankle."

@oprah/Instagram

@oprah/Instagram
The next day, Winfrey posted a cozy recovery photo of her icing and reading in a pair of sweats.

"Sunday Reading and icing. Thank you all for your kind wishes. Yes I slipped on stage and I'm now a meme. But so grateful to be only a little sore. Turning the day into what @michelleobama calls #selfcaresunday."
Her sold-out tour kicked off in Fort Lauderdale on January 4 and is presented by WW (Weight Watchers Reimagined).

Winfrey shares her personal wellness journey on every stop of her tour and motivates attendees to develop their own wellness plans through the latest research developments and interactive exercises during the full-day event.
Over $1 million from the tour's proceeds will go towards the philanthropic arm of WW Good that will help nourish underserved communities across the country with healthy food.

Winfrey inadvertently lived by example on Saturday night, but proved that if she can pick herself up and dust herself off, anyone can resume with their respective paths to wellness.

Winfrey's latest book, The Path Made Clear, is available here.