A waitress at the Olive Garden in Paducah, Kentucky, has just taught us all the importance of paying close attention to your surroundings and speaking up when you sense something is wrong. During her Sunday night shift, a table with two adults, an 11-year-old girl, and a 20-month-old baby girl gave server Jordan Cooper a bad feeling.
---
Cooper told her story to Yahoo! Lifestyle:
"The baby was sitting in a highchair with a blanket over her head. When the blanket came off, her face had a lot of black-and-blue bruises."
Alerted by the strange signs she was seeing, Cooper kept a close eye on the family and later noticed the father acting aggressively towards the infant:

"He shoved breadsticks into her mouth and said, 'You'd better eat this' and got in her face while she whimpered."
God bless this server https://t.co/Xnffc8svoc

— The Goodman Report (@The Goodman Report) 1551977912.0
She immediately told her coworkers about what she'd seen. They all began working together to gather as much information as they could about the family, with one waitress even taking a picture of them under the pretense of capturing a Snapchat for another table.

"My colleague zoomed in on the family and asked her customers to text us the photos. It was a team effort."
THIS WAITRESS & STAFF DESERVE TO BE SERIOUSLY REWARDED! 👏 No matter how big the world, it proves that it still take… https://t.co/ikKpZqOvJn

— Super_Nonna_Debbie.FL (@Super_Nonna_Debbie.FL) 1552056962.0
Cooper observed the man taking his baby on three separate trips to the bathroom, never taking a diaper bag. The third time she saw this, she followed him and asked what he was doing, at which point the man ran back to his table and asked for the bill. But the couple wasn't about to make a clean escape with Cooper around:

"I said, 'Well, I guess I'm leaving too!'"
https://t.co/xSiiB5qsmD The restaurant staff did the right thing by photographing the abusive man and alerting the… https://t.co/MWd8e89hqy

— Terri (@Terri) 1552041511.0
The waitress followed the family out to the parking lot, where she was able to write down their license plate number as they pulled away:

"They drove away so fast, the mom didn't even strap the baby into her car seat."
Sickening! https://t.co/YpmCVJXF8n

— Lisa (@Lisa) 1551975999.0
Cooper called the Department of Children and Family Services and, later that night, alongside the picture her coworker had taken, posted a now-deleted Facebook status which read:

"Tonight working at Paducah Olive Garden, I had a couple that came in with a child that was severely beaten in the face. Her face was black and blue all over. The guy in this picture was force feeding her food down her throat and grabbing her by her shirt and getting in her face…I couldn't serve because my heart hurt so bad."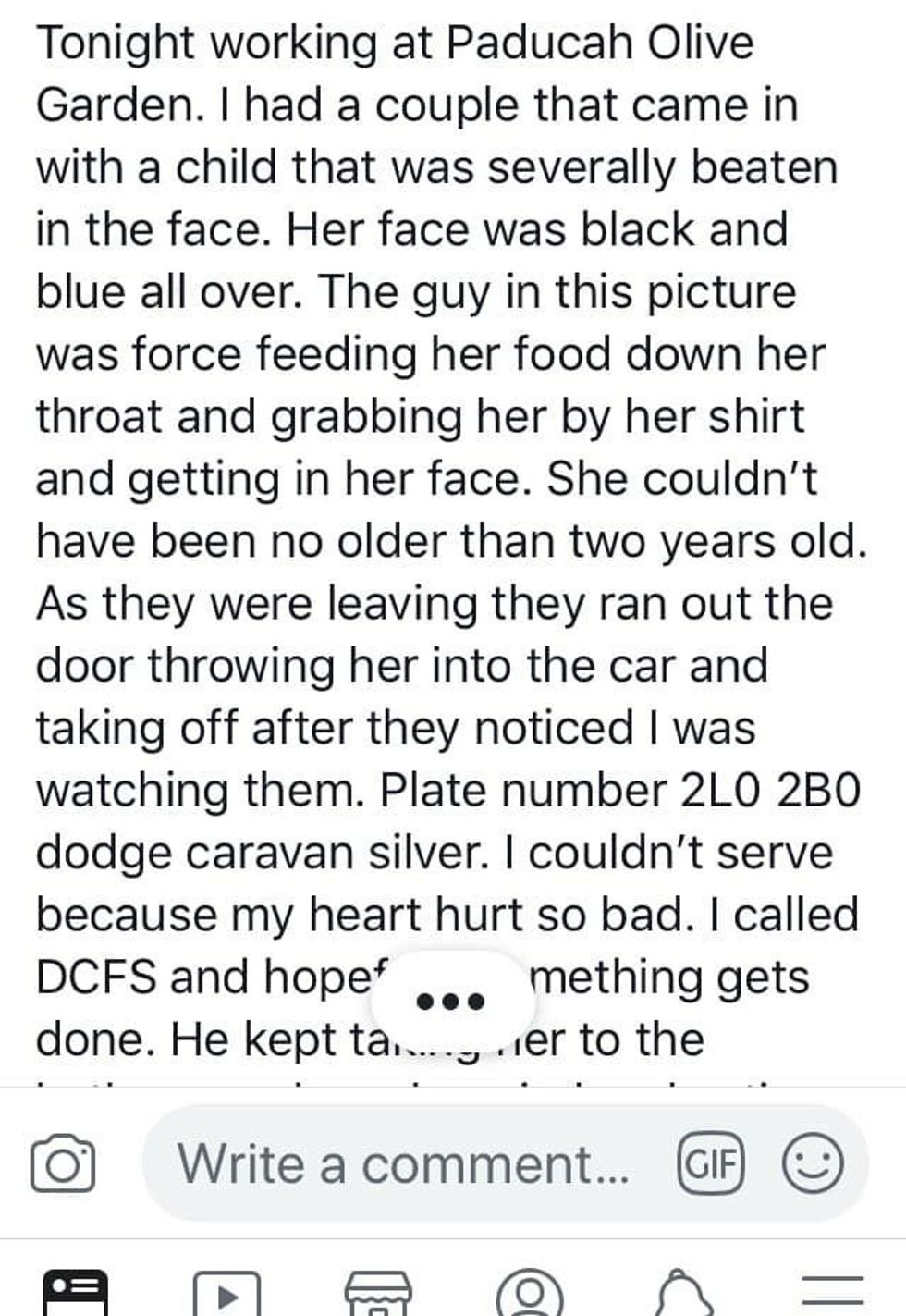 Jordan Cooper/Facebook
One of Cooper's friends was Aaron Caldwell, a 911 operator from nearby Metropolis. He found the couple's information in the system and forwarded it on to the Police Department in Paris, Tennessee, where the couple lived.
Staff members at this #OliveGarden are heroes. Too many people today would have 'minded their own business' and ign… https://t.co/gBWWQsCB0F

— Michael R Shannon (@Michael R Shannon) 1551963290.0
Later that same night, police reports indicate Mark Lee Pierce, 33, and Jessica Woodworth, 36, were "arrested on charges of child abuse and aggravated assault." Officers who arrived at the scene for a "welfare check" noted bruises on the baby's face from her "jawline to her hairline." Cooper is glad she was able to start the process of bringing the children to safety:

"I heard the conditions of the home were so horrific, a police officer had to collect himself outside."
😡😡😢 SEE SOMETHING SAY SOMETHING 🙏🏼🙏🏼🙏🏼https://t.co/F87Hj0V8oB

— O'CaptainMyCaptain (@O'CaptainMyCaptain) 1551987214.0
@DailyMail Thank goodness the waitress was alert. 😟 https://t.co/Wk1vAsT7El

— Layeshia (@Layeshia) 1552022080.0
Severely beaten in the face? Force feeding the girl food down her throat? She is 20-MONTHS-OLD! Please pray for thi… https://t.co/zqEeEJVR18

— angie goff (@angie goff) 1551990054.0
Both children are now in the custody of the Department of Children's Services, and the parents' bonds are set at $200K each. Cooper told Yahoo!she's glad the children are now in a better situation:

"I couldn't sleep that night, I was so worried. It makes me feel good to know these children will be better off."