A former employee of Georgia's Kennesaw State University said wearing lipstick to work was one of the reasons they were fired from their retail job at the school.
Stuart Morrison, whose pronouns are either he/him/his or they/them/theirs, told Atlanta Journal-Constitutionthat their choice to wear brightly colored lipstick was often criticized during their employment by the school.
---
Morrison was told on March 3rd that they had been terminated for violating the rules in KSU's handbook that dictate personal appearance.
The handbook in question, however, does not have a strictly defined dress code for employees.
Rather, the handbook specifically states that it is:
"difficult for the university to have one uniform dress code."
"Employees are, therefore, required to dress in appropriate attire and to behave in a professional, business-like manner."
Stuart, who often wore strikingly colored lipstick to work, was chastised for that choice in their termination letter. It claimed that their choice of lip colors was "unprofessional."
"Those color choices are considered unprofessional, particularly since you are in a position as Lead Retail Associate where there is high visibility and interaction with KSU community members."
They were told to:
"tone down the lipstick color and discontinue wearing black, bright blue and bright green lipstick."
Stuart said that they were told in a February 25th meeting with their supervisor that there had been complaints about their "unprofessional appearance" and ordered to stop wearing lipstick.

They told AJC that their makeup choices were an important form of self-expression.
"I was wearing them, in part, to express that I'm nonbinary."
Morrison, who lives with post-traumatic stress disorder and other mental illness that can lead to memory problems, said that they also sometimes needed time off, were tardy to work, or forgot their ID badge. Those weren't the only issues highlighted in the termination letter they received from the university, however.
That letter said that Stuart was cited for infractions 18 times between the months of October and February. They told AJC that those citations not related to dress code were sufficient reason for termination; bringing up their choice to wear lipstick seemed unnecessary.
"Being fired is not a fun thing in general, but it felt discriminatory. The fact that they chose to use that excuse just feels wrong."
Morrison graduated from the school in December and earned a bachelor's degree in integrated studies.
One Twitter user had a good question.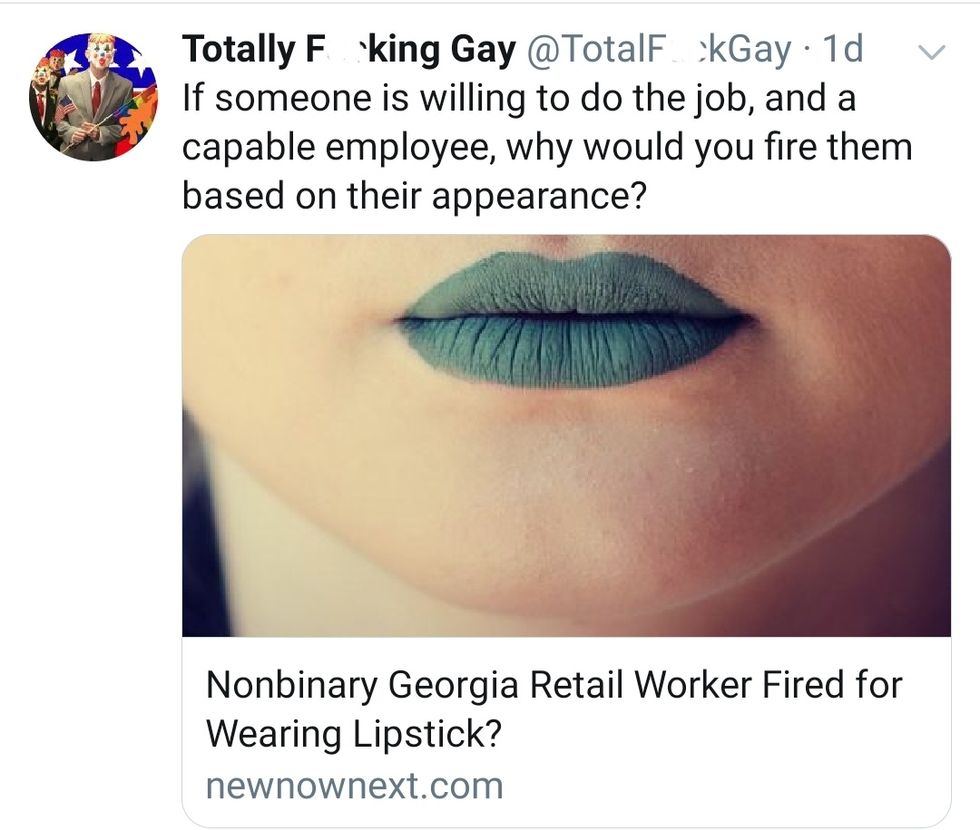 @TotalF**kGay/Twitter
Lambda Legal's southern regional director, Dr. Michael Shutt, said that the law clearly protects people from discrimination based on not confirming to society's strictly defined gender roles and expectations.

"The law is clear that this kind of discrimination has no place in the workplace."
Stuart said that they have filed an official complaint with the university's Office of Institutional Equity, but they have yet to be contacted by the office with any information on the comolaint.