A father was appalled after seeing what the high school cafeteria was serving his son.
Christopher Vangellow—whose son attends class in the Parishville-Hopkinton Central School District in Upstate, New York—posted a now-deleted photo on Facebook showing the sad cafeteria meal.
The photo showed a tray of food with four small pieces of fried chicken nuggets, off-colored baby carrots and a less-than-heaping serving of white rice to accompany the carton of fat-free milk and two ketchup packets.
A screenshot of Vengellow's post with the accompanying photo later was shared by the Parishville-Hopkinton Central School District's website in an article that addressed the need to reimagine school lunches.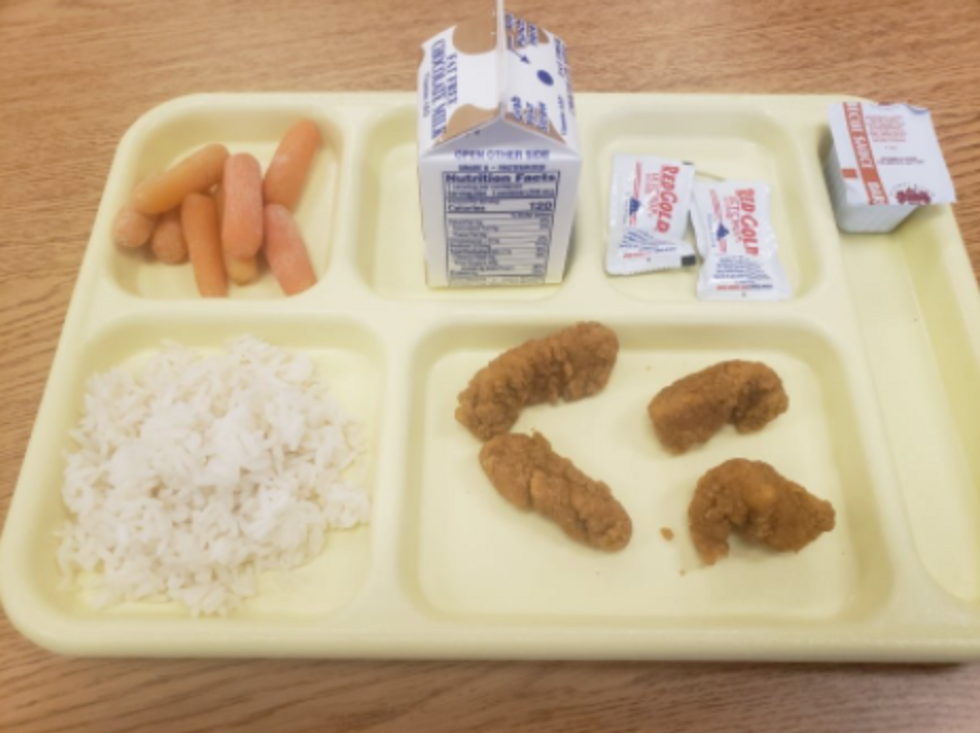 PHCSD
Vangellow wrote in the post with his son's name redacted:
"I think the Parishville School Lunches might be a bit lacking a bit, even for a kid that isn't 6'5 like __."
He claimed on a game day, no one on the team would be getting a sufficient amount of energy based on the photo of what was served on the cafeteria tray.

"When ___ came through he didn't even see any dry tasteless carrots available. He also chose to not have any of the plain rice as a side because that is not very appetizing either."
Vangellow continued:
"They have been complaining that since the lunches are now free for everyone, the portions have dropped."
"It really is ridiculous," said Vengellow of the photo of his son's lunch.
He also refused to hear excuses like "you get what you pay for" or "just send them with food."
"Yeah we can do that and sometimes the kids do choose to bring something from home or will buy extra lunch to get more in them to get them through a day," he added.
"The problem is that not all families can do that. We don't live in a very rich area. Some kids may not get much or anything when at home and this is what they have to survive on."
He concluded the post by saying his kids rely on the meals the school provides and what was shown in the photo was unacceptable.
"In my opinion, this is failing those kids," he said.
Twitter had plenty to say reacting to the photo.
Speaking to Indy 100, the concerned father said the food is "not enough to get a growing child through a day."
"Something has to be able to be done to make things better for them."
Parishville-Hopkinton Central School District Superintendent William Collins responded to the backlash with a statement explaining he and the cafeteria manager planned to address the "dissatisfaction with school meals."
"In fairness to the cafeteria, students are allowed one more serving of fruits or vegetables and one additional nugget than appeared in the photograph," wrote Collins.
However, he maintained that it "doesn't alter the message that many students and parents are dissatisfied with school lunches."
Collins and the cafeteria manager created a group called "Reimagining School Lunches," which consists of four concerned students, four parents, and a representative from the Wellness Committee.
"This group will explore ways to make school meals more appetizing while still meeting the strict USDA requirements of the National School Lunch Program," said Collins.