Homeowners who celebrate Christmas like to extend their holiday decorations out onto their front lawns.
Some like to recreate the birth of Christ in the Nativity scene. Others might prefer using an inflatable Santa or Frosty the Snowman to greet pedestrians and drivers.
Others, however, like breaking from tradition and opting for something completely different.

A concerned neighbor in a Kentucky neighborhood raised alarm after spotting what she thought was a real person standing partially naked outside a residence.
But it turned out to be nothing more than a hilarious tribute to a popular movie.

If you've seen the classic holiday favorite, National Lampoon's Christmas Vacation, you may remember Randy Quaid's character Cousin Eddie, who shows up with his family unannounced at the Griswold's.
Cousin Eddie was the husband of Catherine–played by Miriam Flynn, who was the cousin of Beverly D'Angelo's character, Ellen Griswold.
In one memorable scene, Cousin Eddie was spotted dumping sewage from his RV into the storm drain while smoking a cigar, holding a can of beer, and wearing a white bathrobe with blue trim.
Need a reminder?
Cheers.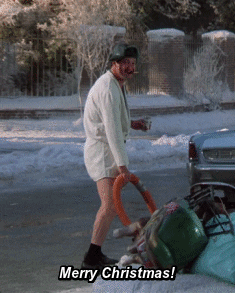 favourite GIFGiphy
Homeowner Joni Keeney thought bringing the vignette to life outside her home would bring good cheer to the neighborhood.
Unfortunately, one spectator who completely missed the joke called 911 to complain about the perceived stationary pervert.
A dispatcher who responded to the call of distress was heard describing the situation to authorities over the phone.
"a male standing outside. He is naked. He has a robe covering part of his body."
"He is exposing himself, and he has a hose between his legs."
You can watch a news report of the incident here:

Confused neighbor calls 911 after seeing 'Cousin Eddie' Christmas displayyoutu.be
Keeney told WDRB-TV:

"Everybody has a 'Cousin Eddie,' in their family, everybody. I just want people to have a good Christmas and get a laugh."
She definitely got the reaction she was hoping for.
When responding officers from the Shepherdsville Police Department arrived at the scene, they reportedly laughed and took pictures of the unconventional Christmas display.
Police Chief Rick McCubbin commented with a chuckle:
"Never a dull moment."
Neighbor Tamara Gould told the news station about how she made her vision come to fruition.
"She told me she was looking for a mannequin, and I'm like 'Oh Lord, here we go."
Keeney managed to find one and put a robe on it and a cigar in its mouth.
All that was missing to complete the display was one more prop.
"We don't drink, so we had to borrow our neighbor's beer can."
Gould added:
"My husband drank the beer."
Overall, Keeney said of her holiday tribute to Christmas Vacation:
"It's been a hit with the neighborhood."
Well, not with everyone.
Maybe the neighbor had difficulty seeing the bigger picture through her blinds.
"We'll give it that excuse," said Keeney.
This time next year, Keeney said she and her husband plan to expand the display by adding Clark Griswold–who was played by Chevy Chase–dangling from their roof.
Hopefully, no one will mistake the scene as a situation of real peril.