Conservatives, lead in part by Donald Trump Jr, have come together to do something about the horrors of racism ... against White people... on Instagram.
Jr and Fox News contributor Kate Pavlich both tweeted about an Instagram sticker that said "Mute White People." They rallied their supporters around the issue, which seems interesting since Instagram stickers don't actually do anything and it could be argued that this is a perfect example of why the "Mute White People" sticker exists.
The sticker is reflective of a sentiment shared by many people of color, but it doesn't mean that all White people deserve to be silenced as conservatives have implied. Rather, it is a commentary about instances where a White person will derail the conversation by talking over the experiences of people of color, or by demanding to be personally educated by members marginalized groups rather than Google something.

Or perhaps by co-opting/denying a systemic issue like racism when it causes suffering and death for millions of people of color, but crying racism when a sticker that does nothing pops up on a social media platform.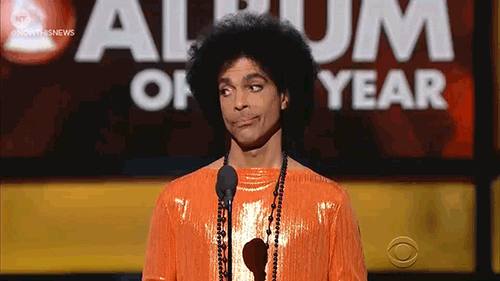 the artist formerly known as prince GIF by NowThis Giphy
The sticker is a reminder that people of color do not need to spend their time, emotional energy, etc. on White people who are derailing or colonizing the conversation.
Much like Black Lives Matter doesn't mean only Black lives matter, mute White people doesn't mean all White people. Also, it's worth re-stating the little sticker doesn't actually do anything whereas systemic racism has literally cost countless lives.
Trump supporters called the sticker "pure Nazism" ...
... and promptly made themselves the laughing stock of Twitter.
Instagram has since removed the sticker, though it has not made any statements about whether or not it was directly related to conservatives crying racism.