Elon Musk went head-to-head on Twitter with Hard Drive, a gaming magazine and blog site, after posting one of its memes without crediting the company.
Musk shied away from the virtual battle, eventually taking down his original Hard Drive meme tweet.
See the back-and-forth below.
"[H]ard drive v. elon musk on the timeline today."
@elonmusk/Twitter
Hard Drive commented on the uncredited post writing:

"hey I'll give you a horse if you stop cropping our name off our articles"
@elonmusk/Twitter
Musk responded:

"Well if you make something that looks like a meme & someone (not me) crops off your name, so it goes."
He added:
"Also, this is only a 6/10 meme, so maybe step down from that high horse!"
"The selfless art of anonymous meme creators is something to be admired."
Hard Drive then posted another article example to which Musk replied:

"Less funny than SNL on a bad day."
"This could make a drunk person sober. Try harder!"
The magazine followed up with a doozy, which seemingly sent Musk over the edge.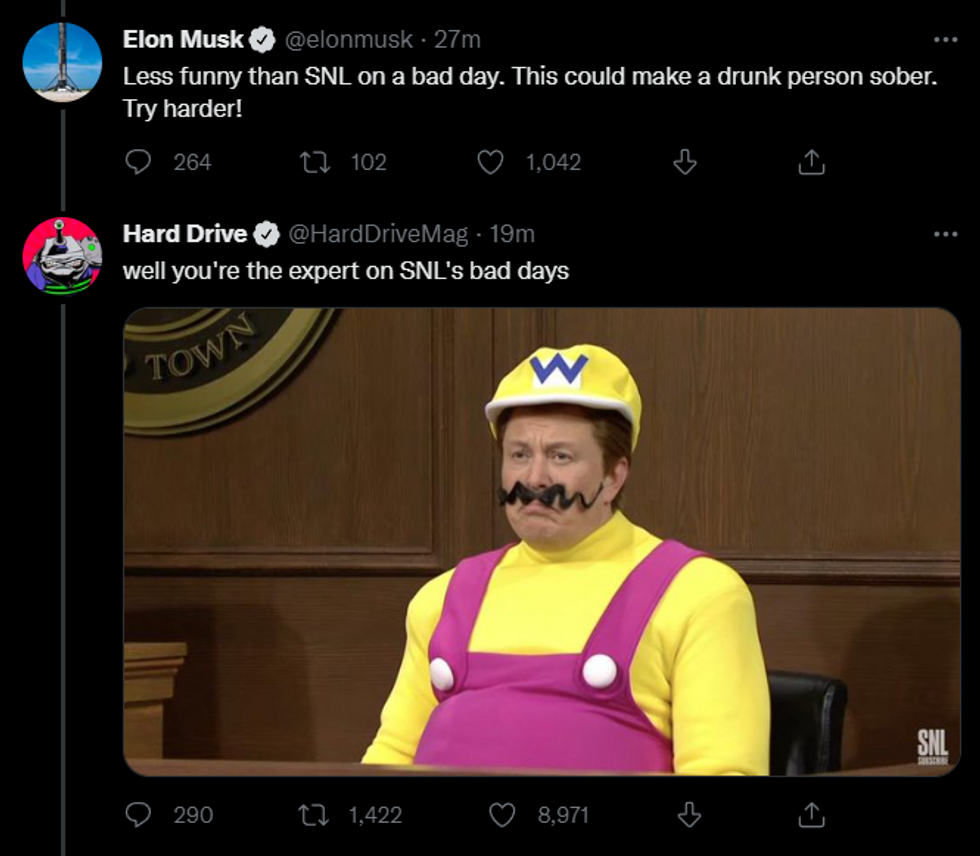 @elonmusk/Twitter
They wrote:
"[W]ell you're the expert on SNL's bad days."
The tweet was accompanied by a photo of Musk dressed as Wario during his guest appearance on SNL. It was after this post Musk deleted the chain, but users got a hold of the exchange before it disappeared for good.

@elonmusk/Twitter
Hard Drive didn't stop there, though.

They wrote an article about it and posted the link on Twitter.
The masses loved it.
One person tweeted:
"Imagine you're the richest guy on the planet and you get ratio'd on the site you're planning on purchasing by a satire news source lmfao."
Another person commented:
"[I]f elon musk hates socialism so much why is he always getting publicly owned[?]"
One person wrote:
"So elon musk reposted a Hard Drive article without credit and when he got called out for it (and ratio'd) he deleted the original post and whined about wokeness."
"To top it all off he then declared the meme wasn't that funny anyway so THERE."
"Actual spoiled child behavior lmao."
Someone else tweeted:
"I just found out that @HardDriveMag spent an afternoon dunking on @elonmusk so hard that he deleted his original tweet that started the shade throwing."
"This is priceless."
"I love Hard Drive."
Musk, who had his sights set on a hostile Twitter takeover, received significant flack for his lack of etiquette toward respectable users on the platform.
This person tweeted:
"Elon Musk having a huge temper tantrum over Hard-Drive magazine is pretty hilarious, not going to lie. He's like a two year old with lots of money."
Another user tweeted:
"Thanks to Hard Drive for exposing Elon Musk — who every day becomes more and more Trumpian in his inability to function honestly in the world."
The Tesla CEO's attempt at a buyout of Twitter is pending amid an investigation of potential SEC disclosure violations.