Billionaire Elon Musk has caused a stir on social media by adding the Dogecoin cryptocurrency logo to Twitter. However, what many people may not know is that this was a year in the making.
The change has been welcomed by the Dogecoin community, with prices surging by 33 percent following the announcement. The move was made in response to a suggestion made by a Twitter user, @WSBChairman, who said that Musk should buy Twitter and change the bird logo to a doge. Musk replied, "haha that would [be] sickkk."
Musk posted a screenshot of the exchange, which is from March 2022, to Twitter, and suggested he delivered "as promised."
You can see his post below.
The complete exchange is included below.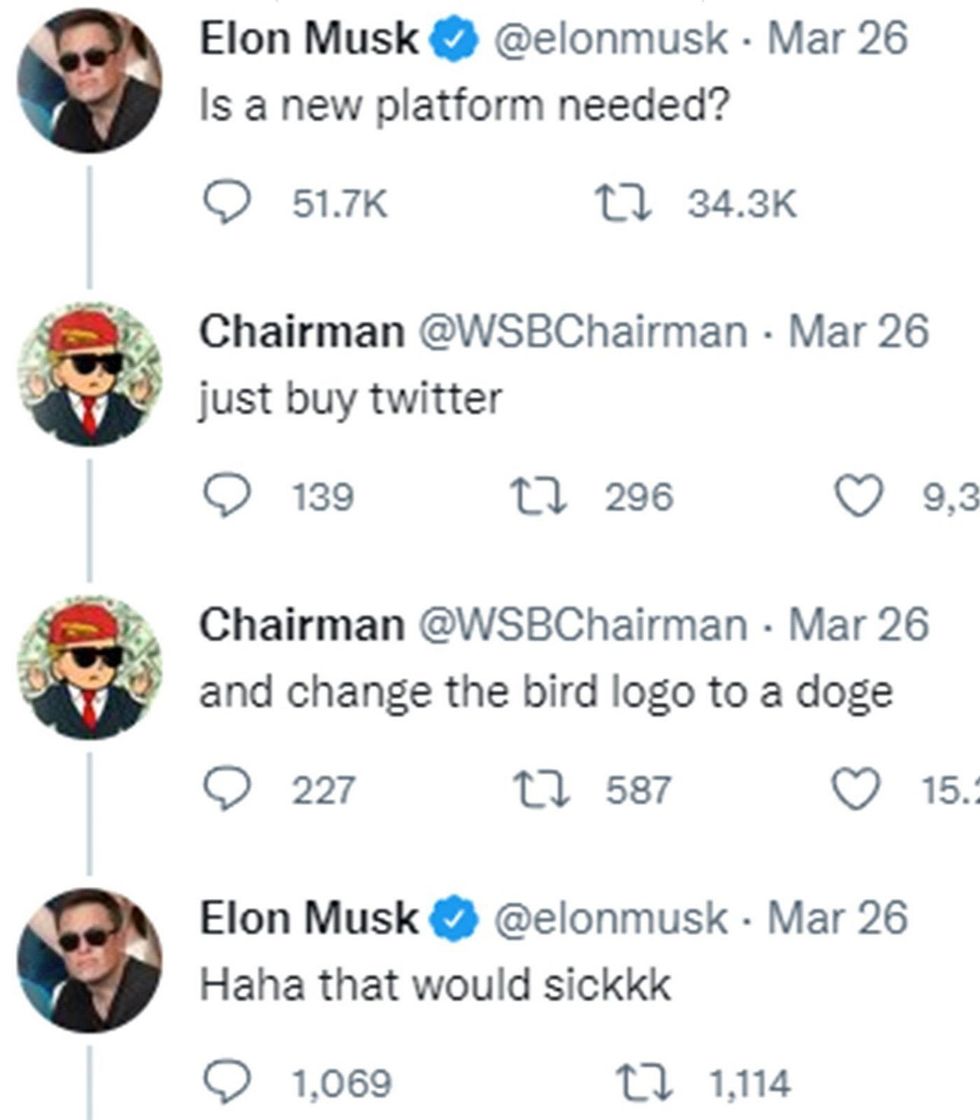 @WSBChairman/Twitter; @elonmusk/Twitter
While this move may seem like a simple cosmetic change, it is significant for the Dogecoin community.

Musk has a long history with the cryptocurrency, and investors have accused him of artificially manipulating the price of Dogecoin in the past. This has led to legal action, including a $258 billion lawsuit accusing Musk of running a pyramid scheme to support Dogecoin.

In response to the lawsuit, Musk and his lawyers have called it a "fanciful work of fiction" and have argued that his tweets about Dogecoin are "innocuous" and "often silly." They also point out that there is nothing unlawful about tweeting words of support for a legitimate cryptocurrency that holds a market cap of nearly $10 billion.
Many reacted negatively to the news, noting it was just another example of Musk treating Twitter like his private plaything.
\u201c@elonmusk remember when you promised to resign if you lost the poll?\u201d

— Elon Musk (@Elon Musk) 1680551064
The addition of the Dogecoin logo to Twitter is just the latest development in the ongoing saga of Elon Musk and Dogecoin.

The cryptocurrency was created in 2013 as a joke, but it has since become a legitimate currency with a strong following. Musk has been a vocal supporter of Dogecoin, and his tweets about the cryptocurrency have often caused its price to soar.
While some investors are skeptical of Musk's involvement with Dogecoin, others believe that his support could be a major catalyst for the currency's growth. As the CEO of one of the most influential companies in the world, Musk has the power to influence markets and drive investment in cryptocurrencies.
The addition of the Dogecoin logo to Twitter is just the latest example of Musk's influence on the cryptocurrency world, and it is sure to be closely watched by investors in the coming months.