Gay men looking to hook up through numerous dating app options usually find themselves experiencing one of two outcomes.
If they don't mutually get their needs met, they either wind up interacting with non-commital time wasters or receive rude messages.
But every now and then, a decent human being shows up unexpectedly on apps like Grindr and restores faith in the male species.
Gay Twitter user Matt came across a private message from someone on Grindr who wasn't necessarily looking for a debaucherous good time but was–gasp–looking for a genuine connection in the LGBTQ+ community.
Yes, every now and then, it does happen–which surprised Matt.
The contents of the sweet note hit all the unexpected feels on what was otherwise known for being a vapid app.
While many users routinely share screenshots of some of their cringiest Grindr interactions, Matt's screenshot was of a heartfelt note sent by an older gentleman.

After reading the sweet note, Matt tweeted it with the caption:

"I am not crying from a Grindr message."
The sender had written:

"Let me say in advance I am not flirting with you. Or at least not in the way one might think."
He went on to clarify:
"I'm old enough to be your grandfather. But your picture reminds me of when I was young and living south of Los Angeles."
"I had a Jeep with no doors no roof and I would drive around with just sneakers and short shorts."
The mystery man then eventually came clean by admitting he was "hustling my a** a little bit lol."
But he ended the message with a simple but very profound reminder.
"Enjoy life. It goes by too quickly."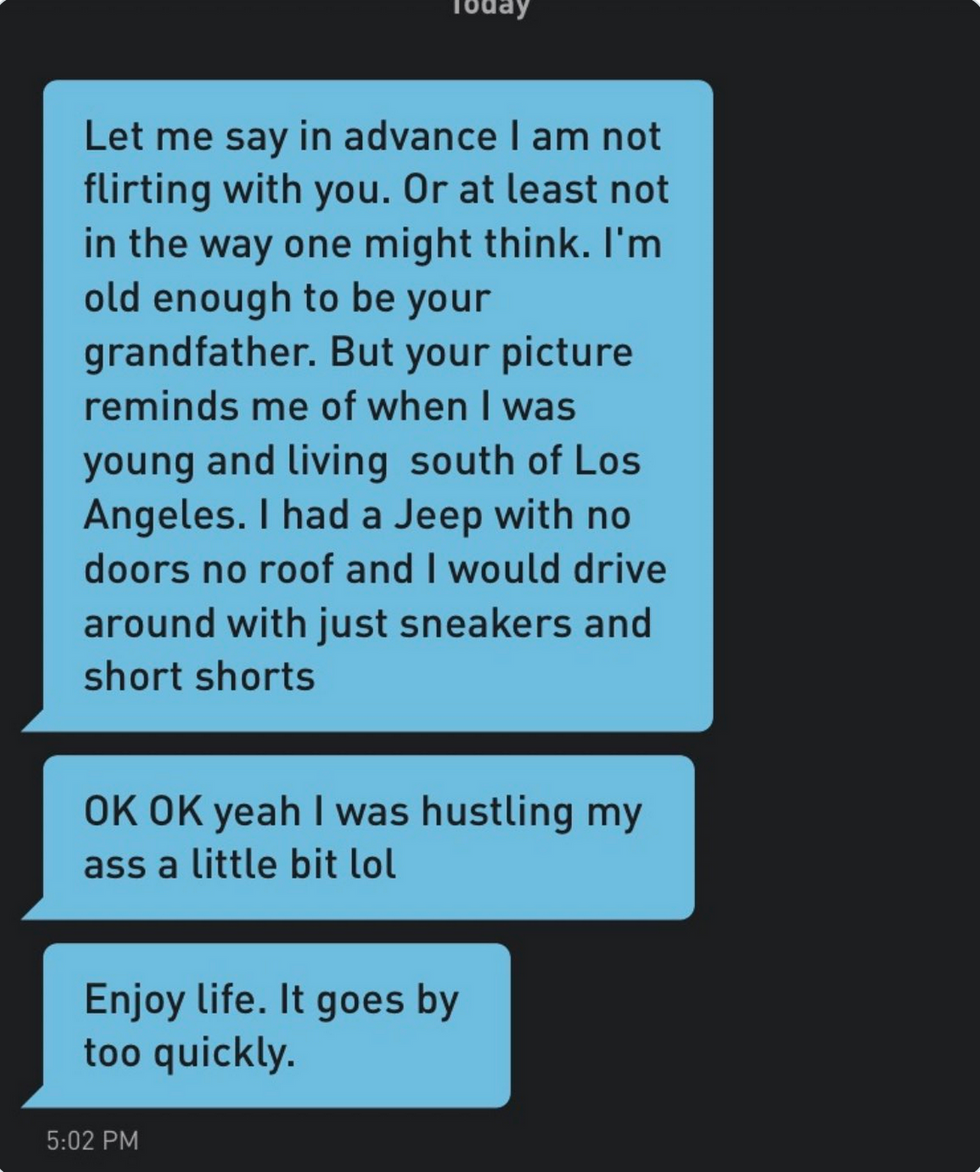 @mattxiv/Twitter
Those who were moved by this wise man's gay carpe diem initiative encouraged Matt to stay connected with him.
The gay dating scene can be a harsh place.

With so many users obsessed with looks, those who are above a certain age often get neglected–and at worst–get slapped with ageist remarks.
This is a shame given the fact that if it weren't for our gay elders, none of us in the community would be afforded the freedoms that have been fought for future generations.

Matt's admirer was likely part of a previous generation of gay men who fought against homophobic oppression during protests like the 1969 Stonewall Inn riots and helped push for LGBTQ+ equality and inclusivity.

They also suffered the significant loss of friends and lovers to violent hate crimes and due to the burgeoning AIDS crisis in the 80s.
Although these individuals didn't have queer role models to inspire them, they were forced into activism because it was a matter of life or death.
Thanks to these courageous trailblazers, significant strides have been made over the years so that the gay youth of today can enjoy the rights and freedoms of life in 2023.
While much of this man's history is unknown to Matt, it isn't surprising he would encourage his younger lookalike to embrace his youth and not get bogged down by FOMO (fear of missing out) as social media users today often do.
One thing is for certain.
Their refreshing interaction was a welcome one on the hookup app.
Hopefully, Matt will reach out to this man, plan a lunch date together and be enlightened with firsthand anecdotes from a different time.