Allergy season is in full force in the Northeast, and one New Jersey resident decided to see how much pollen one tree had by trying out a little experiment at the expense of locals.
With his wife Jennifer filming the demonstration, Eric Henderson grabbed his backhoe loader and merely tapped a tree weighed down with pollen.
The result will make you want to grab some tissues.
---
Henderson detonated a toxic cloud of pollen, undoubtedly causing massive sneezing frenzies for many Millville residents.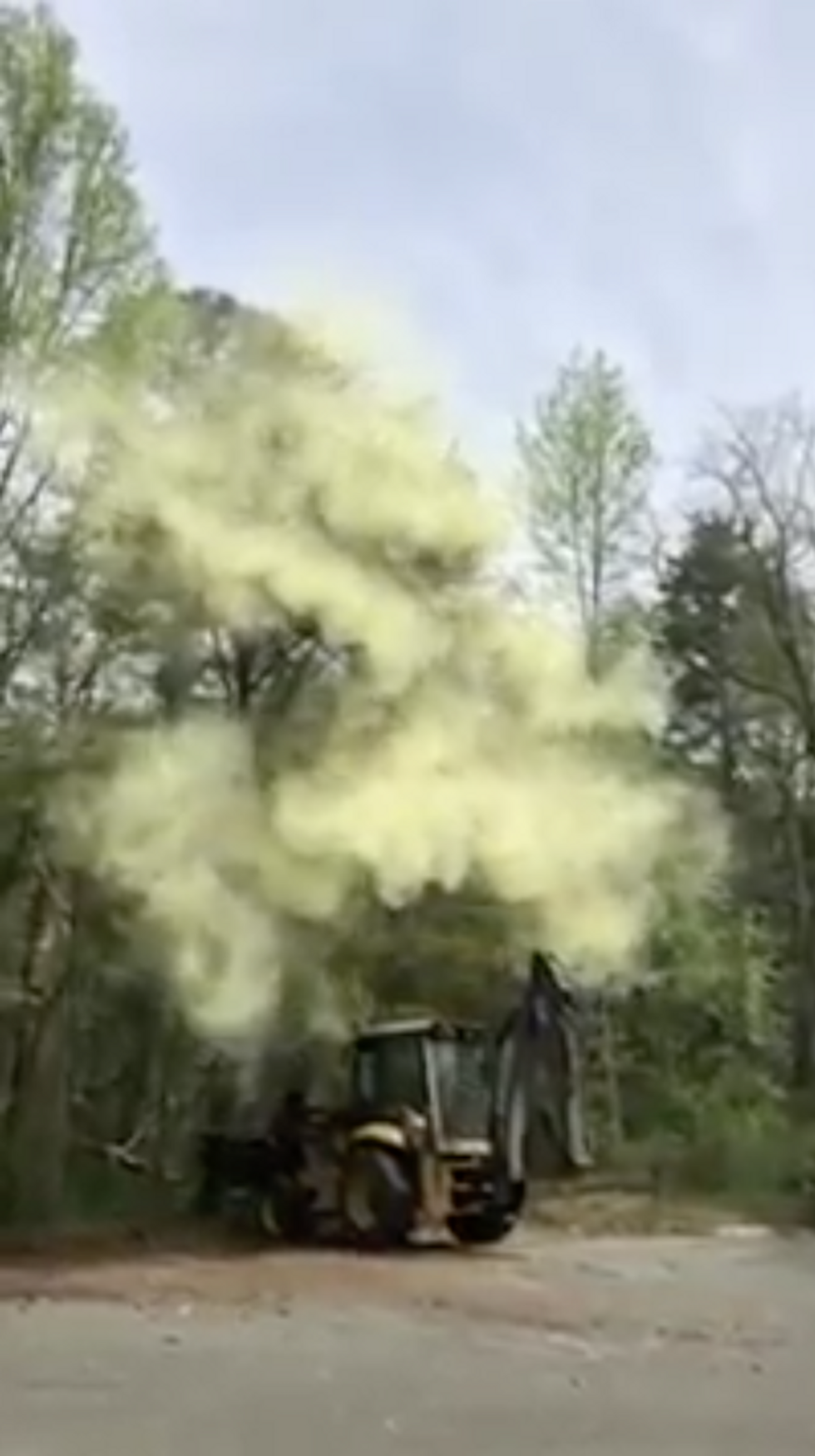 The tractor becomes engulfed in (Movieclips Entertainment/YouTube)
The impact unleashed a puff of yellowish-green fury that even affected viewers watching the clip at home.
What's happening? Speaking of which, one person remembered this 2008 nature-gone-wild flick from M. Night Shyamalan.
Locals thought the demonstration wasn't very nice.
If you're frequently sneezing and clawing at your itchy eyes, you're most likely living in the 30% region of the country suffering from a "medium-high" pollen count, according to the National Allergy Map.

Dr. Maria Castells, an allergist and immunologist at Brigham and Women's Hospital said those living in the Boston area should expect a "severe year."
She explained that the length of pollen season is determined by temperature, and the presence of snow and ice still in the region delayed the release of allergens into the air.
The pollen was ready to go in the air but that was not allowed because of the low temperature. So what we will be seeing this pollen season is a burst of pollen.

It's going to be a pretty severe year because [there have] already been several bursts of pollen out there that have been in between days where the temperature has gone down, so pollen is not being released in the air.
And there will be very few bursts in the next week or so. There is a lot of pollen from the trees that have not been released and will continue to be in the air.
It looks like allergy season got the kickstart it needed. Thanks, Eric Henderson.