A recent music video by Lil Nas X for his song "MONTERO (Call Me By Your Name)" sparked further controversy when bassist Jonny Goood complained about the "agenda of sexual orientation" in music after watching it.
Jonny Goood is known for being the bassist on tour with Lady Gaga, as well as his own album Bass Hop.
In an Instagram story, which has since either been deleted or expired, Goood can be heard saying:
"I've got to go wash my f'king brain out with soap after watching that f'king Nas X [music video]."
Lil Nas X, widely known for the song "Old Town Road" featuring Billy Ray Cyrus, caused quite a buzz with his most recent music video.
The song "MONTERO (Call Me By Your Name)" expresses Nas X's struggle with accepting his sexuality due to his religious upbringing shaming him for it.
Goood went on to say:
"I wanna know why is sexual preference so prevalent in music."
"Like, why is the agenda of sexual orientation in music so heavily correlated. I don't get it."
The term "sexual preference" has been used by those who aim to delegitimize sexual orientations under the LGBTQ+ umbrella, implying it is a choice or can be "cured."

The correct term being "sexual orientation." Goood also failed to note heterosexuality has been a theme in music pervasively, constantly and overwhelmingly while other sexual orientations are rare.

In a later Instagram story, Goood said:
"I make music with Zero sexual content. No gun violence, no degrading women, no drugs.. if that's what you're into."
"It takes a ton of creative energy to create with none of those topics. You gotta think outside the box.."
Seemingly in reference to his connection to Lady Gaga, he said:
"Of course, you wouldn't know that bc you ONLY follow me bc i worked for one of your favorite artist."
Goood seems to have changed his tune from his 2018 interview where he said this about Gaga:
"She's definitely one of the hardest workers that I've worked with."
Many are outraged over his comments, especially given the fact Lady Gaga is out as bisexual and has created iconic anthems such as "Born This Way" and "Poker Face." Goood has also performed with Miley Cyrus, who identifies openly as pansexual.
Yet still, he claimed:
"It's easy, everyone does it [because] you guys love sex."

This is in stark contrast with a previous interview with E Magazine stating performing with Lady Gaga was the height of his career.
As more people chimed in, Goood later tried to backtrack and express he was specifically talking about sex, not sexual orientation, but many people on Instagram and Twitter continued to call him out on his anti-LGBTQ+ rhetoric.

@avinogradnik/Twitter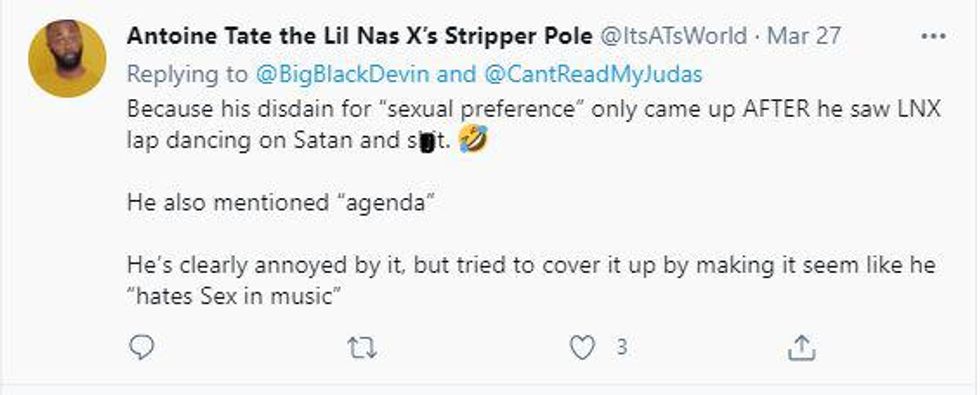 @ItsATsWorld/Twitter
Though many people pointed out Jonny Goood's homophobic language, he continued to defend himself, until he eventually deleted his Twitter account all together.