A group of grandmothers are going off to battle by protesting against the "zero tolerance" policy of child separation at the Mexican border imposed by Jeff Sessions earlier this year.
The women are taking to the road to fight the good fight, proving that they strength shouldn't be underestimated.
Grannies Respond, or Abuelas Responden is a movement made up of actual grandmothers but isn't necessarily exclusive to the demographic. They set off in a van for a six day trek from New York City to ICE detention centers in Texas and will be making several stops for rallies along the way.
---
About two dozen gray-haired protesters from NY are heading to the Mexican border to express their disgust about chi… https://t.co/oddRWgT9ut

— Peter Haskell (@Peter Haskell) 1533061075.0
Rachna Daryanani, an immigrant from India currently residing in Queens, New York, was one of many women who kicked off the 2,000 mile journey with a mini-protest that exhibited resistance through love and music in Manhattan on Tuesday.
Some uplifting news: a group of "Grannies Respond" activists are going to the U.S.-Mexico border to protest family… https://t.co/uMqiNk3Zod

— National Immigration Forum (@National Immigration Forum) 1533320113.0
Daryanani told Independent about the the tendency for ignorance that most people have surrounding family separation.

As human beings how can I eat a full plate and then ask for desert when a mother doesn't have food — has come to my doorstep — and I'm separating her from her child and neither knows what the condition of the other is.
With what conscience are we doing that?
@thehill those are some badass grandmas

— Darth Savage (@Darth Savage) 1533149589.0
The group formed after reports of 2,000 children being pulled away from their immigrant parents at the border riled the nation.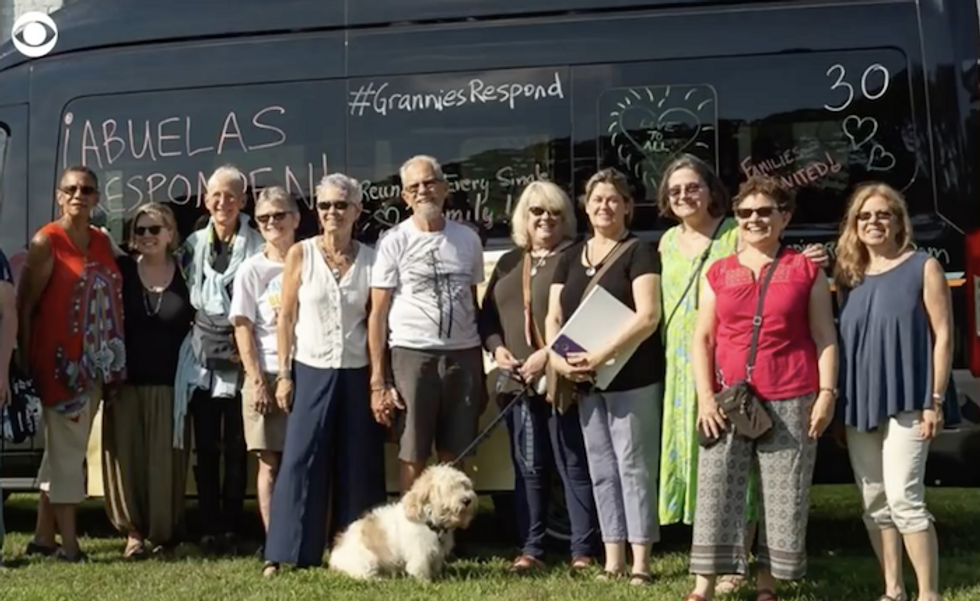 The group kicked off their journey on Thursday.(CBS News/YouTube)
Ann Schaetzel hopes other people will join the group's efforts in the movement during their trek that will make planned stops in Reading, Pennsylvania; Pittsburgh; Louisville, Kentucky; Montgomery, Alabama; New Orleans; and Houston.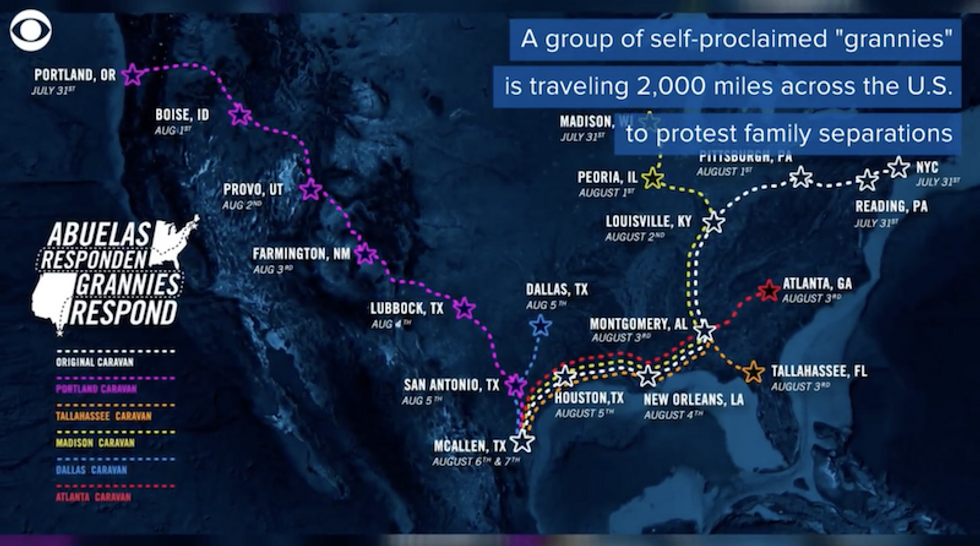 The caravan route.(CBS News/YouTube)
Caravans from as far as Portland, Oregon, are planning to make the same journey.
A group of traveling grandmothers stopped in Louisville today to protest U.S. immigration policy:… https://t.co/m0zDXCjtGM

— WDRB News (@WDRB News) 1533264300.0
A group of grandmothers opposed to U.S. immigration policy is going to the southern border for a protest. But first… https://t.co/MxJ7WeWCvp

— Adam Richter (@Adam Richter) 1533131722.0
Schaetzel said, "I think it's a powerful way to express the idea that, even frail old people who are in many ways discounted, … in this society can do something."
Basically, if frail, old people can take a stand, anybody can do it. I hope that people will join us.
@thehill Now you've done it! The Grannies are mad and they are taking action!

— judi trotter MBA/MA (@judi trotter MBA/MA) 1533151912.0
Claire Nelson, a 66-year-old retired special education coordinator for pre-school aged children, told Salon:
When I read about what is happening with children being separated from their families and put out to detention centers it really disturbed me.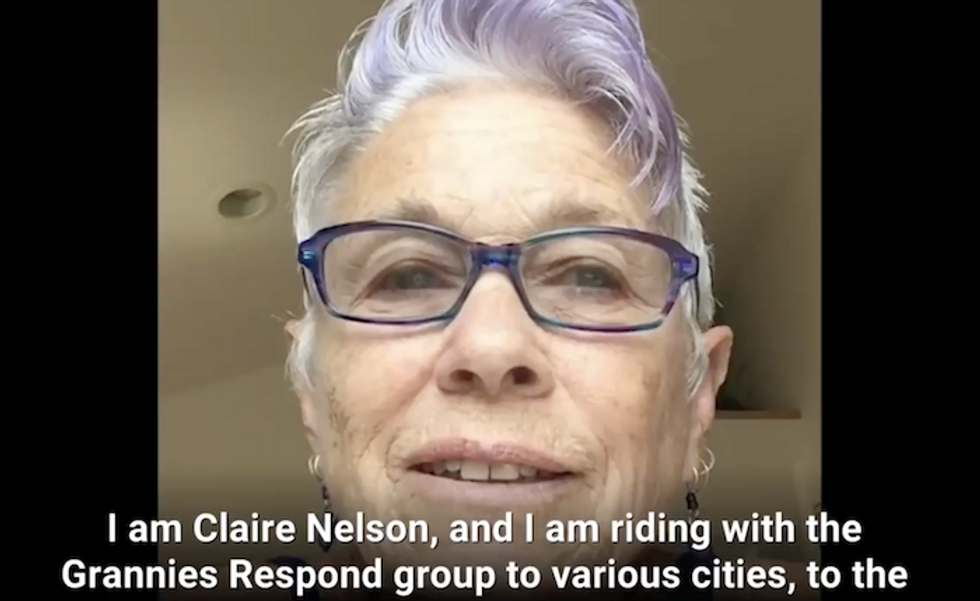 Claire Nelson(CBS News/YouTube)
I was very upset by that, knowing not only that everyone is scared coming here but also the effect that this would have on children, being separated from their caregivers for such a long time, not only emotionally but also intellectually.
Nelson's husband Barry, who is 70-years-old, will be accompanying her on the group's mission.Salon reported that the oldest recruit is 74-years-old.

"Aging may have slowed me down, but it hasn't shut me up. That's true for a lot of us," said Nelson.
@thehill Don't mess w/grannies!!

— Dara Nelson (@Dara Nelson) 1533150503.0
Children are still being separated from their families at the border but there are some women preparing to stop it,… https://t.co/JQFklcwbrP

— Full Frontal (@Full Frontal) 1533225600.0
Although the separation policy was curtailed by an executive order signed by Donald Trump, hundreds of children still have not been reunited.
@AdrBell @AviFlyGirl https://t.co/bXEVouDcHI

— freefalling #Resist 🇺🇸🌊#Vote! (@freefalling #Resist 🇺🇸🌊#Vote!) 1533320576.0
H/T - HuffingtonPost, Independent, Salon, Twitter