With Valentine's Day around the corner, one woman in Long Island, New York wants to hold on to memories of Christmas for a sentimental and tear-jerking reason.

While there are no decrees stipulating people must remove their holiday decorations from their homes by a certain date, one irritable individual took it upon themselves to deliver notes around a neighborhood reminding them Christmas is over.

Sara Pascucci, from Bethpage, received an anonymous letter with no return address instructing her to:
"Take your Christmas lights down! Its Valentines Day!!!!!!" (sic)
Pascucci, 31, said she couldn't bear the thought of taking down her Christmas decorations because they were put up by her father, who died from catching the viral pathogen that has claimed 451,000 American lives.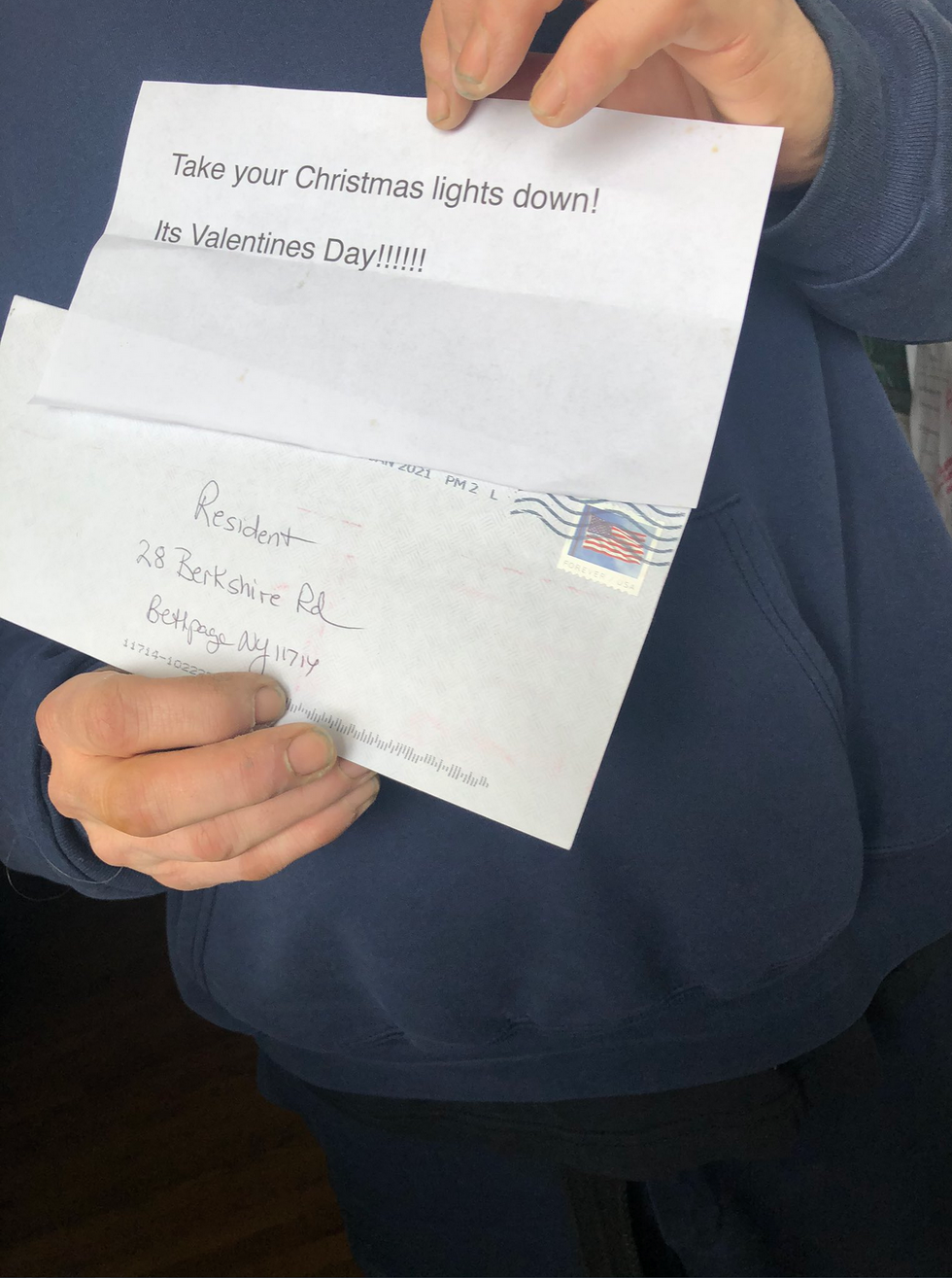 @sophiabhall1/Twitter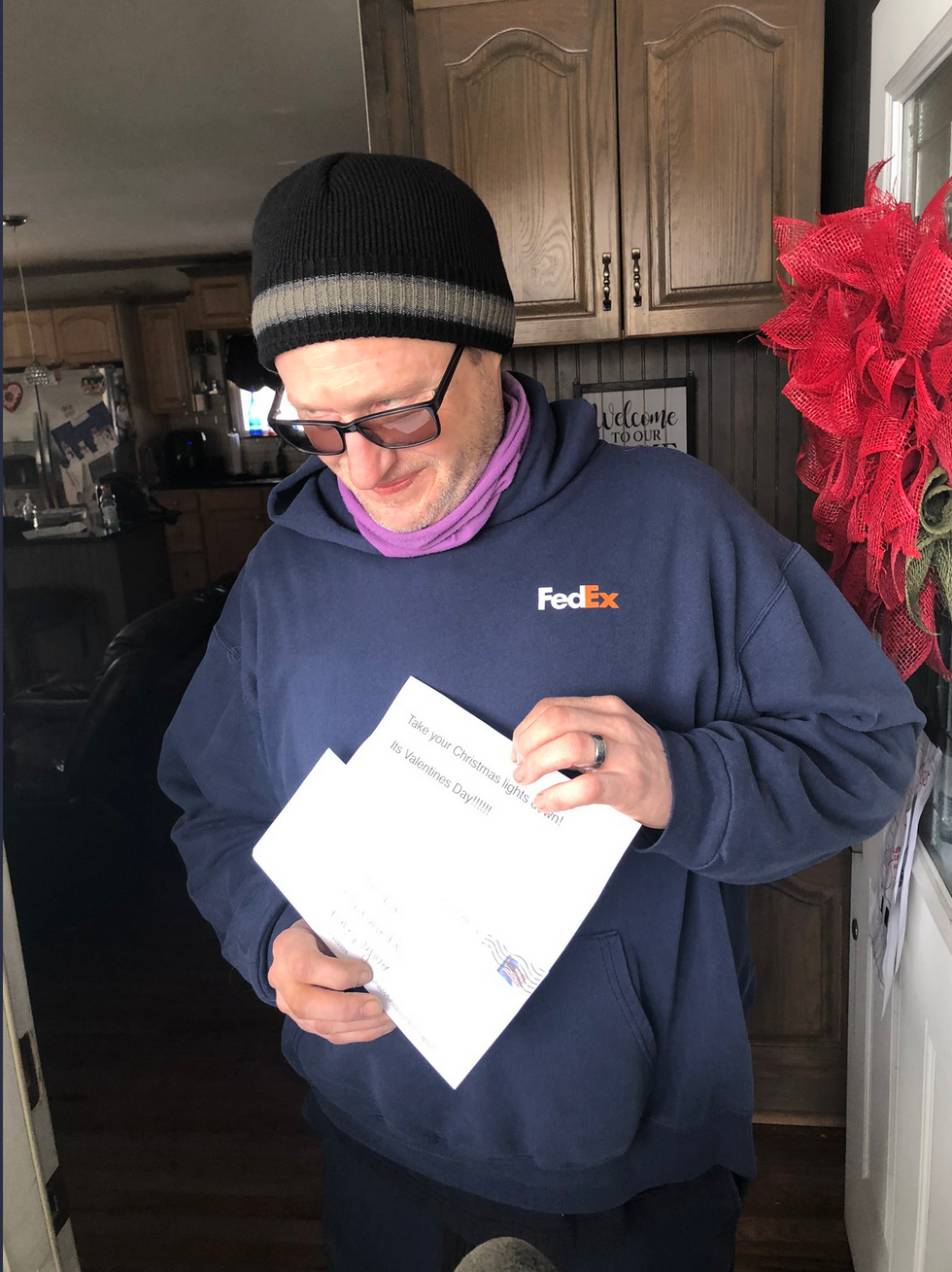 @sophiabhall1/Twitter
According to WABC7, sixty-one-year-old Anthony Pascucci died from the virus on January 15. His sister also died from the virus responsible for the pandemic a week before.

Pascucci, who found herself having to plan for two funerals, said of the anonymous letter:
"It's not something you want to receive after everything that we've been through."
You can see local news coverage from WABC7 here:

The grieving daughter had a special message in response to the note.
"I would just like them to remember to be kind, especially during a pandemic. You don't really know what anyone's really going through."
Pascucci also wrote on the Long Island Moms Group Facebook page.

"Our entire family was sick with [the virus] starting December 24. Within this timeframe we lost 2 family members, one being my father. He was an amazing man, a man who put a smile on everyone's face. He loved decorating our house every year for the holidays."
She added:

"So yes we haven't gotten around to taking down these Christmas decorations. And maybe we just aren't ready yet."
In a WCBS Radio interview, Pascucci said:

"We didn't really find it funny, it actually was very hurtful. Just to kind of remind everyone to just be kind, especially during these times, because you don't know what anybody's really going through."
"It's also very hard to take something down that your father enjoyed and put up for your family."
Local residents were upset upon hearing about the insensitive directive to take down the holiday decor.
One neighbor said:

"It's terrible. With everything going on out there could you be a little nicer instead of dragging somebody down just because they left their Christmas lights up?"
Resident Brian Kelly—who still has Christmas decorations on his roof—also received the letter and said:

"Really? Lights? That's your biggest problem right now? Lights?"
"Honestly, I just don't want to dig the ladder up to go on the roof. Most of the stuff is taken off."
Some neighbors sympathizing with the Pascucci family suggested they would put their decorations back up for a Christmas in February to show support for her and for others who had a difficult holiday season.
Kelly added:

"I think the whole block should put them on, just for the people who are going through a really hard time."
In response to the overwhelming support she received from the Long Island community, Pascucci said:
"It made me feel a lot better so this letter is not even something that hurts anymore because of everyone's love and support."