A couple who discovered from specialist ancestry DNA tests that their heritage hails from 32 different nations, sold their belongings to fund a global pilgrimage.
The family is visiting everywhere they have roots.
---
In December 2016, after tracking his recent ancestors' birth and death certificates, Ike Anderson set off with his wife Natalee and their three children, Jasmine, 12, Kaylee, 11 and Layton, 7, from their home in West Palm Beach, Florida, on their ambitious journey.
Always intrigued to find out more about his roots, after moving from Jamaica to the USA when he was 16, Ike, who runs a marketing business with Natalee, who he met in the States, said:
"I wanted to know why I was here and where I am going. If you don't know where you're from, you have no idea what's next."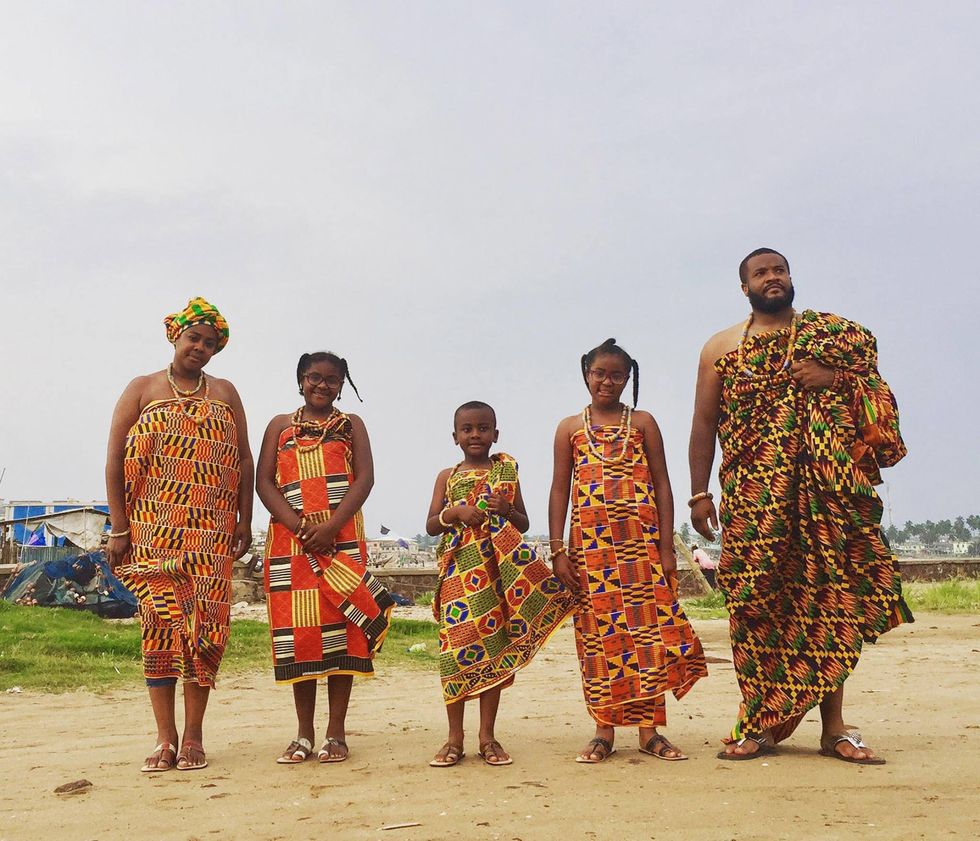 The family wearing traditional clothing during a visit to Ghana(PA Real Life/Collect)
He added:

"I see this journey as a quest to find out who we are, and what we can leave behind. I was thinking to myself one day, 'What legacy do I have? What will I leave for my children?'"
"It's great to leave money behind, but I thought travelling and having the opportunity to learn and giving them an open mindset would be a better gift for them."
Ike first suggested their incredible journey—costing between $90,000 and $105,000 – after discovering he and Natalee both have roots in Europe, East Asia, and Sub Saharan Africa, thanks to DNA tests—costing $120 each—conducted through a health and ancestry website.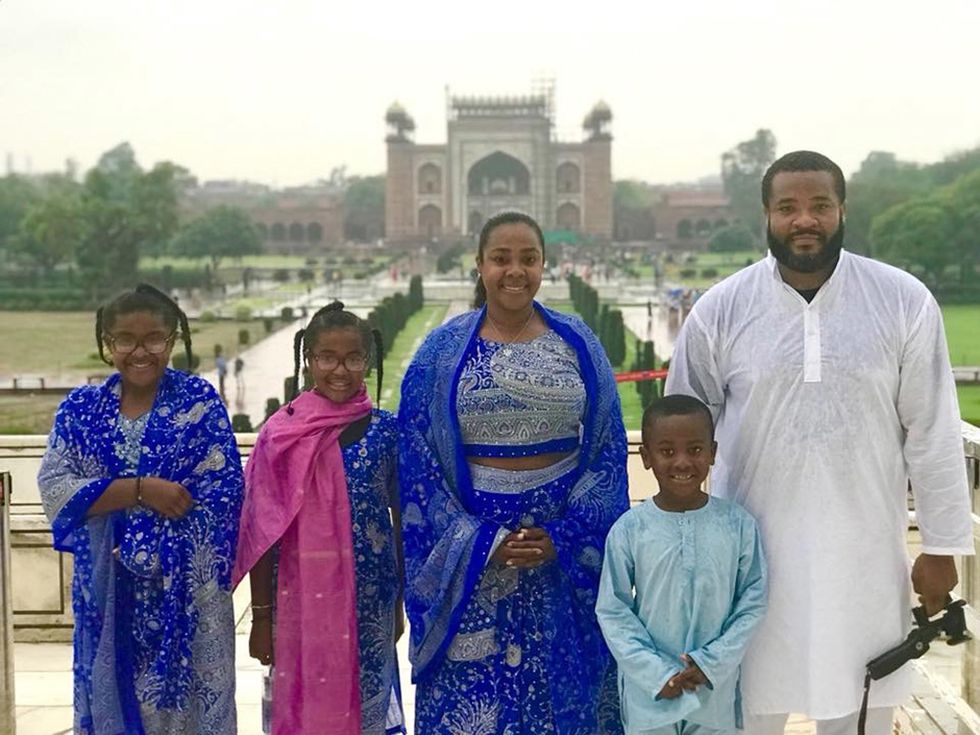 The family sporting traditional Indian clothing(PA Real Life/Collect)
Now the family of five have travelled to Mexico, Canada, England, Scotland, Ireland, Paris, Egypt, Nigeria, Kenya, India, Indonesia and are currently in Australia, with plans to go next to Fiji and Hawaii.

The Anderson celebrating their Scottish heritage(PA Real Life/Collect)
To fund their global trip, they sold their car and any belongings they could live without—with Natalee even parting with excess handbags and shoes, believing the pilgrimage is more valuable to her.

Then, to maintain an income while travelling, Ike and Natalee work remotely for their marketing agency and communicate with their office back home when necessary.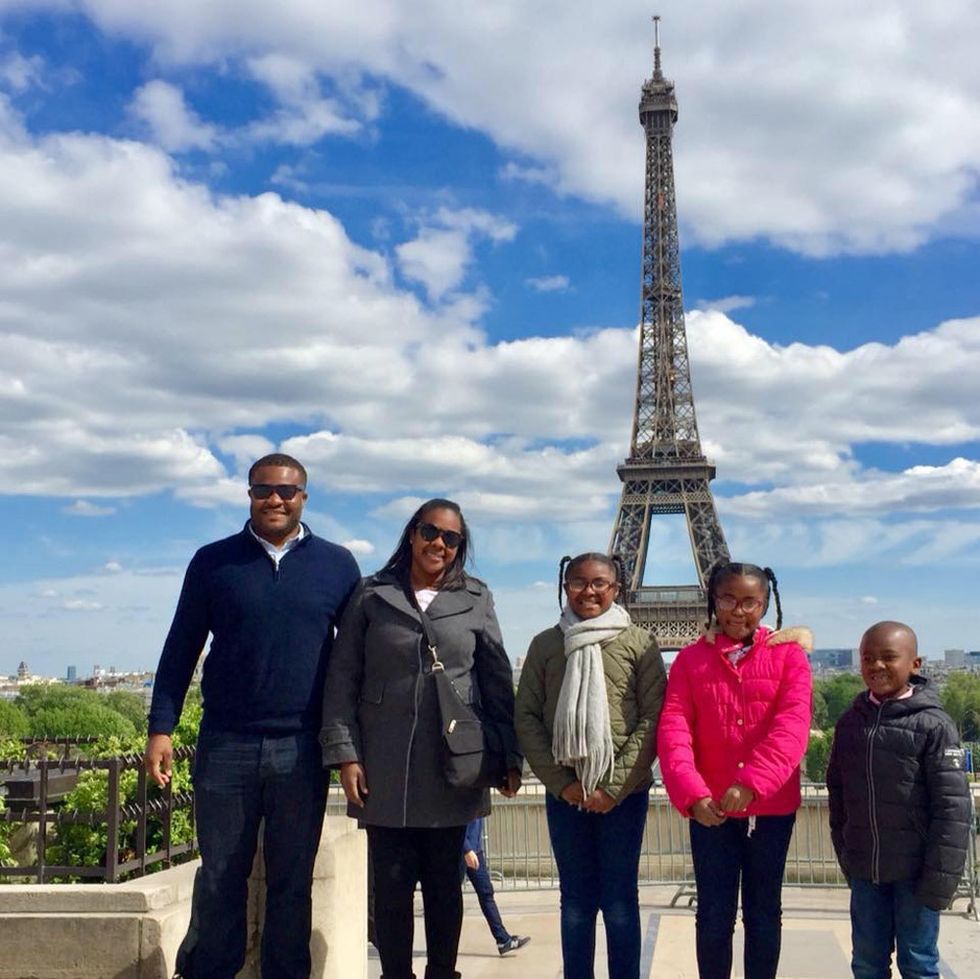 The family posing for a picture with the Eiffel Tower(PA Real Life/Collect)
The couple are also vigilant when it comes to their children's schooling—ensuring they take online classes and use educational apps, with Ike claiming his wife is their 'strictest teacher.'

Although travelling with three children all over the world may seem like a nightmare for some families, they say they enjoy many highlights.
Ike added:
"A great memory for me is being able to teach my kids how to handle other people and that life is short—we should live it to the fullest and explore as much as we can."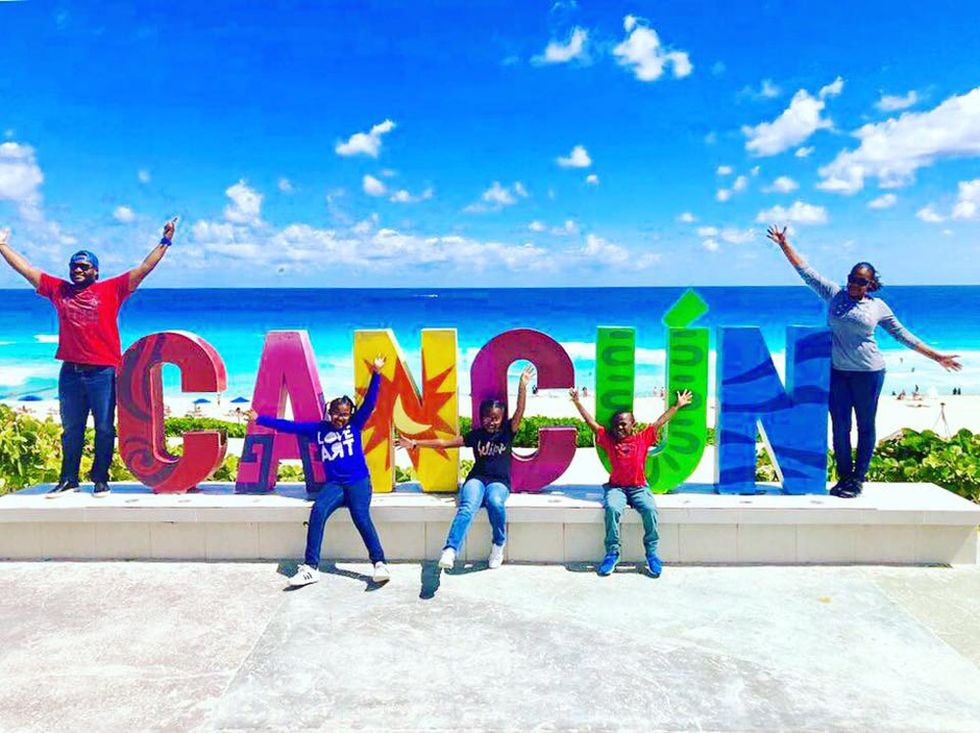 The family at their first destination, Mexico(PA Real Life/Collect)
He continued:

"I don't think what we do is for everyone, It's for those who it resonates with. This is more of a spiritual pilgrimage than just a trip—it's allowed us to experience love in the places that we least expected it and learn that we are all connected in one way or another."
But Natalee admits that it took some time for their children to share their enthusiasm for the mammoth journey.
She said:
"When we first told our kids what we were planning to do they seemed shocked."
[ia_video https://s3.amazonaws.com/roar-assets-auto.rbl.ms/runner%2F7476-video.mp4 source="https://s3.amazonaws.com/roar-assets-auto.rbl.ms/runner%2F7476-video.mp4" videoControls=true shortcode_id=1541705965178 expand=1 ]
Adding:
"They had loads and loads of questions, so we made sure they were part of the process by putting a huge map on the wall and guiding them through everything."
"Convincing them to come on board has been the best thing we did, though. It's made our kids better at going outside and exploring."
"If they were at home they would just be on their phones and devices. We put a rule in place that the kids couldn't bring their phones, so we only have a laptop and iPad with us which we all share."
Despite their best efforts to keep up with schoolwork, however, Natalee admits they have faced unforeseen challenges along the way.
She continued:
"It's difficult to make sure work always gets done and we all stay disciplined."
"Not having WIFI in some places makes it hard, but we plan around that and make clear deadlines for ourselves."
Natalee added:
"The kids use offline apps for classes when they can't access the internet and even when we're exploring they are still learning."
"It's like a social studies class, but instead of seeing a picture in a text book they are actually there!"
And for Natalee, the pilgrimage has provided priceless moments and memories she will cherish forever.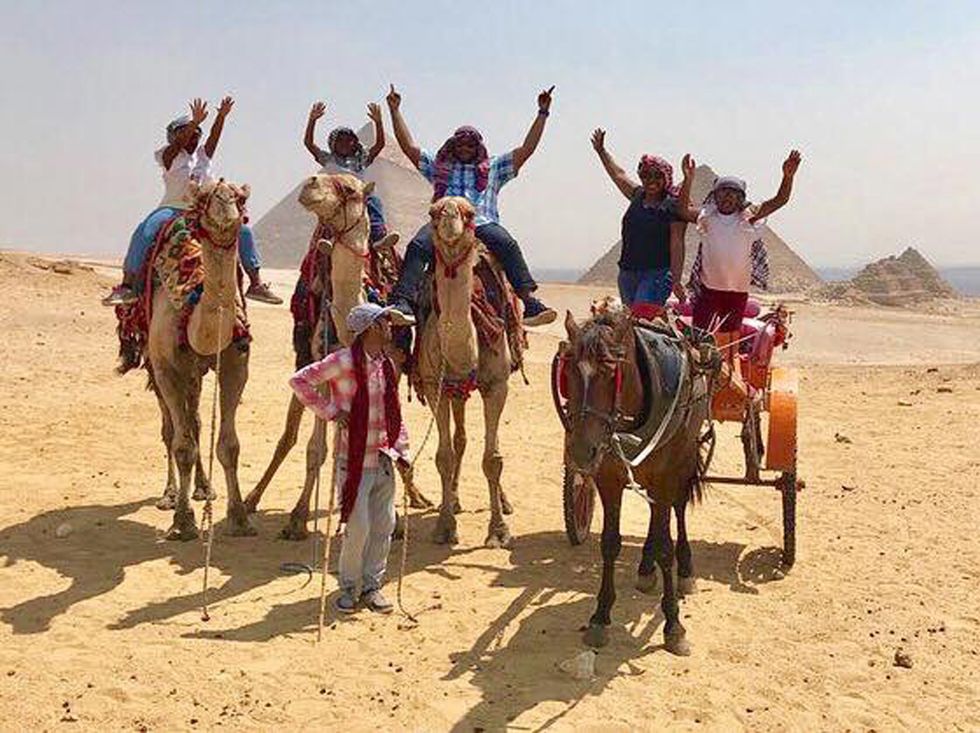 The family enjoying a camel ride in Giza(PA Real Life/Collect)
She said:

"One of the biggest highlights for me was sailing down the river Nile and seeing children playing by the sides of the water. There was literally no connection to the rest of the world, so we were forced to soak up the experience, rather than look at social media."
Travelling has also miraculously stopped their children from bickering as, spending four weeks in each new country, they are more reliant on each other for company and support one another, instead of falling out.
And while Ike feels this way of life would not suit all families, Natalee would recommend it to everyone.
She continued:

"I recommend that other families do what we do – the exposure and bonding is just priceless."
"I have realizations about our family and how much we've grown."
"For families who think they may argue or not enjoy the experience, I still think they should try it – you should go towards your biggest fear."
A version of this article originally appeared on Press Association.