Kelly Morris thought her daughter's unusual change in behavior was "lockdown anxiety," but a routine eye test revealed that the eight-year-old actually had a brain tumor.
Morris noticed her little girl Hollie becoming distant and detached, she assumed she was struggling with the government-imposed restrictions in response to the pandemic.
But over the next month the schoolgirl was also struck by bouts of sickness, dizziness and a suspected lazy eye.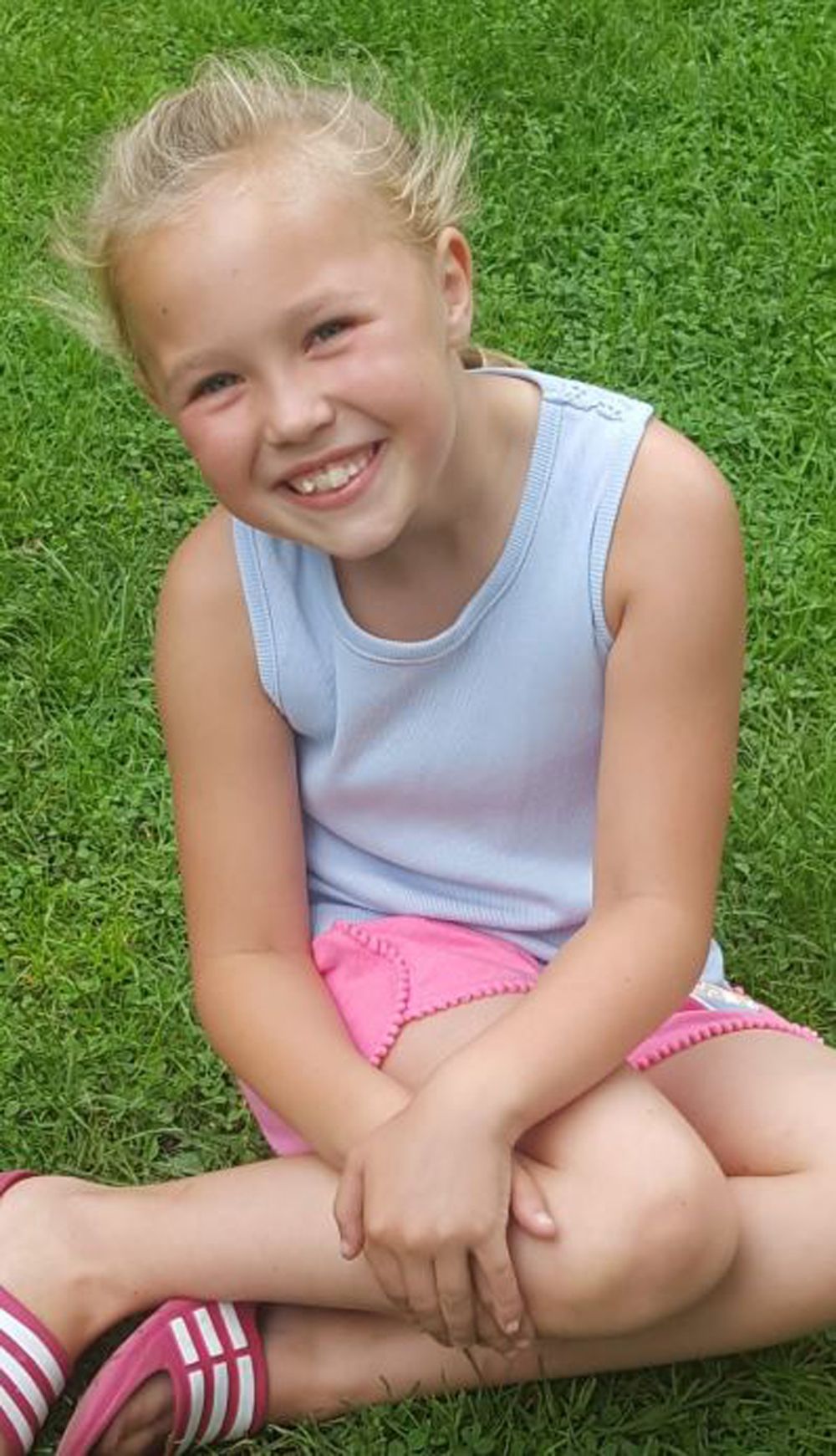 Hollie (PA Real Life/Collect)
Worried, Morris took her for a check-up at her local Specsavers on June 4 and less than 24 hours later, she was on the operating table at Royal Manchester Children's Hospital having a benign brain tumor removed.
"Hollie wasn't acting herself at all. She didn't want to get dressed, she'd stay in bed all day and was totally detached – but I genuinely put it down to lockdown anxiety," Morris said.
"If it wasn't for that eye test, who knows where we'd be? The doctor told me if it had been even a few days longer, she might not be with us now."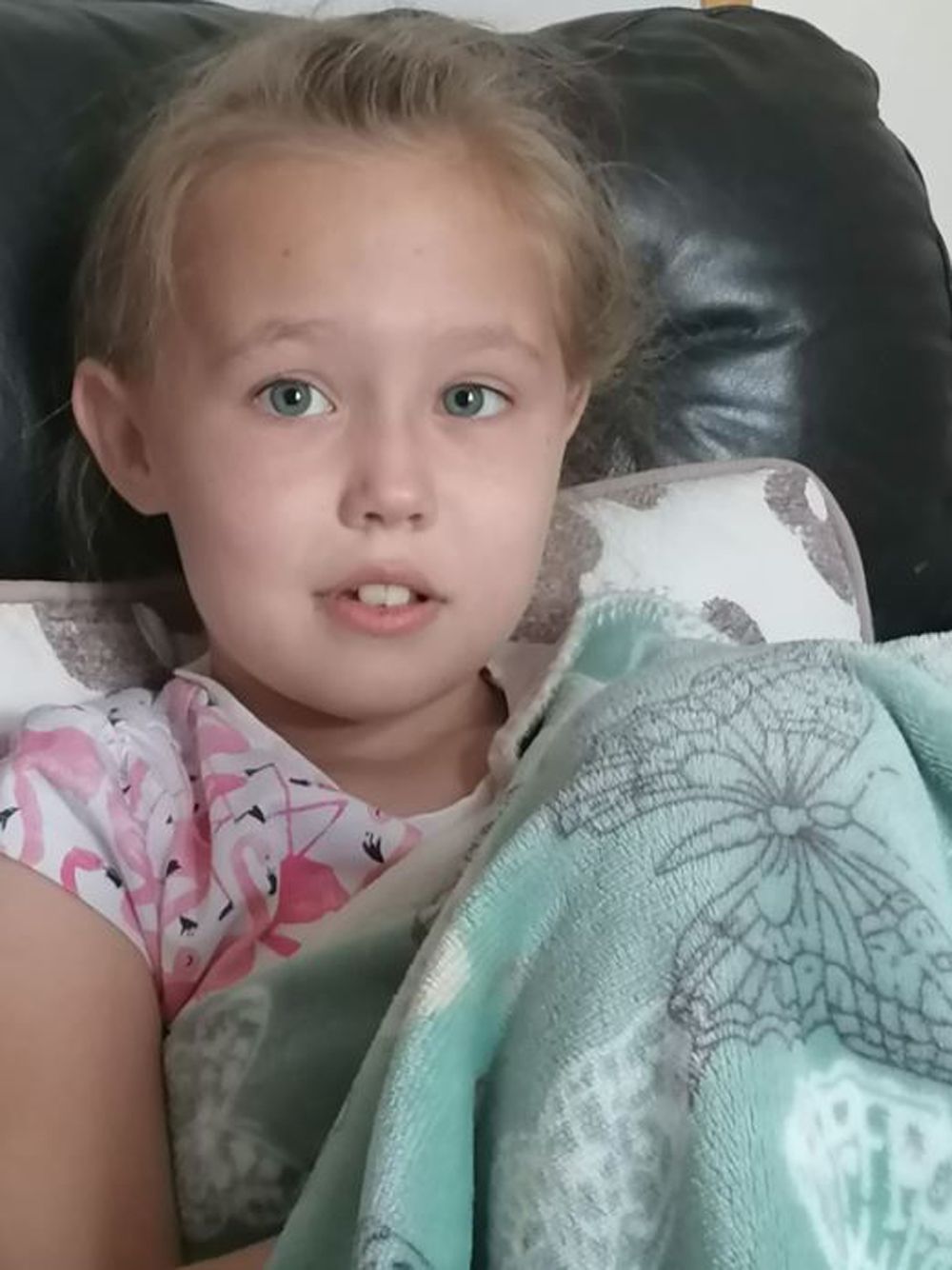 Hollie's 'lazy eye' (PA Real Life/Collect)
"As soon as medics asked if there'd be any changes in Hollie's behavior, it all made sense. It wasn't lockdown – it was a tumor pushing down on the back of her brain," she continued.
It was shortly after the nationwide lockdown was imposed to combat the spread of the coronavirus that Hollie began acting strangely.
"She would refuse to get out of bed, which wasn't like her at all," Morris explained.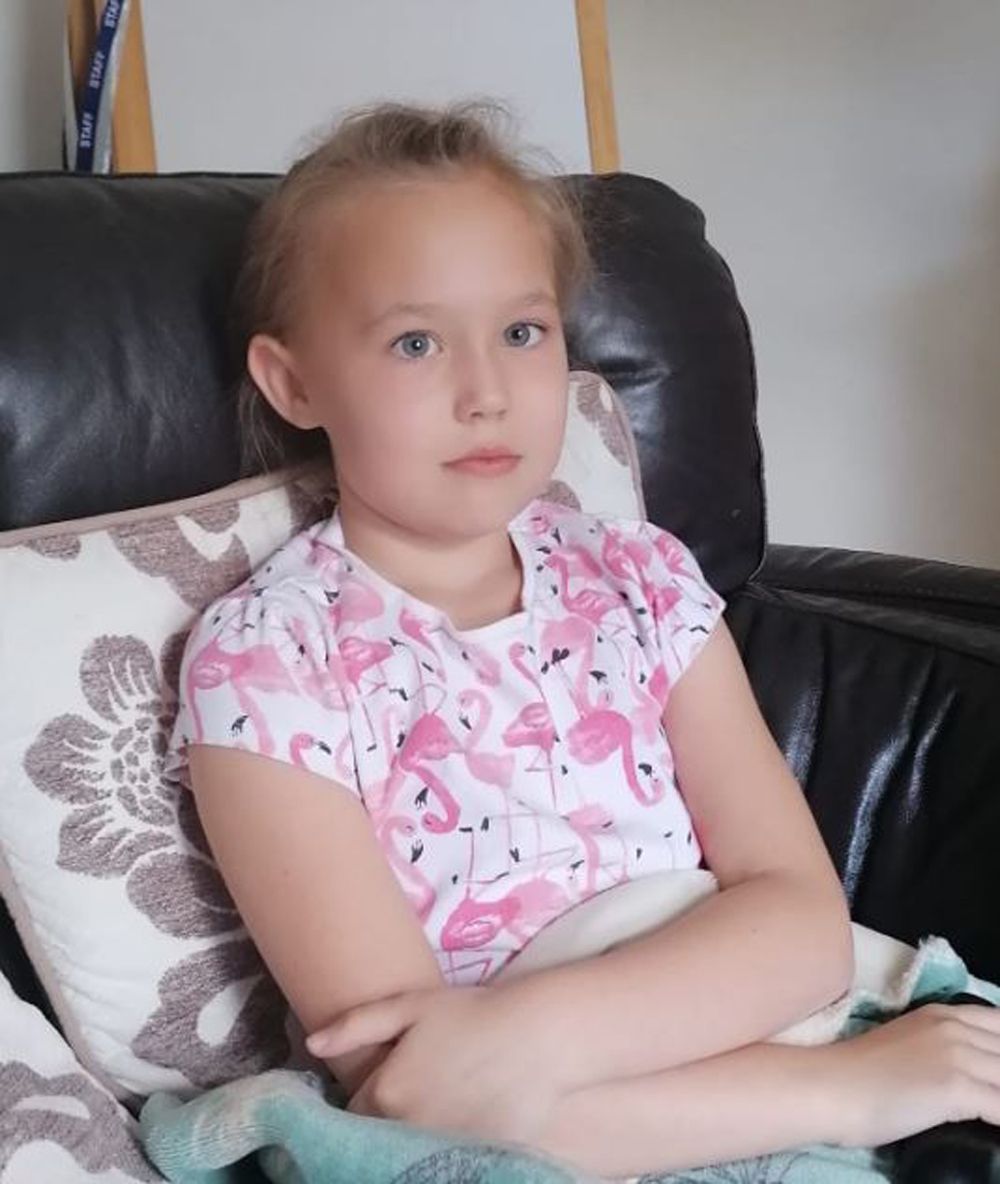 Hollie's 'lazy eye' (PA Real Life/Collect)
"Hollie is usually such a happy young girl, but instead she was moping round the house and not wanting to engage with anyone," she continued.
"We always used to go on walks together and suddenly she was refusing to do anything."
"She always thrived off seeing her friends and instead she would cry her eyes out at the prospect of being away from me – it wasn't like her at all."
Great to have so much support for our @HeadSmartUK campaign. Its reduced childhood diagnosis times by half. Have yo… https://t.co/iA5sD5eF5R

— The Brain Tumour Charity (@The Brain Tumour Charity) 1595262939.0
At first, Morris assumed her daughter was simply anxious as a result of the uncertainty of the global pandemic and being off from school unable to see her classmates.
By the end of May, she had developed some other symptoms all of which appeared to have a simple explanation.
"Hollie starting suffering with headaches, but it was nearly summer by then and so I put it down to her hay fever, which in the past had seen her full of headaches and sneezes," she continued.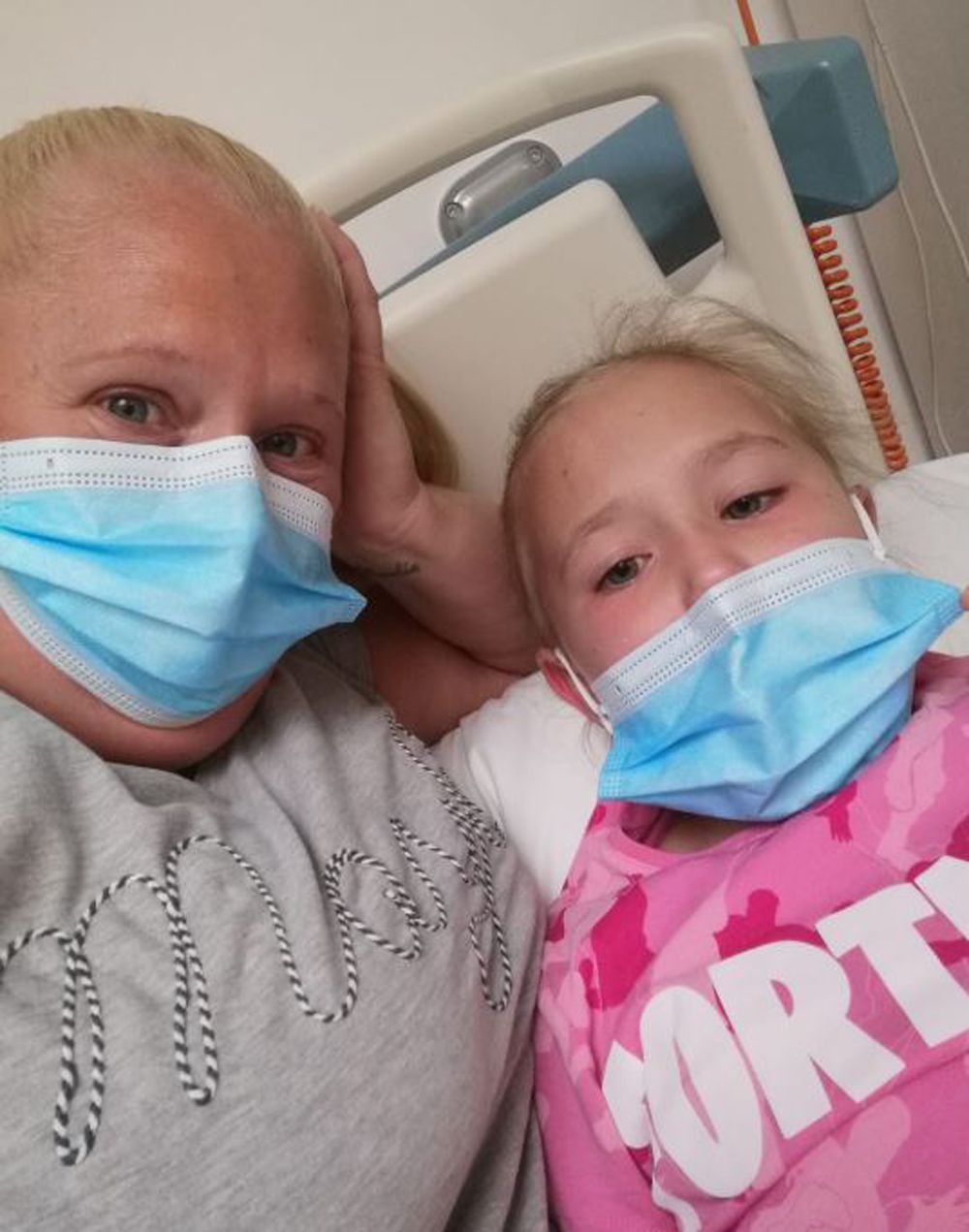 Kelly and Hollie in hospital (PA Real Life/Collect)
"Then, there was a week where she was being sick three or four times every morning," she said.
"A few of my friends had posted on Facebook about a sick bug going around, so I chalked it up to that."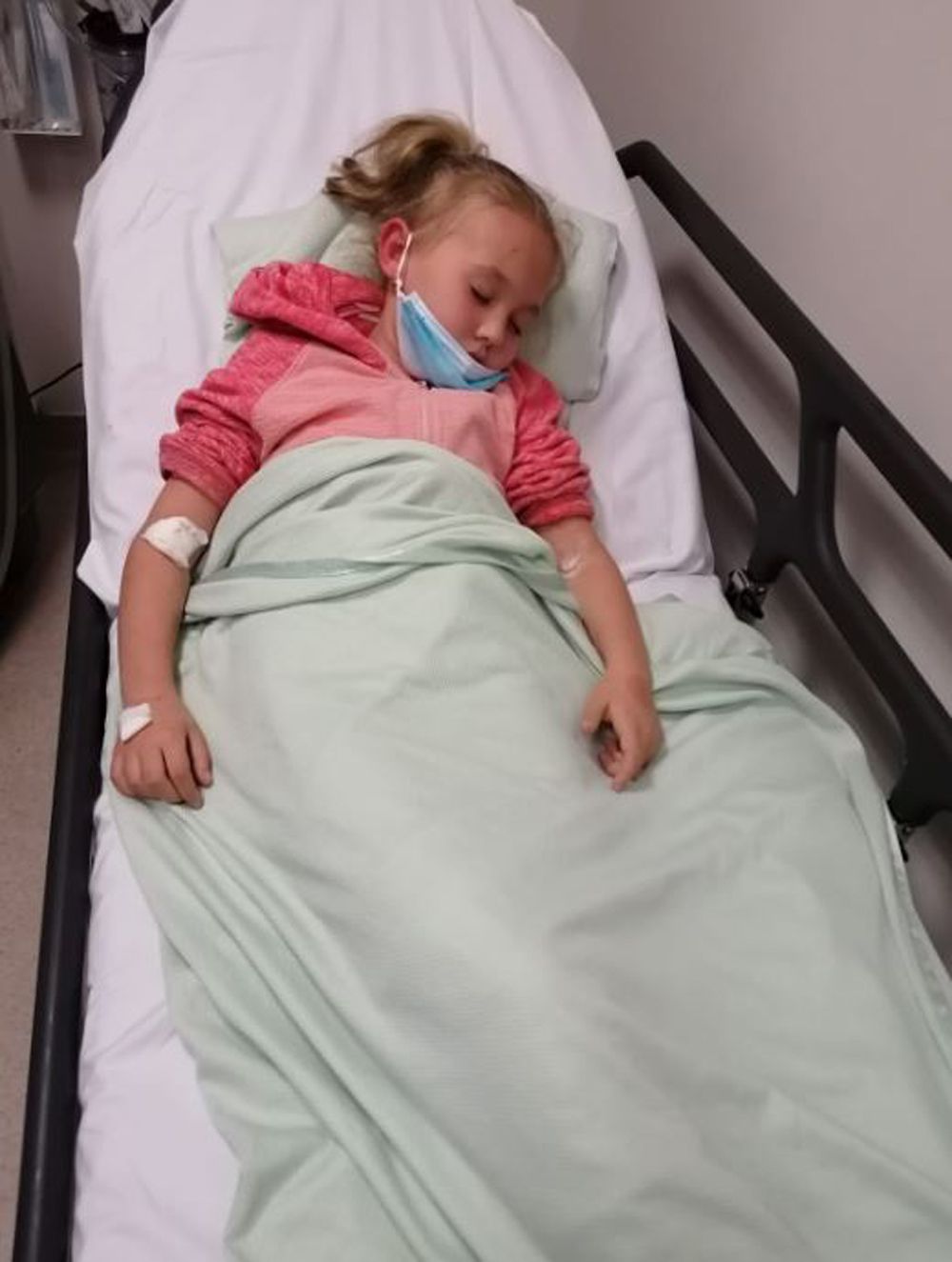 Hollie in hospital (PA Real Life/Collect)
When they met up with the grandparents, she realized there could be more to it.
"We were in the front garden when my mum noticed something wasn't quite right with Hollie's left eye," she explained.
"It was turning inwards – almost like a lazy eye."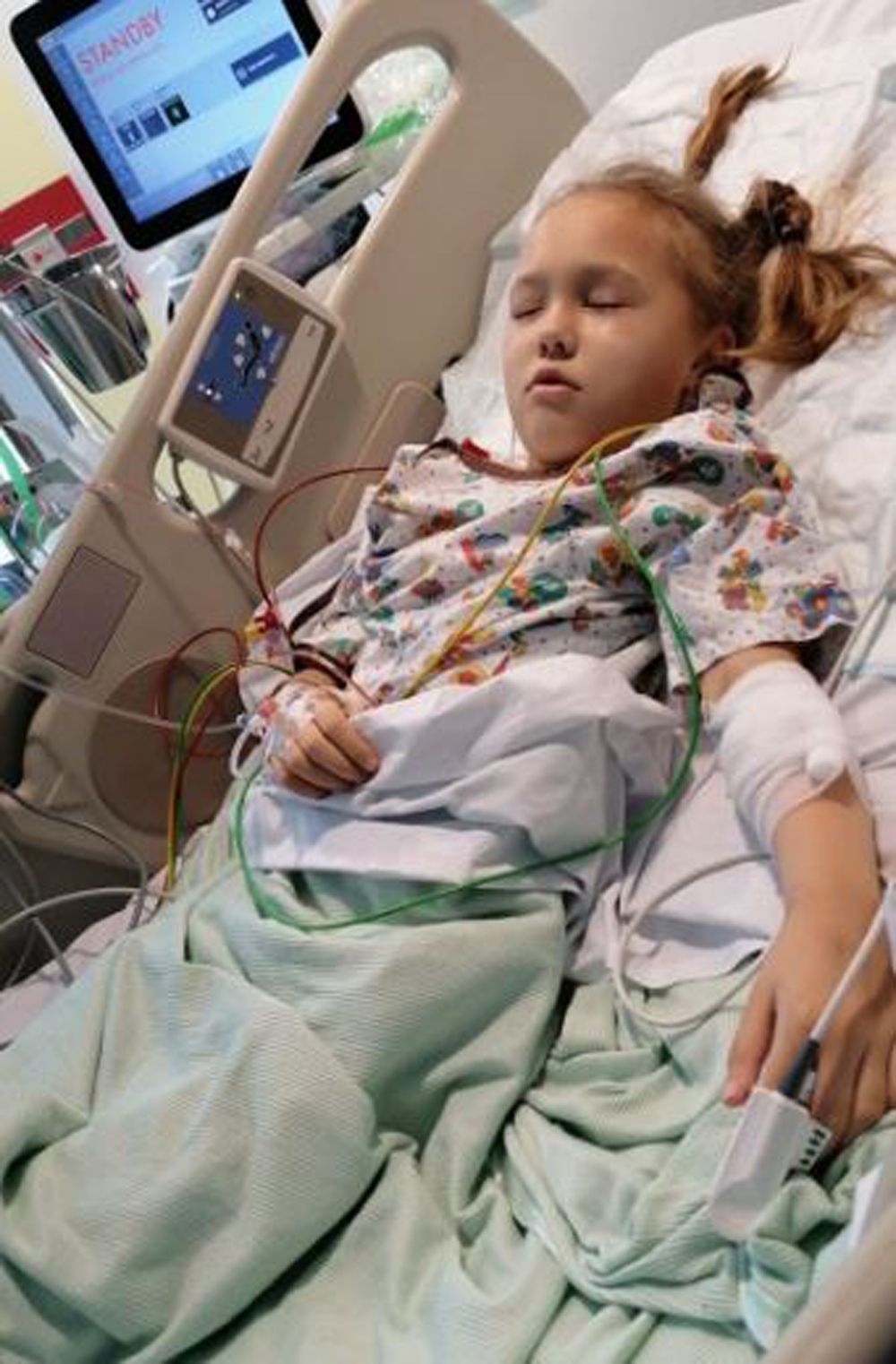 Hollie after her life-saving op (PA Real Life/Collect)
"I hadn't noticed it before, but after Mum pointed it out, it was hard to miss," she continued.
Over the next couple of days, Hollie also started experiencing dizzy spells and was struggling to keep her balance.
"It was as if she was drunk," Morris continued. "She was seeing double and her left eye was moving more and more inwards."
"It got to the point where I knew we had to get it checked out," she said.
Morris booked an appointment for Hollie where she had been told she had perfect eyesight at their local Specsavers.
At first, nothing about the test on June 4 was out of the ordinary.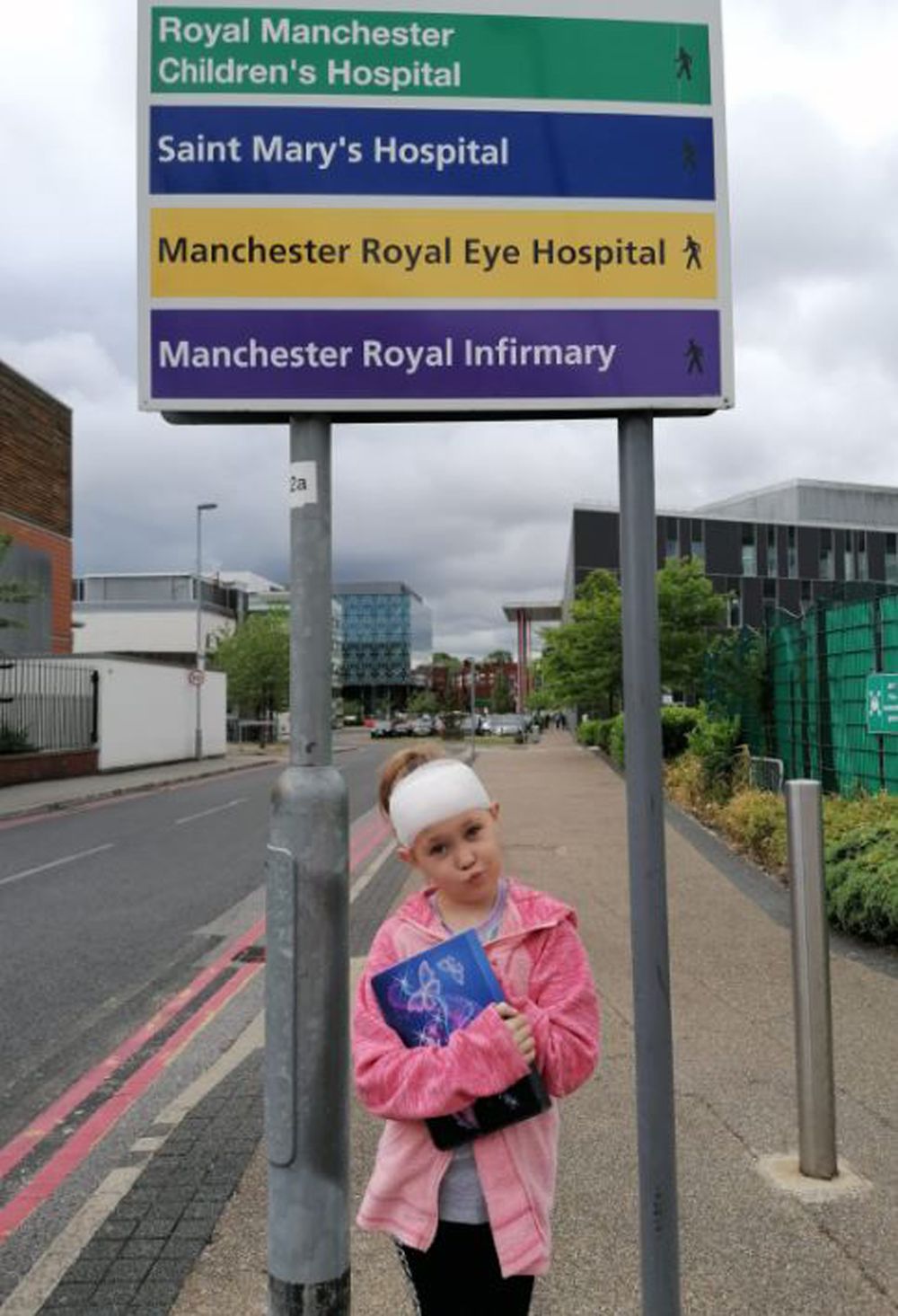 Holly on the day she was discharged (PA Real Life/Collect)
But everything changed when the optician examined photos taken of the back of Hollie's eye.
"Hollie had the usual eye test, and the optician said she had perfect vision," Morris explained.
"But when he looked at the photos of the back of her eye, he was clearly concerned and had to step outside for a few minutes."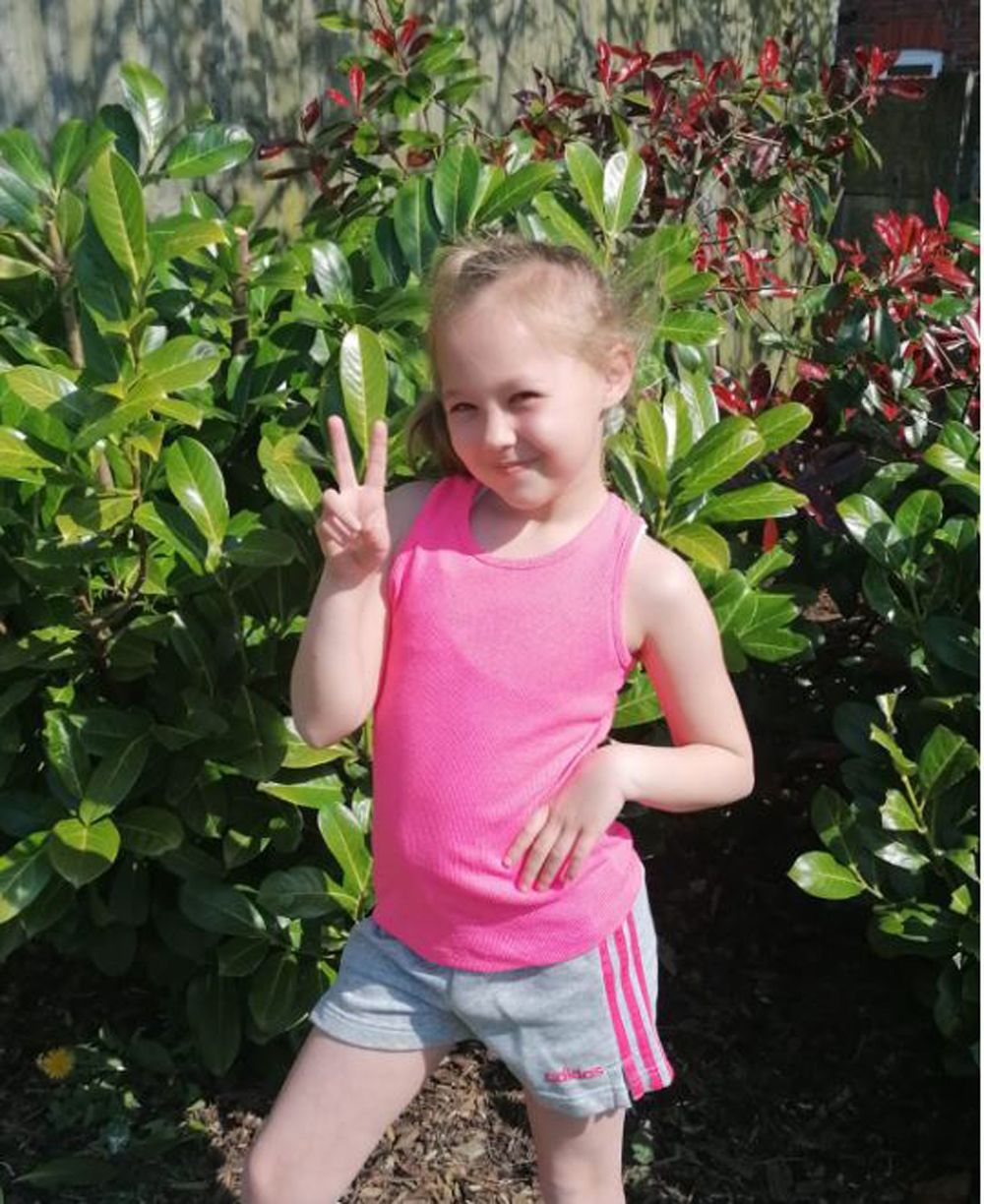 Hollie (PA Real Life/Collect)
"When he came back him in, he asked to talk to me privately, and Hollie – quite reluctantly – sat in the waiting room watching cartoons," she continued.
"He explained that there was a lot of pressure on the back of her eye and, although it wasn't his place to make a diagnosis, it was clearly something quite serious."
From there, Morris was told to expect a call from Leigh Infirmary, where the photographs had been sent for further inspection.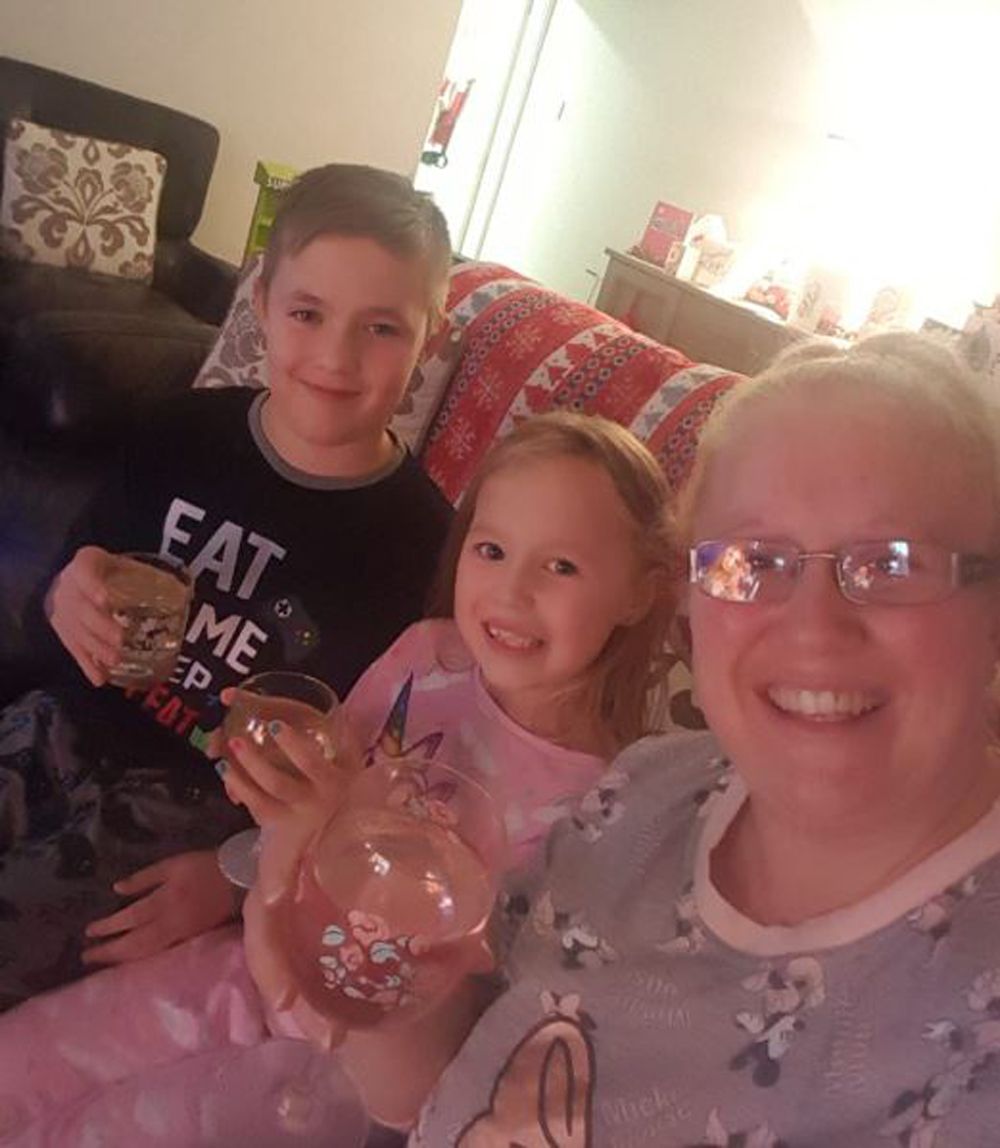 Charlie, Hollie and Kelly (PA Real Life/Collect)
Less than three hours later, the doctors called her, urging her to take Hollie straight to Wigan's Royal Albert Edward Infirmary, who have a larger pediatrics ward.
A CT scan, which revealed a golf ball sized tumor at the base of her skull.
"Words can't express how it feels getting that news," she said. "I pretty much broke down on the floor."
"When you hear your child has a brain tumor, a million questions run through your mind. How serious is it? Will she be okay?" she said.
"But I picked myself up and composed myself before going in to see Hollie. She was full of smiles and playing with some toys the nurses had got her – a Barbie and some Play-Doh."
Telling her was harder than she could imagine.
"I couldn't bring myself to tell her the diagnosis. The consultant did it for me. He told her she had a lump in her head that was making her poorly," Morris said.
"Hollie reacted pretty well actually, I think she was more upset that I had got upset. I don't think it really sunk in how serious it was at first."
Later that evening, Hollie was taken to Manchester Children's Hospital.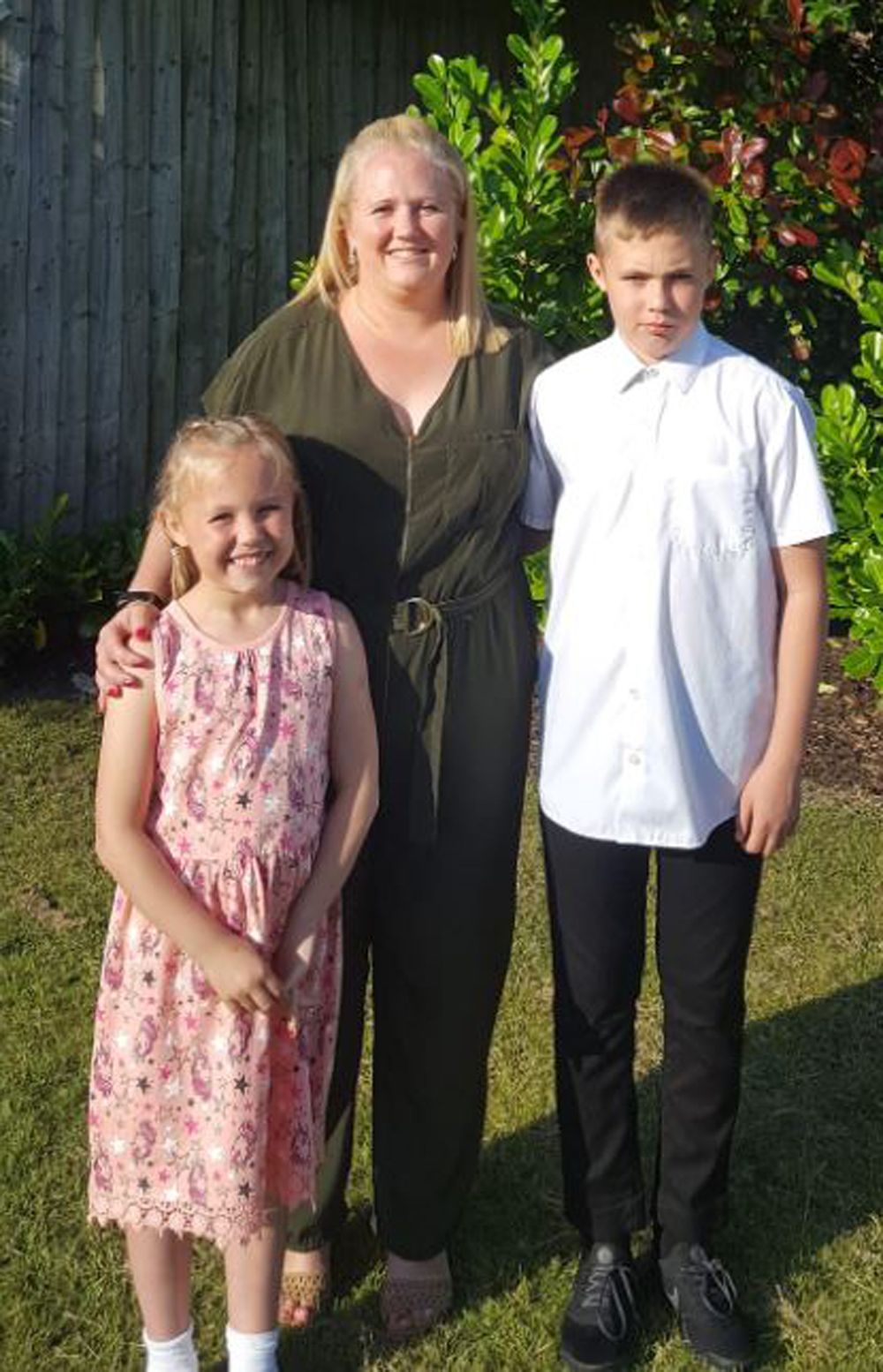 Hollie, Kelly and Charlie (PA Real Life/Collect)
Doctors explained that the tumor needed to be removed as quickly as possible causing a dangerous build-up of pressure.
Less than 24 hours after she had walked in to the opticians, Hollie was taken down to theatre for the life-saving operation.
"I gave her a kiss goodbye and told her I'd see her soon," she said.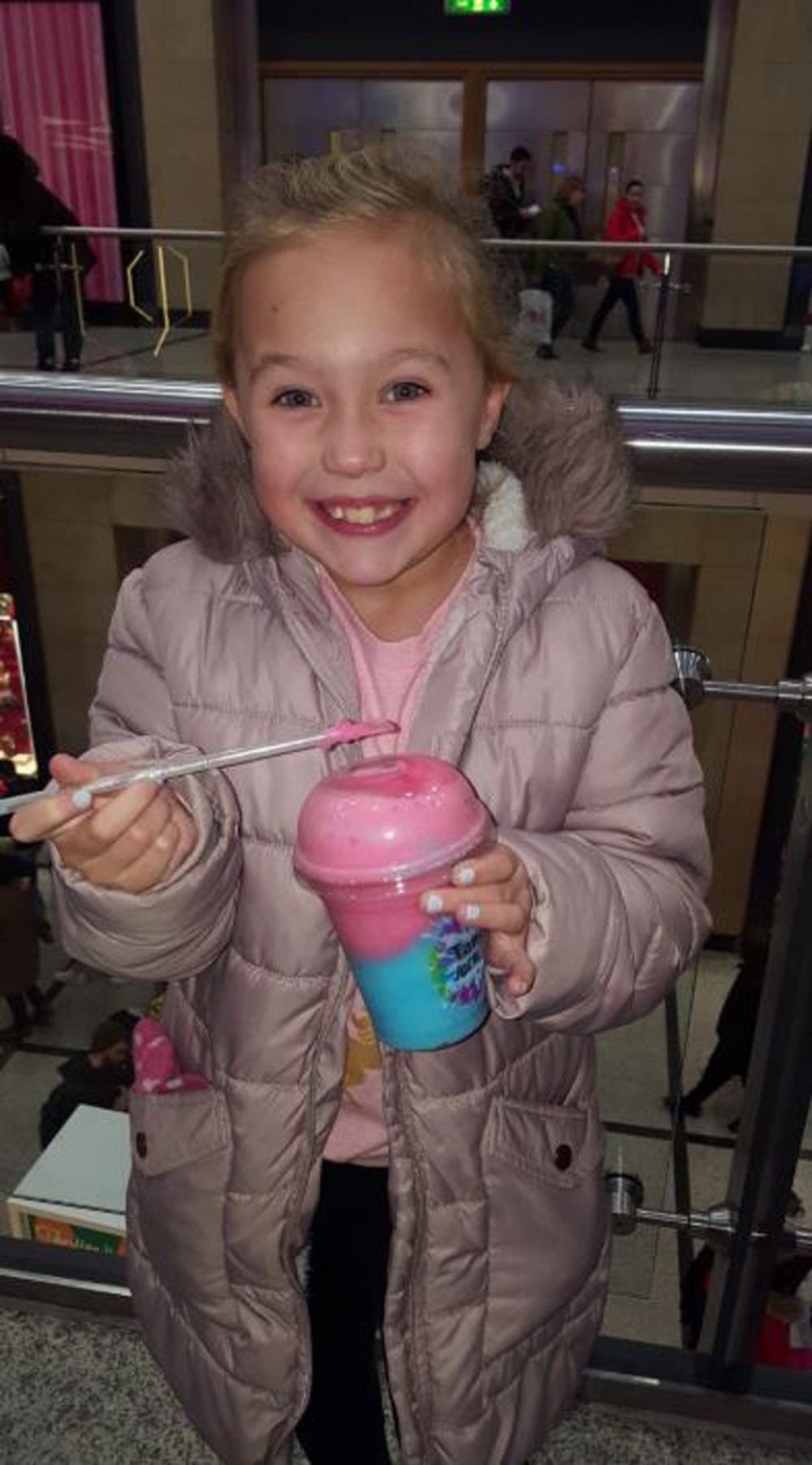 Hollie (PA Real Life/Collect)
"We were told that the operation would take around eight hours, so my mum and dad met me, and brought me some dinner. I hadn't eaten since breakfast the day before," she continued.
"They weren't allowed to come into the hospital because of coronavirus, so we found a nearby bench, off site, to take our minds off what was happening."
"After four hours, the consultant called earlier than expected to say they'd taken out the whole tumor and Hollie was being sewn up. We all just sat on the bench crying."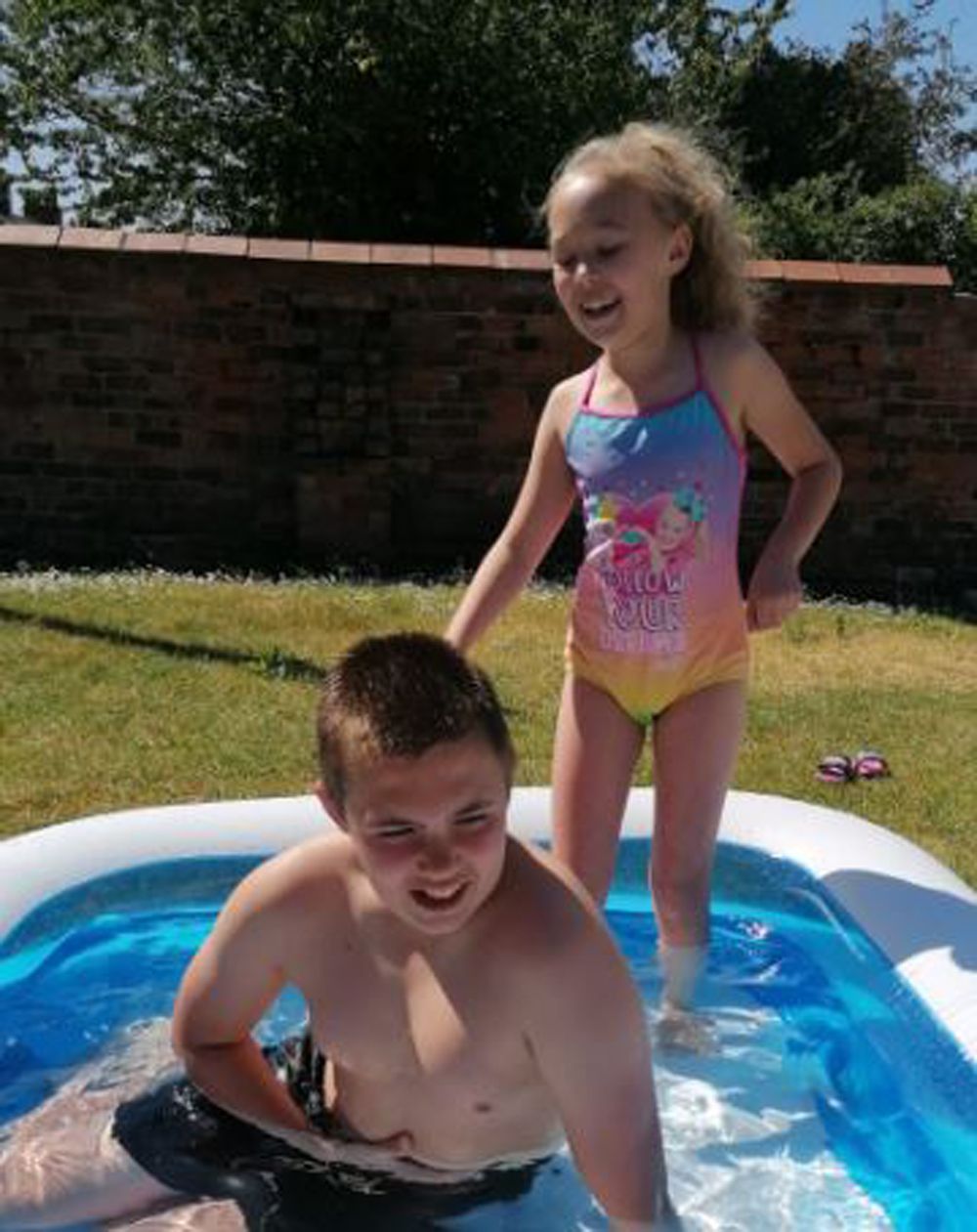 Charlie and Hollie (PA Real Life/Collect)
Making a remarkable recovering, Hollie was up and walking around within three days and was discharged after five.
Two days later, a biopsy that had been taken of the tumor after it was removed confirmed that it was benign.
Hollie will have MRI scans every three months for the next year to check for regrowth.
"There's a chance the tumor could come back, but you can't focus on that," she said.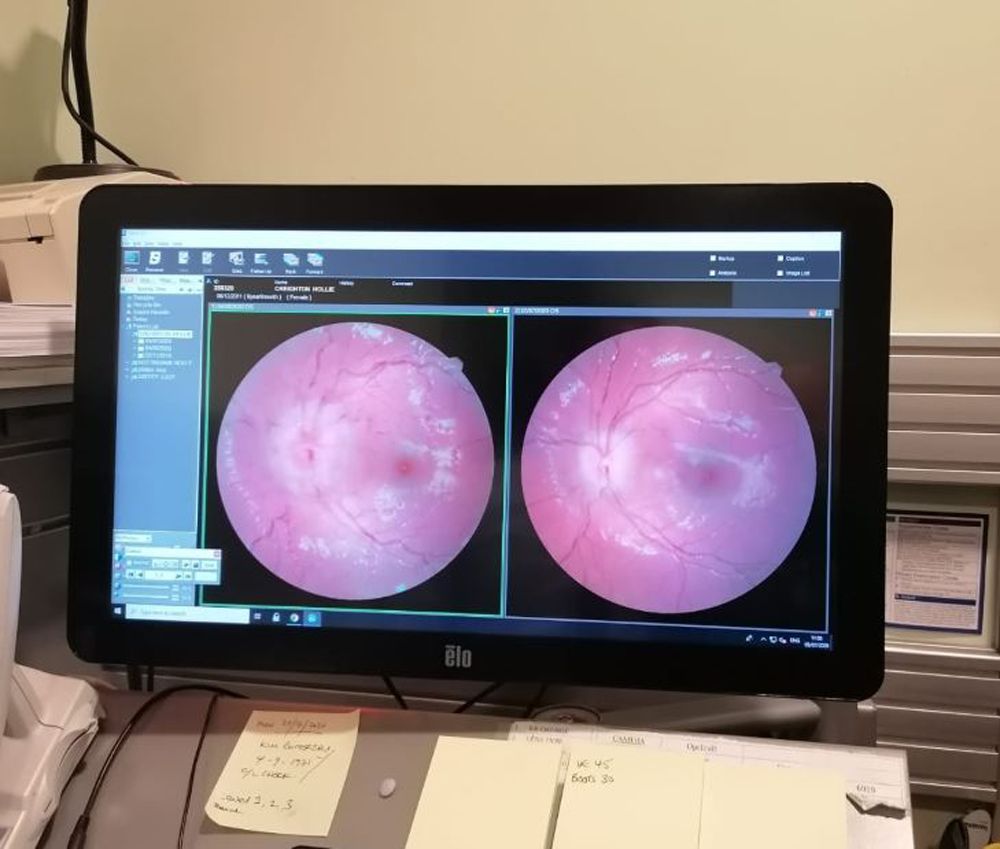 A comparison photo from the back of Hollie's left eye, one from November 2019 and June 2020 (PA Real Life/Collect)
"Hollie been so brave through this whole ordeal and, thanks to the NHS, we're in an amazing position to face whatever comes our way," she said.
"She's bounced right back – she's like she was before lockdown. The other day she was video calling friends and she let out a real belly laugh – it was music to my ears. She's a happy young girl again."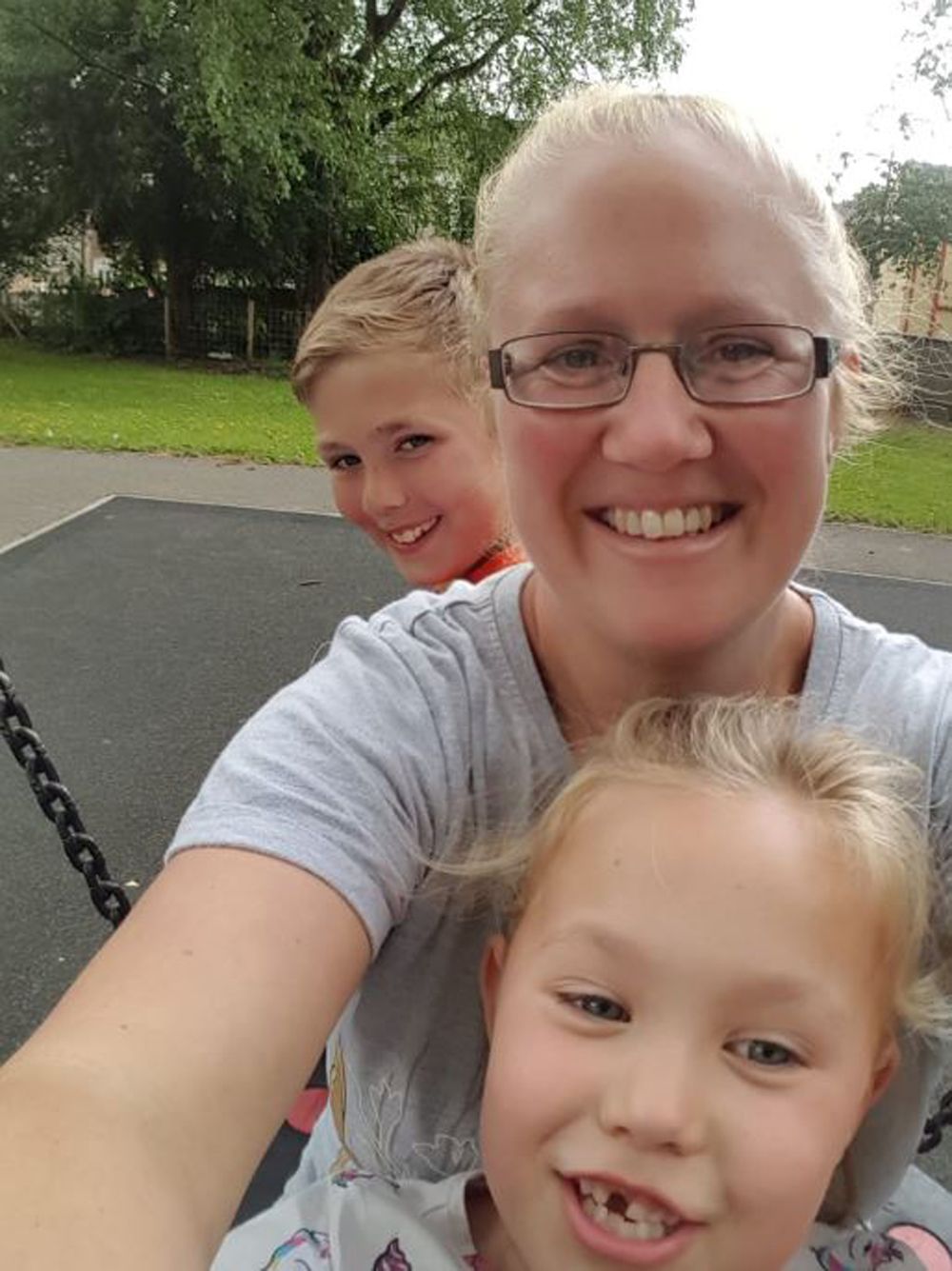 Charlie, Kelly and Hollie (PA Real Life/Collect)
"Hollie and her mum are both amazing. They've since come back into store to see me with some cakes and it was wonderful to see them both – Hollie's eye is completely back to normal," Rumit Patel, store director at Specsavers said.
"If anyone is worried something might be wrong – even if you're not sure it's related to eyes – please get in touch with an optician."