Emily Scheck is a 19-year-old college cross-country runner for Canisius College in Buffalo, New York.
When her parents found out she was dating a woman, however, they gave her an ultimatum: either leave school to receive sexual orientation therapy or be removed from their lives.
---
While this dealt a devastating blow to Scheck, it came with a silver lining: her teammates started a GoFundMe to help her land on her feet after her parents cut her off financially. People all over the world contributed to let her know there is nothing wrong with who she is.
The GoFundMe campaign was launched by Scheck's teammate Grace Hausladen with the modest goal of raising $5,000. Donations have now closed with over $100,000 in contributions, all given to "Let [Emily] be herself."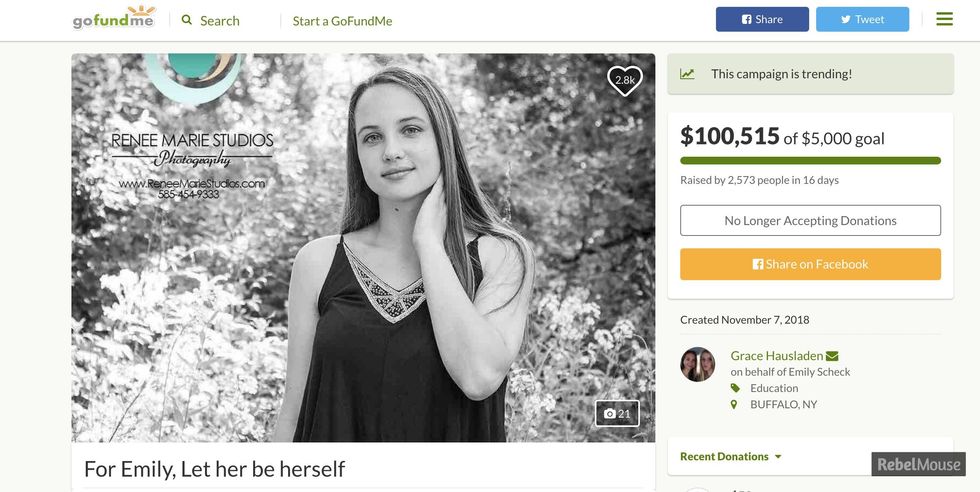 GoFundMe
In the GoFundMe description, Hausladen wrote:

"She was kicked out of her home for being herself. No one deserves to have their home and siblings taken away from them for being their true selves. Though she has made a new home in Buffalo through her teammates and her girlfriend, Justyna, we can no longer stand by and do nothing."
@SarahSpain Extremely 💔Hang in there @scheck_emily

— Kim Arehart (@Kim Arehart) 1542392172.0
Faced with an unbelievable wave of support, Scheck expressed her gratitude by saying:

"Thank you to everyone who showed their love and support in this difficult time. The positive outreach has been unbelievable. I never expected this amount of support."
@TheBuffaloNews Bad move by her parents. This will only make her stronger without them. She will be better because… https://t.co/KsmPbEmZfA

— Kimberly G (@Kimberly G) 1542421323.0
Though Scheck decided to stop accepting donations, she encourages anyone touched by her story to continue donating to causes that support LGBTQ youth:

"What has been given is more than anyone could have expected. Donating to LGBT organizations is a great way to continue to show support and can help many other people who may be struggling in similar situations."
The official statement from Canisius sophomore Emily Scheck regarding her GoFundMe campaign. https://t.co/bej9e94Phx

— GoGriffs (@GoGriffs) 1542744009.0
Scheck's parents reportedly confronted her after seeing pictures of her together with her girlfriend, Justyna, on social media.
In a text message, her mother wrote:

"Well, I am done with you. As of right now, declare yourself independent. You are on your own. Please don't contact us or your siblings."
@NBCNews @NBCOUT I wouldn't disown one of my own if he grew antenna.

— Blank (@Blank) 1542654046.0
As donations began to roll in on the GoFundMe page, the NCAA nearly banned Scheck from running for her team if she did not immediately return the $58,000 collected. However, according to The Washington Post, the college athletic organization later decided to make an exception, acknowledging that Scheck was using the money to recover from a "a significant life event:"

"Emily Scheck can retain her eligibility and continue to receive GoFundMe donations that assist her with living and educational expenses. NCAA staff worked with Canisius College to provide guidance that the fundraiser can continue with school monitoring and will continue to assist as needed. NCAA rules and waiver precedent allow a school to assist a student-athlete with a fundraiser after a significant life event occurs."
@InsidetheNCAA Very cool decision. Thank you NCAA and Canisius College -- it was the right decision.

— Daniel Martinage CAE (@Daniel Martinage CAE) 1542695469.0
Support for Scheck on social media has been overwhelming:

I hope Emily Scheck graduates from college and then becomes rich beyond whatever her parents made and they never ge… https://t.co/UoNF9DW5Zt

— Bowsette in Smash Stan (@Bowsette in Smash Stan) 1542466335.0
The way @NazarethCollege registrar Yolanda Scheck disowned daughter Emily is unacceptable. @DaanBraveman, a bigoted… https://t.co/WEkE5C2J8o

— Jon Bird (@Jon Bird) 1542486027.0
@TheBuffaloNews You've got the whole city of buffalo behind you Emily! You're parents will regret this choice. 💜💜

— Carrie Wright (@Carrie Wright) 1542464293.0
@TheBuffaloNews There is no way any parent should EVER turn their backs on a child.... EVER!!!

— 🏒 Sabres Fan 1970 🏒 (@🏒 Sabres Fan 1970 🏒) 1542477773.0
@NBCNews As a parent we can not choose who our children love, we can only choose the way we love our children.… https://t.co/DFgbuYedoh

— Ro Ro 🍁🍁🇨🇦🇨🇦 (@Ro Ro 🍁🍁🇨🇦🇨🇦) 1542911427.0
@NBCNews Sometimes strangers are more generous than family.

— Alan Loo (@Alan Loo) 1542916677.0
Though Scheck surely misses her family, at least she now knows her chosen family of friends have her back through thick and thin. They do love her unconditionally and will go the distance to make sure she's ok.