Four years ago, Juli Briskman was out riding her bicycle when then President Donald Trump's motorcade passed her. She took the opportunity to let the administration know exactly how she felt, and was fired over it.
So she ran for an office that would put her in charge of the golf course Trump was departing that day.
Let's back things up to exactly what got her fired in the first place, because it wasn't technically expressing her feelings about the administration. It wasn't even how she chose to do so.
Briskman is an "actions speak louder than words" kind of person.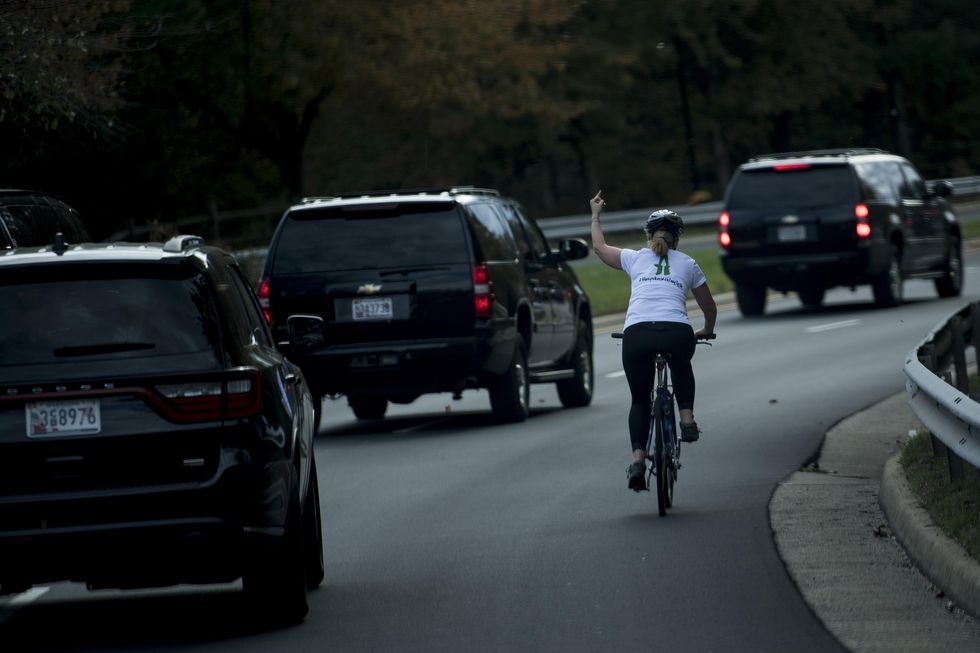 BRENDAN SMIALOWSKI/AFP via Getty Images
Technically, what got her fired was that she posted about it on social media.

Donald Trump (and some others) thought the incident was incredibly disrespectful. Social media users around the world, however, loved it and it quickly went viral.
Juli herself reposted the image, and it was that repost that was cited as the reason her company let her go. They claimed it violated their social media policy.
Briskman wasn't even allowed to get her photos of her children from her desk before she was removed from the building.
She did take the company to court to try and get her job back, and while courts did agree with Briskman that others in the company posted the same image with no repercussions, Virginia is an at-will employment state and the company could not be forced to give her back her job.
All the courts could do was force the company to give Briskman her full severance package.
Once fired, Briskman started working and volunteering doing other things. She credits Phyllis Randal, a passionate local public servant, with convincing her that her skillset was needed and she should run for office.
With Randall's support and endorsement, Juli Briskman ran for, and won, a seat on the Loudon County board of supervisors, representing the Algonkian District.
Briskman's position oversees leisure facilities in her area, and one of them is the Trump National Golf Club—the "scene of the crime" so to speak.
Twitter loves this development.
But not just for petty points.
Briskman went to work immediately after unseating the Republican incumbent.

The improvements to her community have impressed the public already.

We do want to note many outlets are reporting Donald Trump directly called for Briskman to be fired after she flipped him off.
However Juli Briskman has stated many times she does not believe that to be the case and there is no evidence to support that idea.