A few years ago, an independent tattoo artist who is not affiliated with Starbucks designed a satanic-themed holiday cup and slapped the famous siren logo of the globally popular coffee chain onto the item as part of his artistic oeuvre.
Although Starbucks has confirmed to AFP they have never officially released this demonic cup, conspiracy theorists took to social media and pushed their allegation that Starbucks was ruining Christmas by featuring Krampus on their holiday cups.
The antithesis of Father Christmas, Krampus is a mythological horned demon from Central and Eastern Alpine folklore of Europe who terrorized misbehaving children.
A Facebook post from November 29, featured a photo of the fake Starbucks cup taken from different angles showing a boy crying as Krampus leers at him.
The caption read:

"Starbucks Coffee releases their Baphomet Yule cups in time for Christmas -- under the theme: 'I LIKE MY COFFEE BLACK LIKE MY SOUL.'"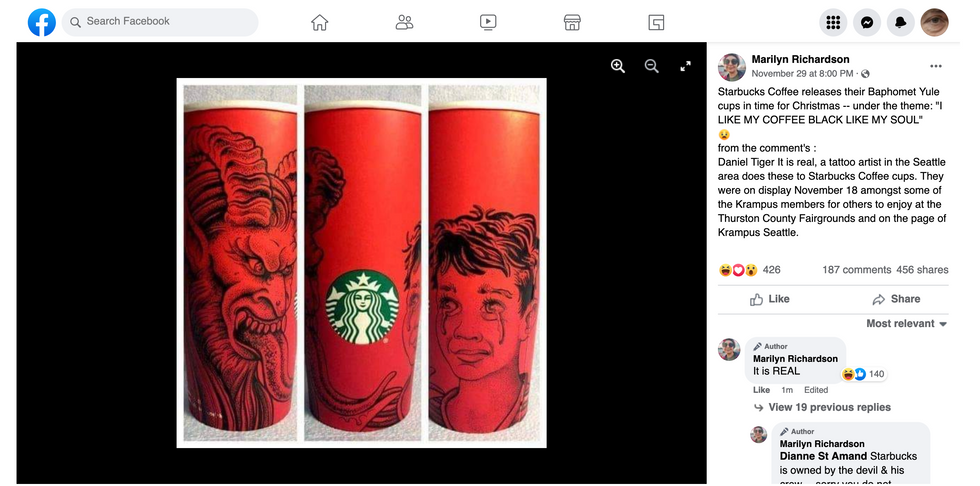 Marilyn Richardson/Facebook
The original poster, Marilyn Richardson, claimed the cups were real and added:
"Starbucks is owned by the devil & his crew —sorry you do not realize this, & millions of employees are employed by him & his minion's."
The photo also surfaced on Twitter, where a user wrote:
"Starbucks Coffee Cups Just in time for Christmas. 'I like my Coffee Black like my Soul.' "
Gullible conservatives, convinced that Starbucks was truly evil, swore off patronizing the Seattle-based coffee chain.
One user declared:

"The message is clear. They're not hiding anymore. They're out to get the children."
Other furious consumers continued shouting their Hail Marys.
According to Yahoo, the venti-sized accusation is not new as images of the fake demonic Starbucks cups previously circulated online in English, Spanish, Italian, and French in 2021 and 2016.

The spurious claim has been pedaled by followers of QAnon–a far right-wing conspiracy theory claiming that a deep state cabal of Satan-worshipping pedophiles consisting of Democrats, actors, and media runs a child sex trafficking ring.
Followers also believed former Republican President Donald Trump was going to expose the non-existent scandal in connection to QAnon.
AFP was able to locate the origin of the fake cups through a 2015 Reddit post by Redditor groovymann156.
It showed an identical image of the item with Krampus on it.
When asked if the artwork was his, the original poster, replied:
"I wish! My buddy Mike Tidwell drew it. He's a tattoo artist in Seattle. He likes to doodle on coffee cups between appointments."

groovymann156/Reddit
Tidwell's Instagram page featured his controversial artwork from a post dating back to 2015.

The artist, who has been a Seattle-based tattoo artist for 23 years, confirmed to AFP:
"I'm not affiliated with Starbucks at all."
He also said he never worked as a barista at any Starbucks location.
So what was his inspiration for the Krampus cup?

"I got bored one day and decided to pick up a Sharpie marker and draw on my cup," said Tidwell.
"I posted it on social media, as did my friends and it got noticed by the public."
He added:
"And along with it came the rumors that Starbucks made them. Totally false."
Starbucks has been capitalizing on the winter season by releasing holiday-themed cups for 25 years.

But the company confirmed they have never released ones featuring Krampus.