A Chipotle located in Fort Myers, Florida was slammed with negative reviews from customers claiming that an employee was allegedly seducing several married male customers.
Some of the one-star Yelp reviews mentioned an employee named "Lucy" who was doing more than providing good service on the job.
According to several complaints, the temptress had apparently been seducing and sleeping with the husbands of married patrons.
Twitter user @fiveeightshorty shared screenshots of some of the Yelp reviews and wrote:
"Apparently there's some controversy at my local chipotle."
One of the shared reviews warned customers, saying:
"Dont send your husbands here to 'pick up chipotle.'"
"Next thing yo know, Lucy is going to seduce them into sleeping with her like she has with multiple married men!"
"You have GUAC to be kidding me!"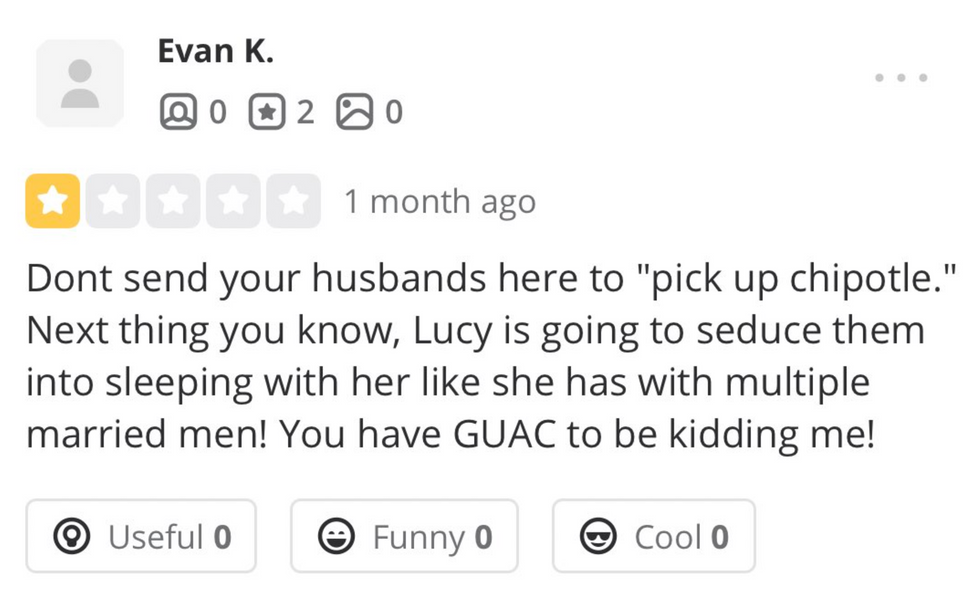 @fiveeightshorty/Twitter
The complaints made other customers come forward.

One went after Lucy and urged management to do better.

"Lucy is a pig, she slept with my husband too."
"They need better customer service that doesn't involve my bed."
"The guac sucks too!!"
@fiveeightshorty/Twitter
The third screenshot read:
"Stay far away, Lucy the GM or whatever position she is is-- she likes to sleep with married man AKA her customers."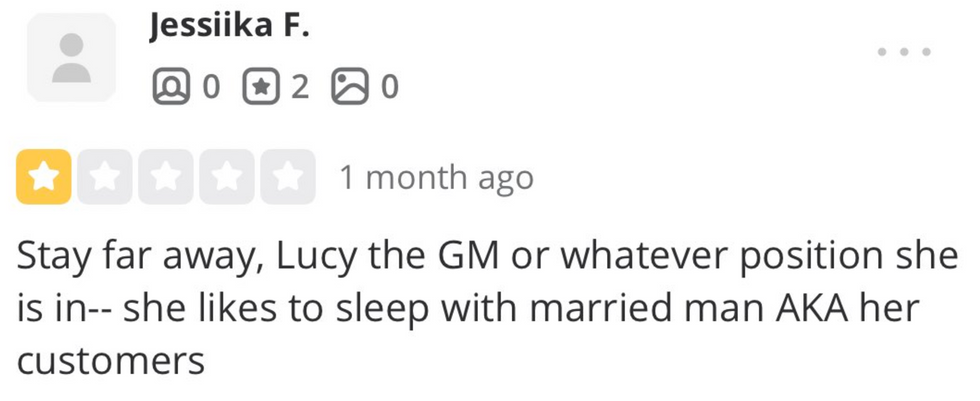 @fiveeightshorty/Twitter
However, the last review was shared from another perspective–a customer who gave Lucy a five-star rating.
"Can I get Lucy's phone number?" inquired the Yelp reviewer.
"I think she's a great member of the team."


@fiveeightshorty/Twitter
The tweet racked up over 11.5 million views and prompted amateur comedians of Twitter to make a slew of jokes.


@slickf**got/Twitter
Could it be?
Is it she?
It looks like we have a match.

One user claimed a photo he shared was of the saucy siren in question.
The thread continued receiving extra helpings of sarcasm.

Suddenly, there was high demand for Lucy's assistance.
Eagle-eyed observers noticed something from the shared screenshots of the Yelp reviews that didn't compute.
Three of the four reviewers had typically male names, Evan K., Jake W., and David L.

The viral Yelp review inspired fake reviews on other Chipotle location pages.

Some dissatisfied customers' dreams were shattered.

Yelp

Yelp
The Yelp page for the Chipotle location has now been shut down due to "unusual activity."
As of this writing, users hoping to add to the review bombing of the establishment were alerted:

"This business recently received increased public attention, which often means people come to this page to post their views on the news."
"While we don't take a stand one way or the other when it comes to this incident, we've temporarily disabled the posting of content to this page as we work to investigate whether the content you see here reflects actual consumer experiences rather than the recent events."
"Please note that we apply this same policy regardless of the business and regardless of the topic at issue."