Singer Aaron Carter showed he does not respond well to confrontation, especially after being caught stealing.

Jonas Jödicke, a 25-year-old professional digital artist, criticized Carter for using his artwork without permission and emphasized that "artists have rights, too."
---
On Friday, Carter stole Berlin-based artist's illustration called "Brotherhood"—depicting two lions with their foreheads against each other—to promote his clothing line in a tweet.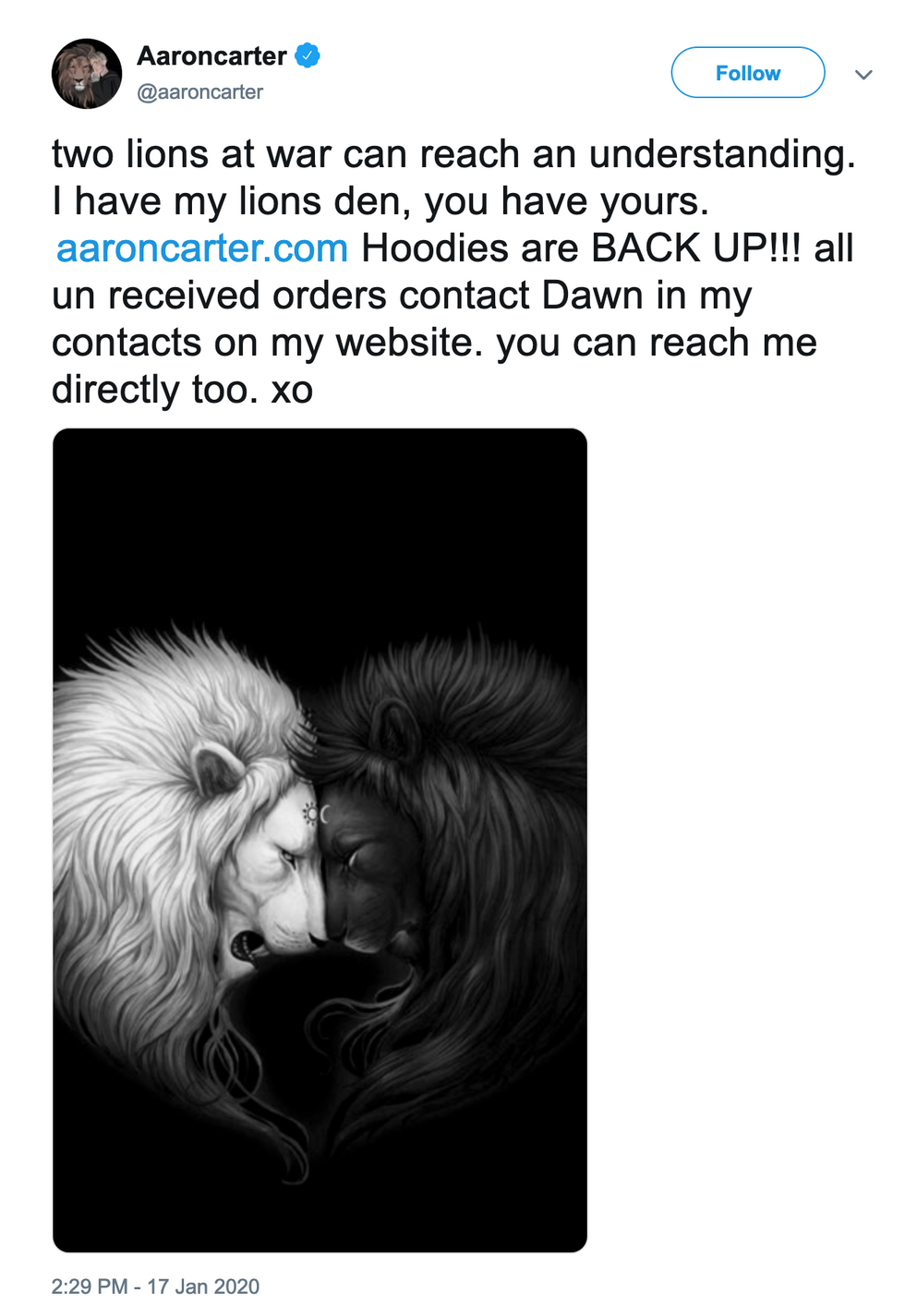 @PSColdFire/Twitter
Here is the illustration taken from Jödicke's Instagram page.
Attributions for the artist were nowhere to be found on Carter's tweet promoting his line of hoodies.

On Saturday, Jödicke tweeted his frustration in the hopes that the "Fool's Gold" singer would receive the message loud and clear.

"Hey @aaroncarter .. You are using my artwork to promote your merchandise."
"I have not given you permission to do so. My art is being commercially exploited by people on a daily basis."
"We artists have rights, too! Iˋd really appreciate if you could retweet this so he'll see it."
This was not the first time Jödicke's artwork was used illegally.

Carter responded to the artist's complaint.

Spoiler alert: it was not an apology.

The child star turned "rapper with a bad boy reputation" exposed his wrongdoing and proceeded to attack the artist in this cringeworthy tweet.
"You should've taken it as a compliment d**k a fan of MINE sent this to me."
"oh here they go again, the answer is NO this image has been made public and im using it to promote my clothing line aaroncarter.com guess I'll see you in small claims court F***ERY"
Here is a screenshot, just in case the tweet gets deleted.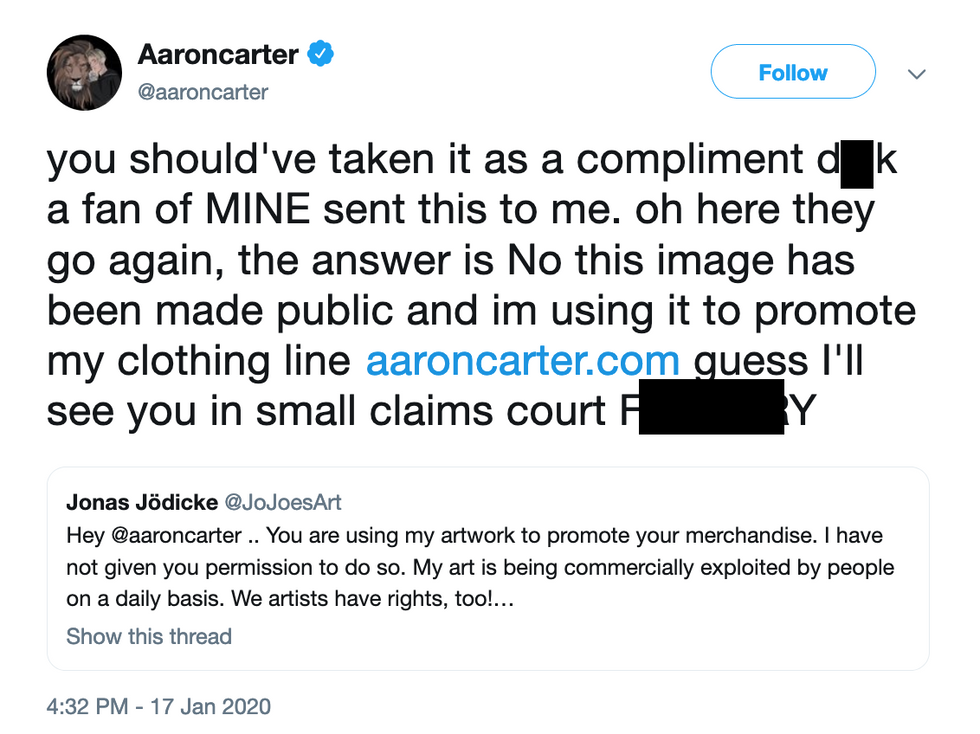 @aaroncarter/Twitter
To be clear, the artwork is tagged to prevent unauthorized usage, as opposed to it being "made public" as Carter asserted.

The mark appears in the black lion's mane.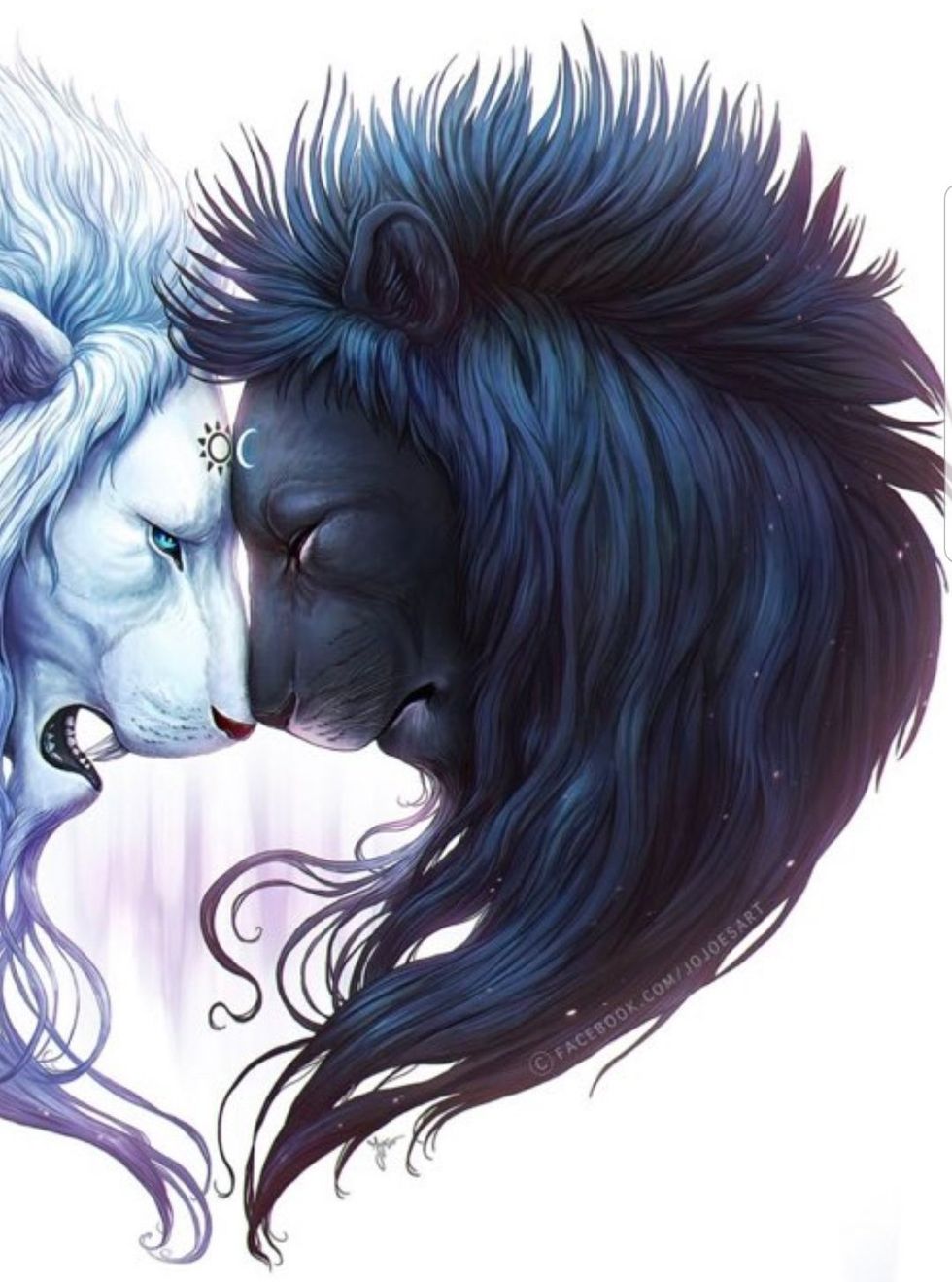 artist's mark@DekuGrumpy/Twitter
People called out the 32-year-old performer for his thievery.

Jödicke said he was willing to civilly resolve the situation had the singer personally responded.
Or not been a jerk about it.
Twitter came to defend the young German artist and encouraged him to take legal action.

Carter's interpretation of the word 'compliment' was shredded.
While it is unknown if the digital artist plans to take Carter to court, people took him for a fool.

Jödicke disclosed to Forbes how he found out about his artwork being ripped off by Carter.

"I first learned of Aaron's use of my artwork from a follower on Twitter. They reached out via direct message telling me about Aaron's tweet in which he had posted my artwork to promote his new merchandise shop."
Here is a rare picture of Jödicke from Instagram.

He continued explaining why it was important for him to take on the problematic singer/rapper:

"He did not mention me as the original artist and had not asked for permission in beforehand. That's why I called him out in a tweet, in a polite way, to inform him that I was not alright with him using my art in that way."
"I think celebrities like Aaron Carter have a lot of responsibility. Many people look up to stars as role models, and if they treat artists like he has in his tweet, others might follow."
Jödicke suggested that high profile people should "be at the forefront of teaching the masses about lawful and appropriate conduct."
He also commented on how the work of lesser known artists are too often exploited by self-entitled celebrities.
"They have enough money to pay smaller creators for their services, but all too often, they feel like they don't have to, because of their status. And all too often the 'small ones' back down."