Britney Spears—who finally broke free from her nearly 13-year conservatorship—has become more outspoken than ever, addressing many of her frustrations on social media. One area of focus is all the public scrutiny that plagued her throughout much of her career.
In a now-deleted Instagram post, Spears reflected back on some of the more painful moments in her career and how she is content in never headlining major tours again.
She also reflected back on her ABC Primetime Interview from 2003 during which Diane Sawyer famously brought the then 21-year-old singer to tears.
Based on her contemplative post, Spears remains shaken from the trauma of being forced to participate in the controversial interview inside her home against her will.
You can watch a clip from a news report, below.
"Do we dare forget the Diane Sawyer interview in my apartment almost 20 years ago?," she wrote in her post, adding, "What was with the 'You're in the wrong' approach?? Geeze... and making me cry???"
Screenshots from her deleted post were saved for posterity by a Britney Spears fansite Twitter page.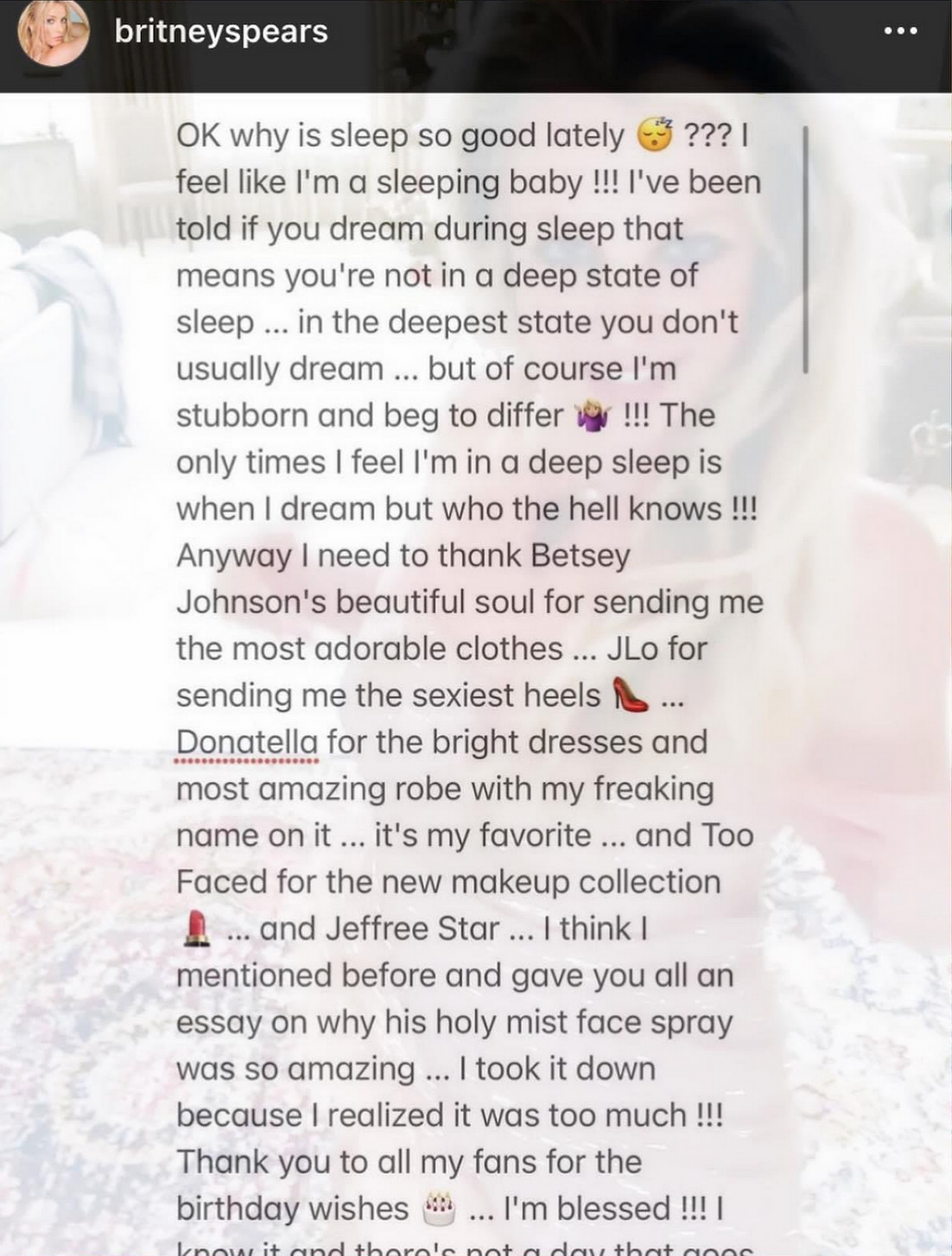 @absolutebritney/Twitter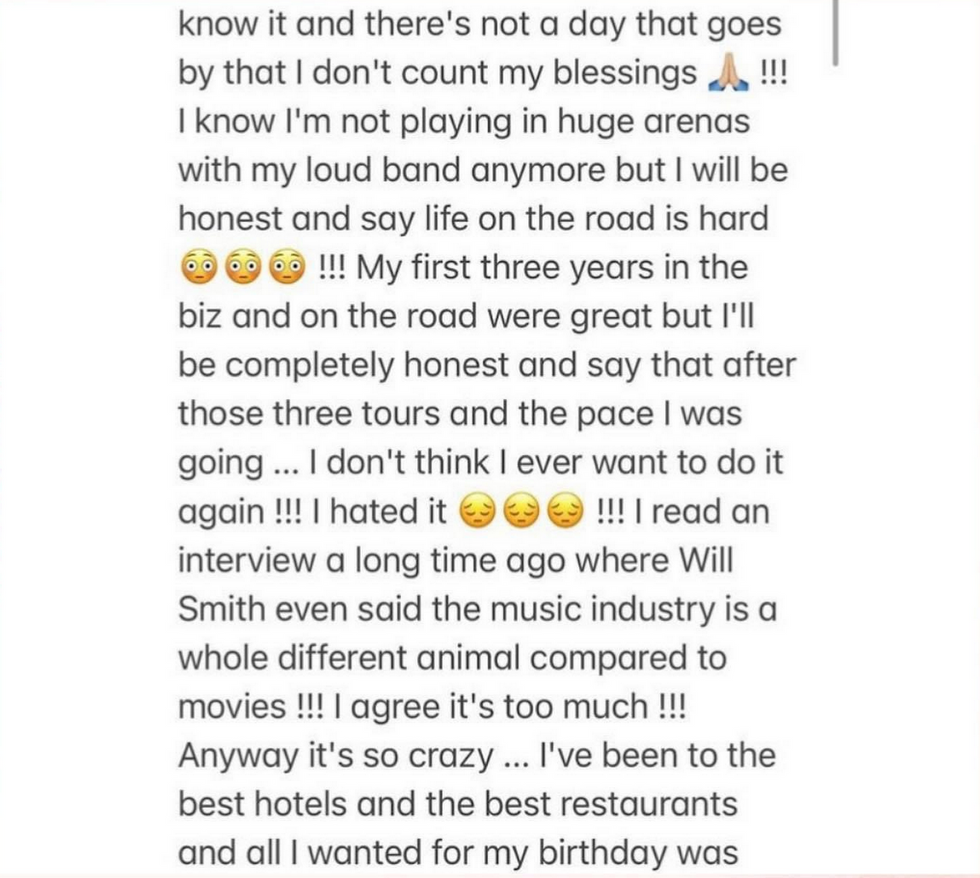 @absolutebritney/Twitter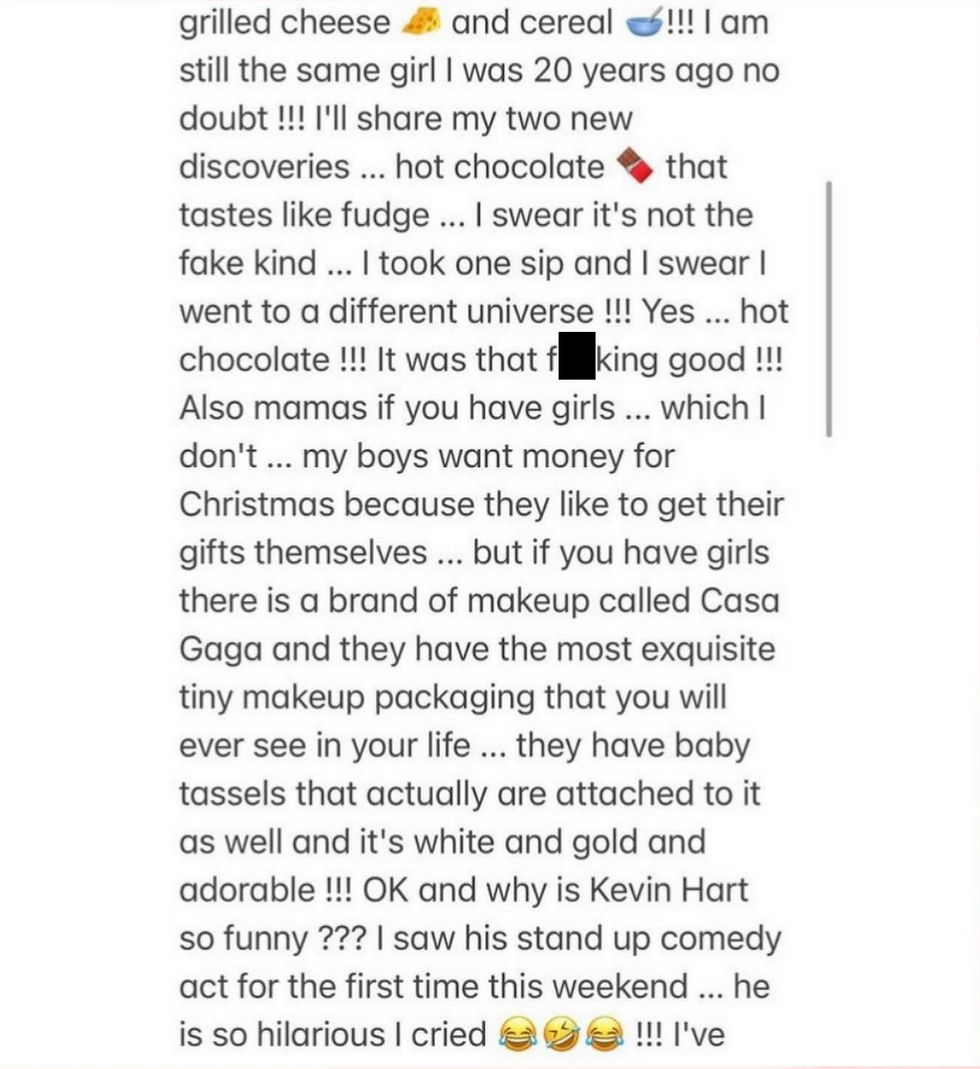 @absolutebritney/Twitter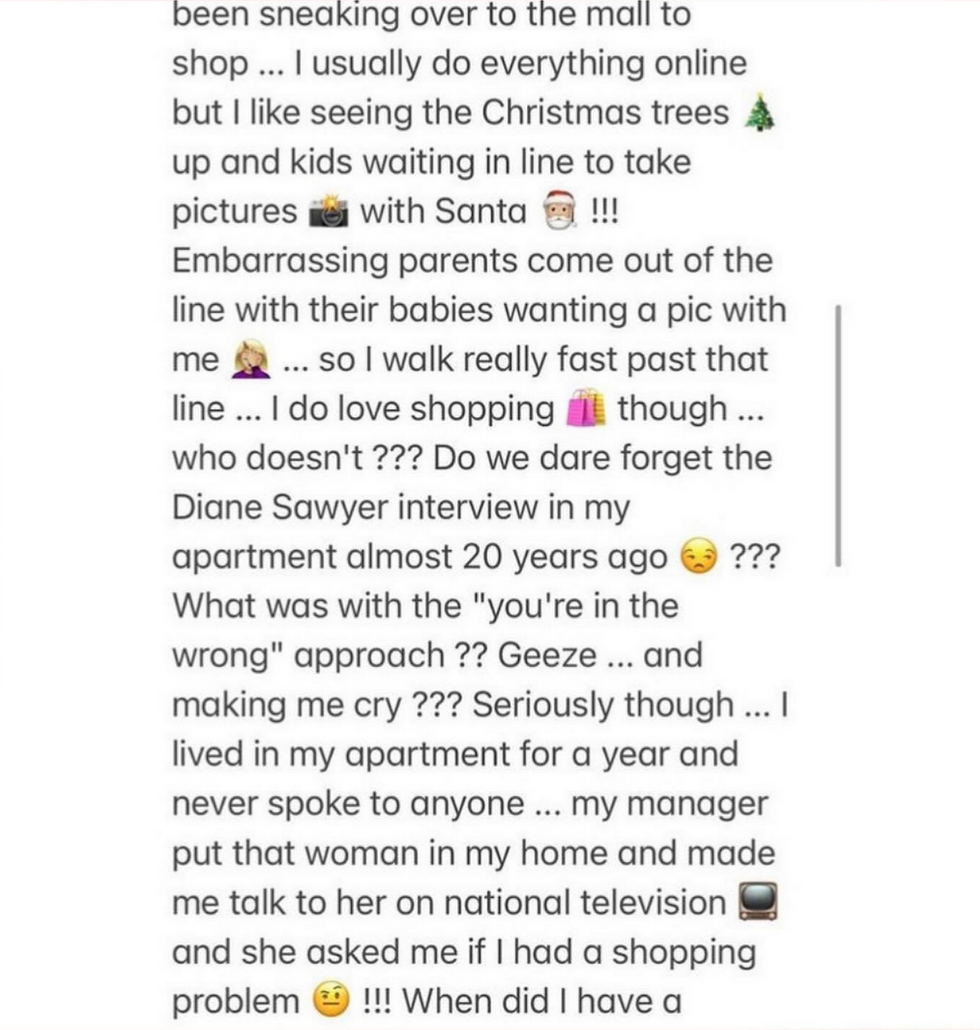 @absolutebritney/Twitter
Snippets from that interview appeared in the New York Times documentary, Framing Britney Spears, which covered the pop star's tumultuous career, her personal relationships, and her financial woes.
In her post, she argued against accusations of having a shopping problem as her spending habits were controlled by the conservatorship for much of her career, starting in 2008.

The singer wrote in her post:
"When did I have a problem with shopping??? When I never left my apartment??? Something I never shared when I had that big break up was that I couldn't talk afterwards."
"I never spoke to anyone for a very long time...I was in shock."
"Pretty lame of my dad and three men to show up at my door when I could hardly speak...two days later, they put Diane Sawyer in my living room...they forced me to talk!!!
In one featured segment from her interview, Sawyer suggested Spears was somehow responsible for her split from fellow pop star Justin Timberlake.
Sawyer told Spears, who was on the verge of tears:
"He has pretty much said you broke his heart."
"You did something that caused him so much pain, so much suffering. What did you do?"
At another point in the Sawyer interview, Spears referred to her 2002 single, "I'm Not a Girl, Not Yet a Woman," and had a special message for the journalist.

"She said 'a woman or a girl. I would like to say now, 'Ma'am I'm a catholic slut!!!!' You wanna join me at a mass and I can serve your husband my certificate on shopping for anonymous players???'"
"I should spend a thousand dollars if I want every day of my life and she can kiss my White ass."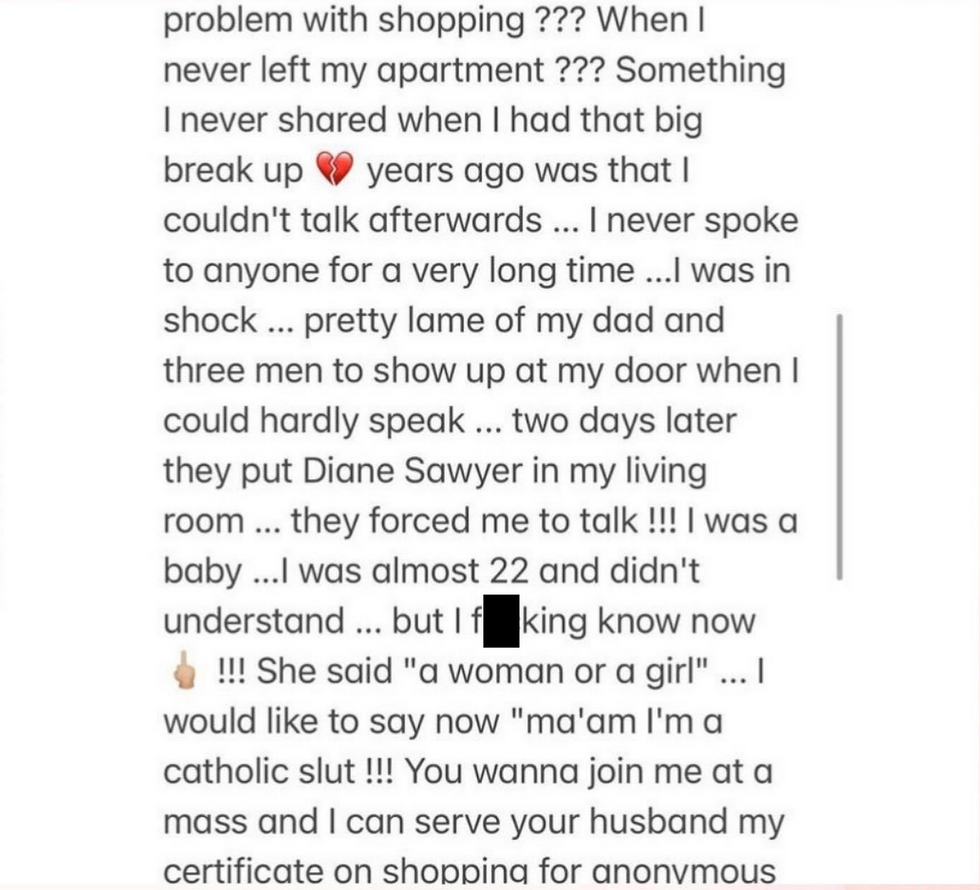 @absolutebritney/Twitter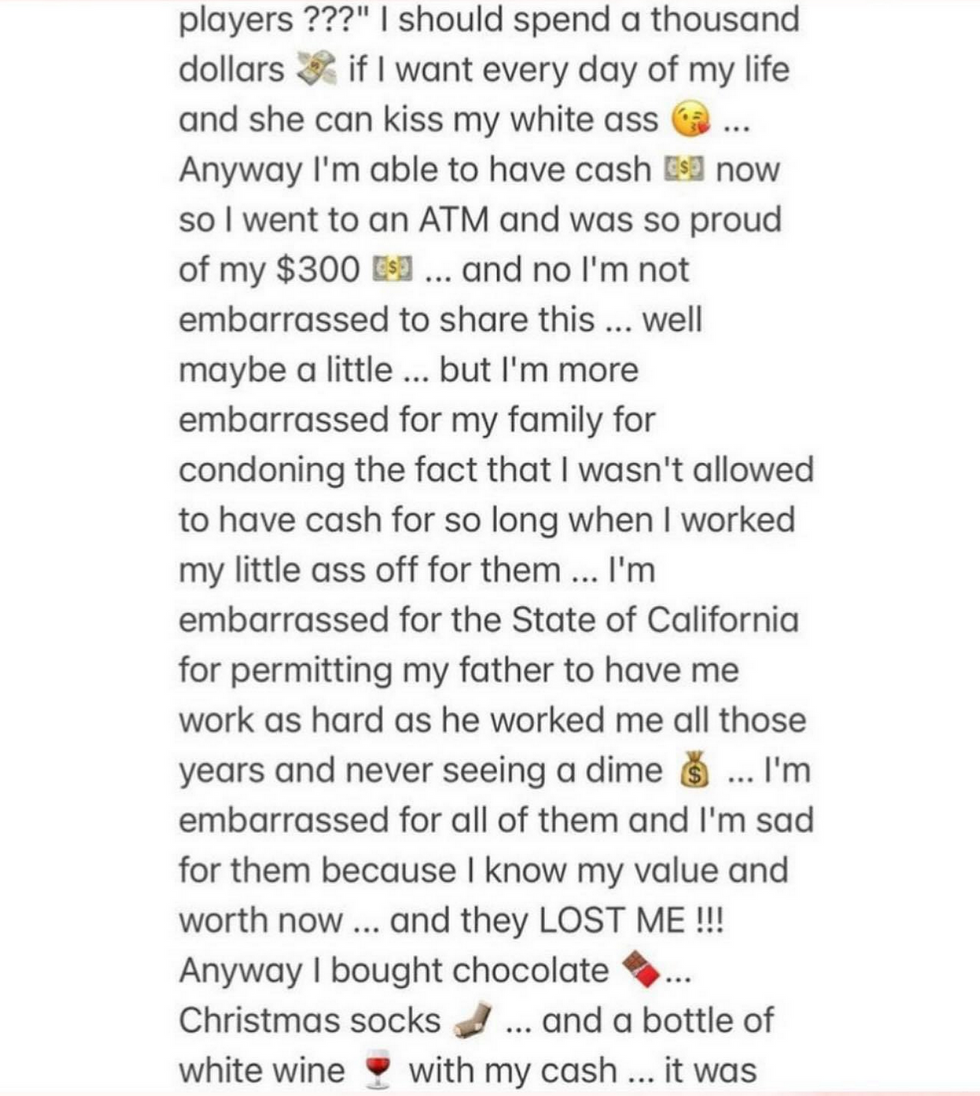 @absolutebritney/Twitter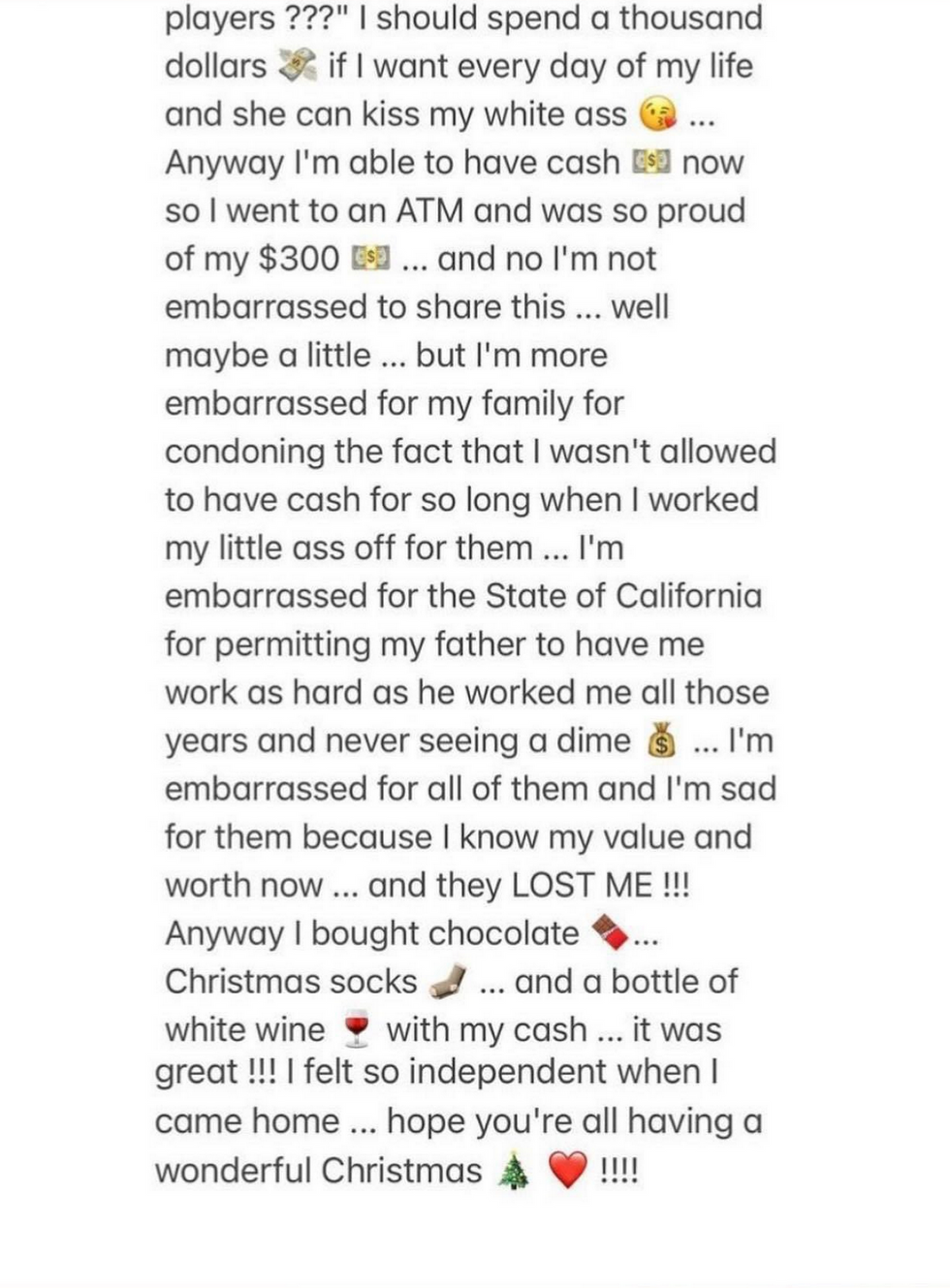 @absolutebritney/Twitter
Fans tweeted their thoughts in support of their favorite idol.
You can watch the entire interview with Diane Sawyer, here.
Britney Spears - Interview with Diane Sawyer @ ABC Primetime (2003) [TV Rip]youtu.be
Last month, a Los Angeles County Superior Judge deemed the legal arrangement of having the 40-year-old singer's personal and financial affairs controlled by others was no longer necessary.