Bridesmaids aren't typically chosen via text message, but a viral reddit post just exposed the most awkward requestever to join someone's wedding party.
---
This lady thought it would be a piece of cake to rope a random acquaintance into giving her a "generous" wedding present — despite barely knowing the woman she asked to be her bridesmaid.
The weird text exchange was originally posted to a 'wedding shame' Facebook group, but her greedy request quickly made the rounds on the internet.
After meeting just once, this 'beggar bride' saw dollar signs and expected a fancy gift.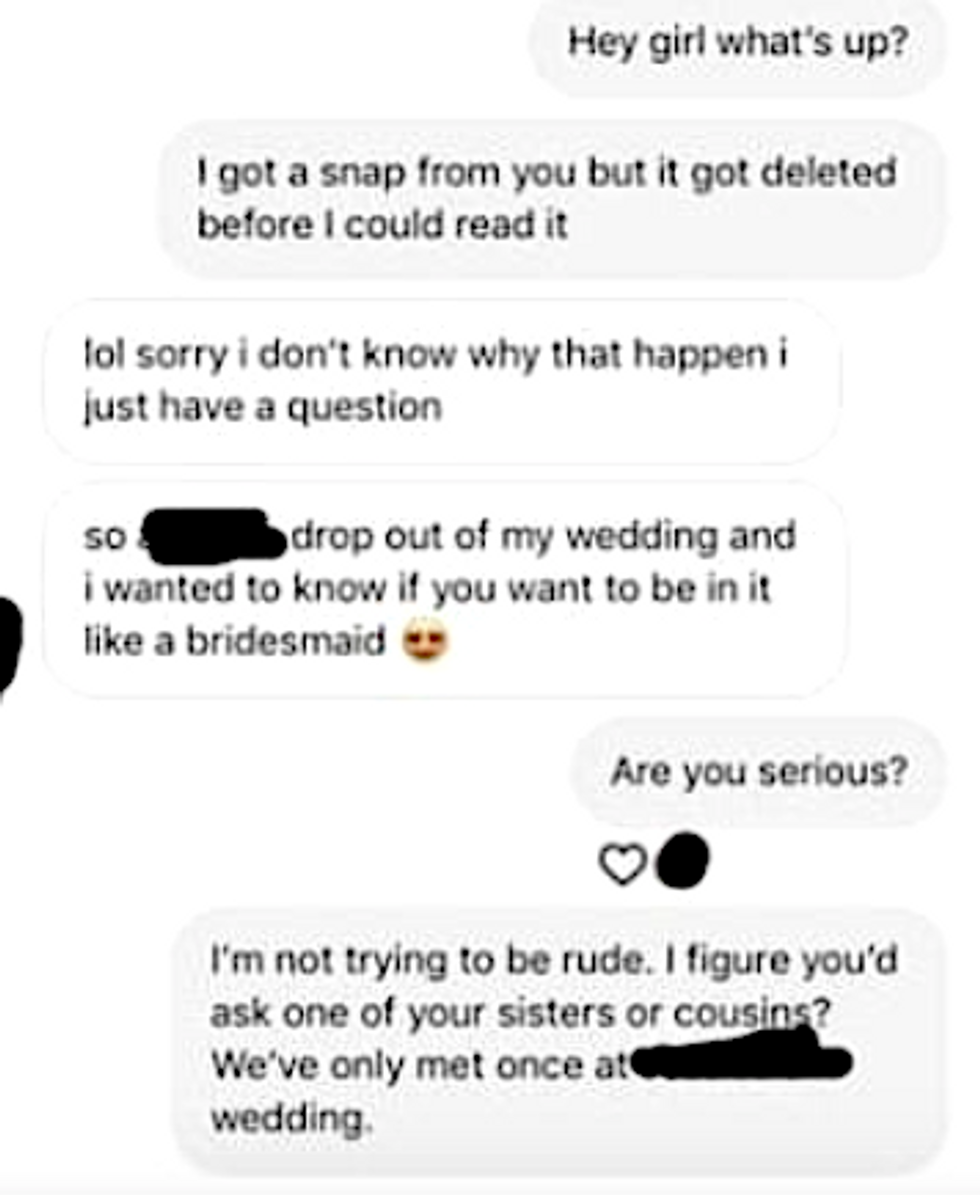 NothappyJane/Reddit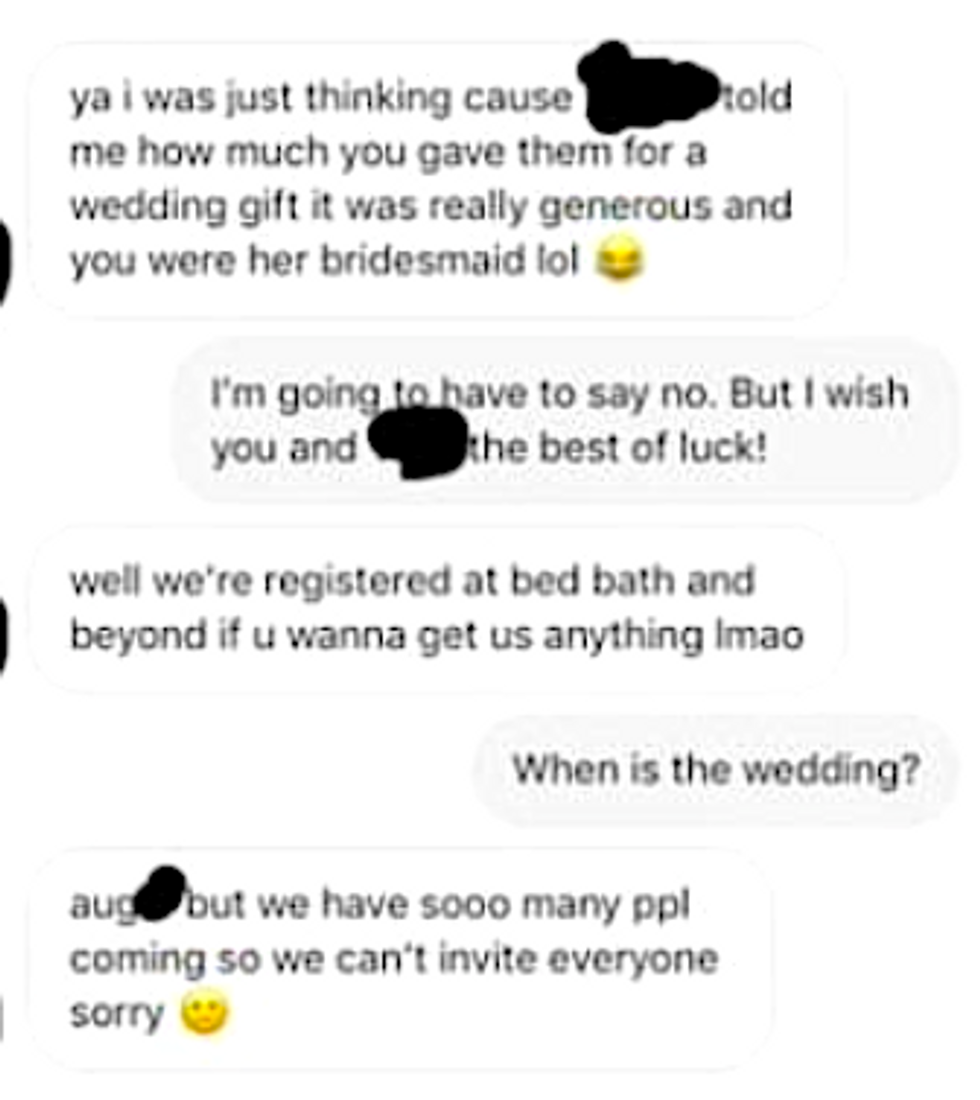 NothappyJane/Reddit
The subreddit 'Choosing Beggars' wasn't pleased with the woman's arrogant and entitled attitude.

But you've got to admire her transparency...at least she was straight-up about her plans. So transparent, in fact, that her would-be bridesmaid avoided the offer like the plague.
Social media wasn't kind after reading her messages.
"You should be sorry enough to buy us a gift but not important enough to invite. - choosing beggers brides edition"
"Do people think their weddings are an opportunity to shakedown everyone in their life? The audacity."
Others shared their own stories of wedding nightmares.

"I had a friend who had two bridesmaids quit because she asked one of them to replace her facial piercings with clear ones for the day and die her (blue) hair a natural colour. The piercings thing was reasonable imo but the hair was a bit far: it can be expensive and unlike piercings you can't just effortlessly change it back afterwards. She freely admitted it was because she didn't want it to distract from the bride and groom in the photos.
I was surprised because she was a sweetheart and usually much more chill: I think the stress of simultaneously buying a house and planning a wedding party for 100+ people just got too much for her."
"Wedding shaming groups are gold mines for terrible entitled people stories.
I'm reading another one right now where her cousin doesn't invite her to the wedding, because her tattoos, and dyed hair "are trashy and would look bad in photos", fast forward a few months, a bridesmaid dropped out, so the bride cousin wants her to stand in as bridesmaid only if she wears and pays for full body makeup, new hair (wig), plus remove piercings, wear a sports bra to make her boobs look smaller and wears flesh coloured stockings all with the excuse "Im trying to have a perfect day". The entitlement levels of some brides is galling."
"When my father was a director of a christian summer/retreat camp there was one wedding where the bride wanted us to remove the wildlife as to not have them in the pictures."
"That's right, she went to a camp and wanted the wildlife removed. I'm not even sure how she expected us to do it."
"It's not nearly as bad, but its stupider."
"My mom kept demanding I invite random people I have never heard of or only met when I was literally a baby to my wedding. I said I didn't want distant relatives I've never spoken coming to the wedding, I wanted close family and friends that I hold dear. She tried to persuade me by saying "But think of all the extra gifts you can get!"
-u/hxcn00b666
Another thing we learned from this post? Wedding horror stories are gold.

"I need that FB group in my life!"
"I agree lol this group sounds awesome."
"it's called 'that's it, I'm wedding shaming'"
Some felt bad for the groom-to-be.

"The casual 'lol 😂' after admitting she's only asking for the gift is the icing on the cake. You should tell her that although you were uncomfortable with the bridesmaid role, you'd have enthusiastically given the same kind of gift as a guest - if only there'd been space for you."
"(Good luck to the groom marrying this prize!)"
"If you wanna get us anything lmao"
"And the prize for awkward lmao goes to..."
"Parents, this is why you have to say no to your kids sometimes; you don't want them to grow up this entitled"
Others kept laughing about the withdrawn invitation from the original post.

"Still get me a gift though."
"PS: you're not invited xoxo"
If you're about get married... congrats! That's awesome.

But you're not entitled to free stuff from near-strangers, your co-workers, or random people on Facebook.
Weddings are about love, not being showered with expensive gifts. But a wedding registry is ALWAYS a good idea. You can create one here.
If you're dealing with a bit of a bridezilla, killing them is NOT acceptable. But you can live vicariously through the murder mystery Killing Bridezilla, available here.
"Hired by her high-school nemesis, Patti, to rewrite the ending of Romeo and Juliet for her wedding, Jaine Austen gets more than she had bargained for when Patti falls to her death from the balcony just before her big scene, and the sassy writer-turned-sleuth must find a killer before he or she can strike again."